SHADOWS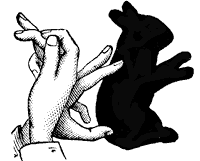 Northport, Alabama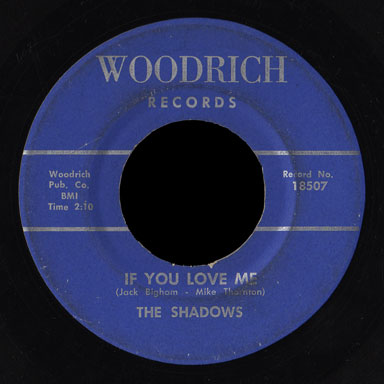 Here's a great 45 by the Shadows, a group from Northport, Alabama, across the Black Warrior River from Tuscaloosa.
Along with Mike, Frank Cannon and Jack Bingham played guitars, Steve Fowler on bass and Donnie Walker on drums. Roger Young played keyboards, but he wasn't present at the recording session so Mike Thornton filled in that day.
The band played semi-professionally for about three years, playing on weekends and when school was out. A rival band was the Misfits from Tuscaloosa, featuring Chuck Leavell and Ronnie Brown.
"If You Love Me" is classic garage with a good performance all around, notable for the repeated distorted guitar riffs and a fine solo, excellent drumming, and good vocals. It was written by Jack Bigham and Mike Thornton.
For a long time it was believed the band was from Tennessee or northern Alabama, as the Woodrich label was based in the northern Alabama towns of Rogersville then Lexington, both near Huntsville and Decatur. Mike isn't sure why the band went so far to record when there were studios nearby in Birmingham, but thinks one of their managers set the deal up.
I had also heard that most of the Woodrich label's recordings were made in Nashville, about 120 miles away, but K.S. in a comment below, says that owner Woody Richardson did most of the recording in his home studio. Woodrich released mainly pop sides by Buddy Hughey, Patsy Penn, the Campbell Trio, the Light House Gospel Singers, the Rocks, and Aaron & Sue Wilburn.