SCOUNDRELS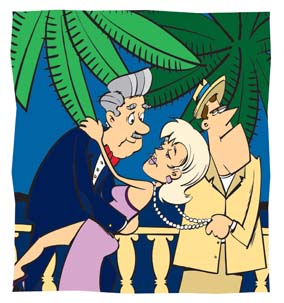 Pensacola, FL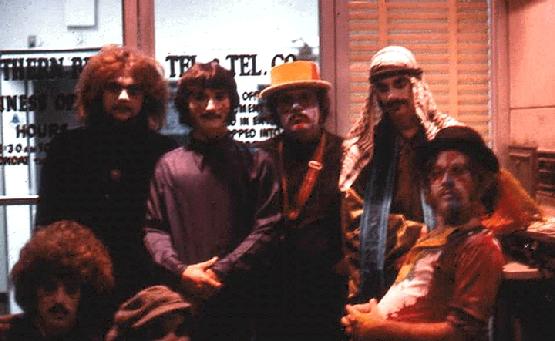 The Scoundrels, Halloween 1968: Bottom left roadie (name forgotten), Paul Garcia (head is almost totally cut off), standing left to right is John Sadler, Bob Taylor, Fred Garcia, Dick Boyden and Chip Mayes (leaning on the far right)
The band formed In Pensacola, somewhere around 1965, by Fred and Paul Garcia. We went through several sets of players but when I joined there was Fred Garcia on lead vocals and tenor sax; Paul Garcia on lead vocals and trumpet; Robert Foster on lead guitar and backup vocals; and Jim Turtle on organ and backup vocals. I think Bob Taylor was the drummer, and I played bass and contributed backup vocals. Louie Boylston later took over as lead guitar and then John Russell also played lead guitar; John Sadler took over keys.
Dick Boyden also played guitar for us and was with us at the end. He was a very talented guitarist. At first we were pure R&B with Fred and Paul adding harmony sax and trumpet riffs. They played very well together. Then, as the Beatles influence heightened, we became more psychedelic and rock-oriented, even playing some Santana--which was a perfect vehicle for Fred and Paul. They were awesome during that time. During 1964 the music was still very heavily influenced by R&B artists, but as the British Invasion progressed we all let our hair grow and partook of the sacraments of the time.
The music became more jamming--for a lack of a better description. We would learn a cover from say, Steppenwolf, and then jam with it for ten or fifteen minutes, letting all in the band express themselves musically. Part of that was the need for long tunes at the clubs. They wanted to get the people dancing and keep them dancing so they'd get hot and buy more drinks. We were good at it, and at the same time we were entertaining. We always had regulars show up where ever we played. Fred handled all the booking. Paul Garcia would know Fred's last name. George started out promoting the armory dances every Friday night, and then he opened the "Band Box" on West Gregory Street, and then another club down on Palafox across from the park. That's where we often played with The Candymen who would later merge and become The Atlanta Rhythm Section. We also played a lot at "The Club" on the beach where the Boardwalk currently sits. We played there one summer and most of the fall one year. Another place we regularly played was "Grannie's Place" up at Ft. Rucker.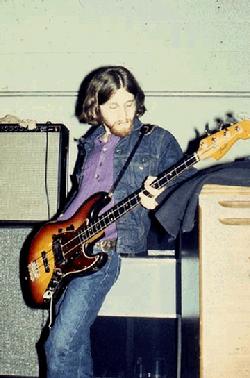 Chip Mayes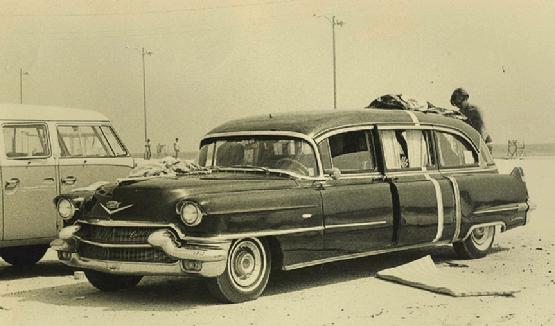 "We were pretty much the antithesis. We had long hair, and I drove a '56 black Cadillac Hearse and then a Harley Chopper. Fred and Paul were Latino; John Russel, Jim Turtle and I were all surfers. We didn't cater to the Greek geeks, and we socialized with our fans."
(courtesy 60sGARAGEBANDS)