PROMOTERS AND VENUES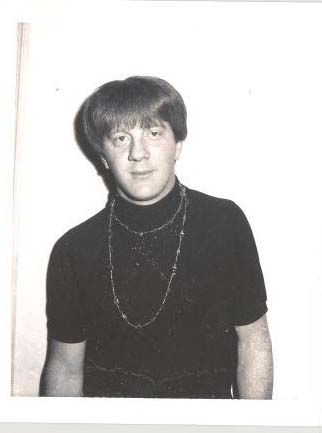 Checck out Johnny B's Facebook page:
Johnny B. Mosses, a local disk jockey at a radio station in Waycross, GA. booked such bands as the Bushmen, Strange Bedfellows, Roemans, Candymen, James Gang, King David and the Slaves, and a host of other bands. His weekend dances were known as the Bee Baby Hops. Johnny Bee booked bands for dances at: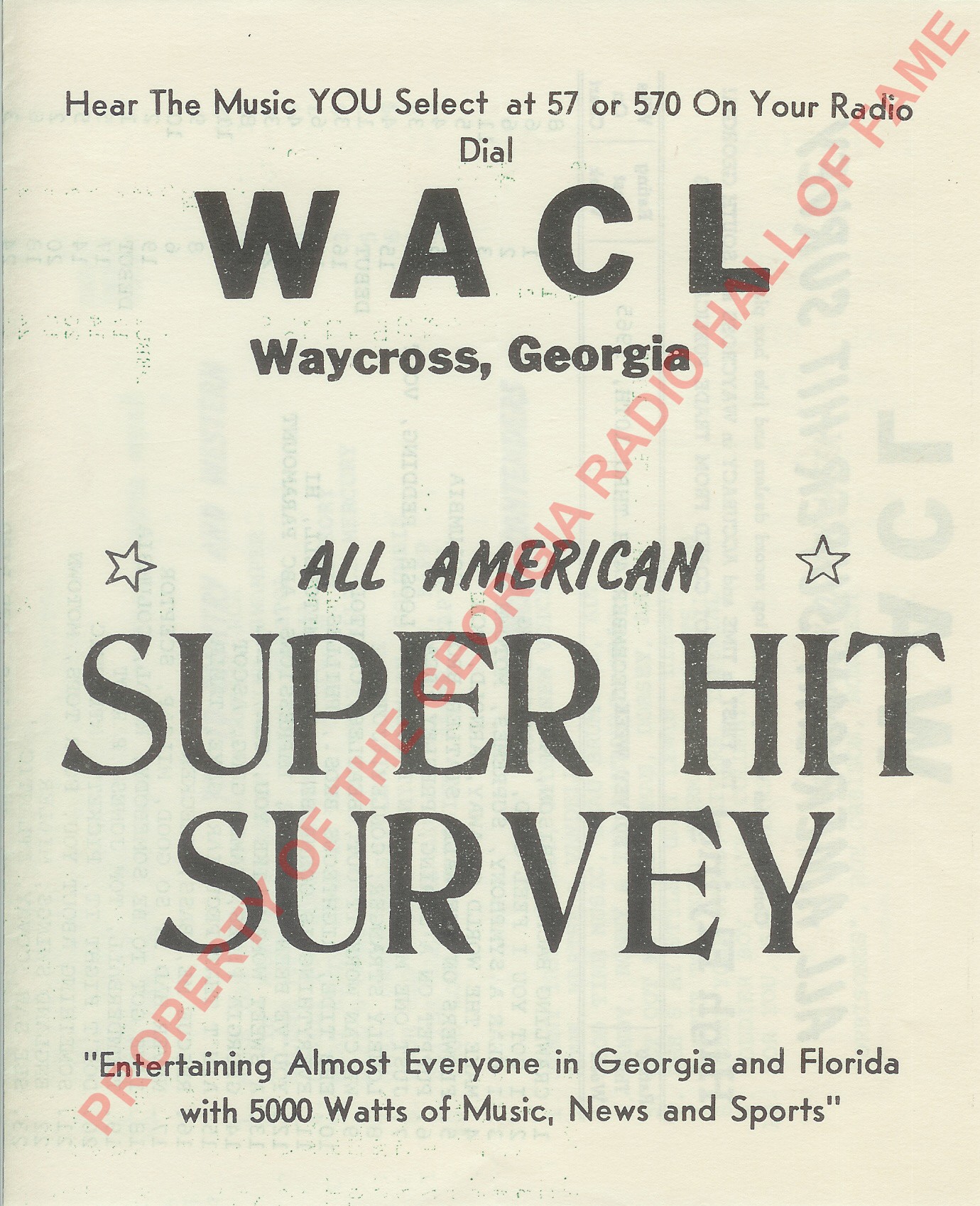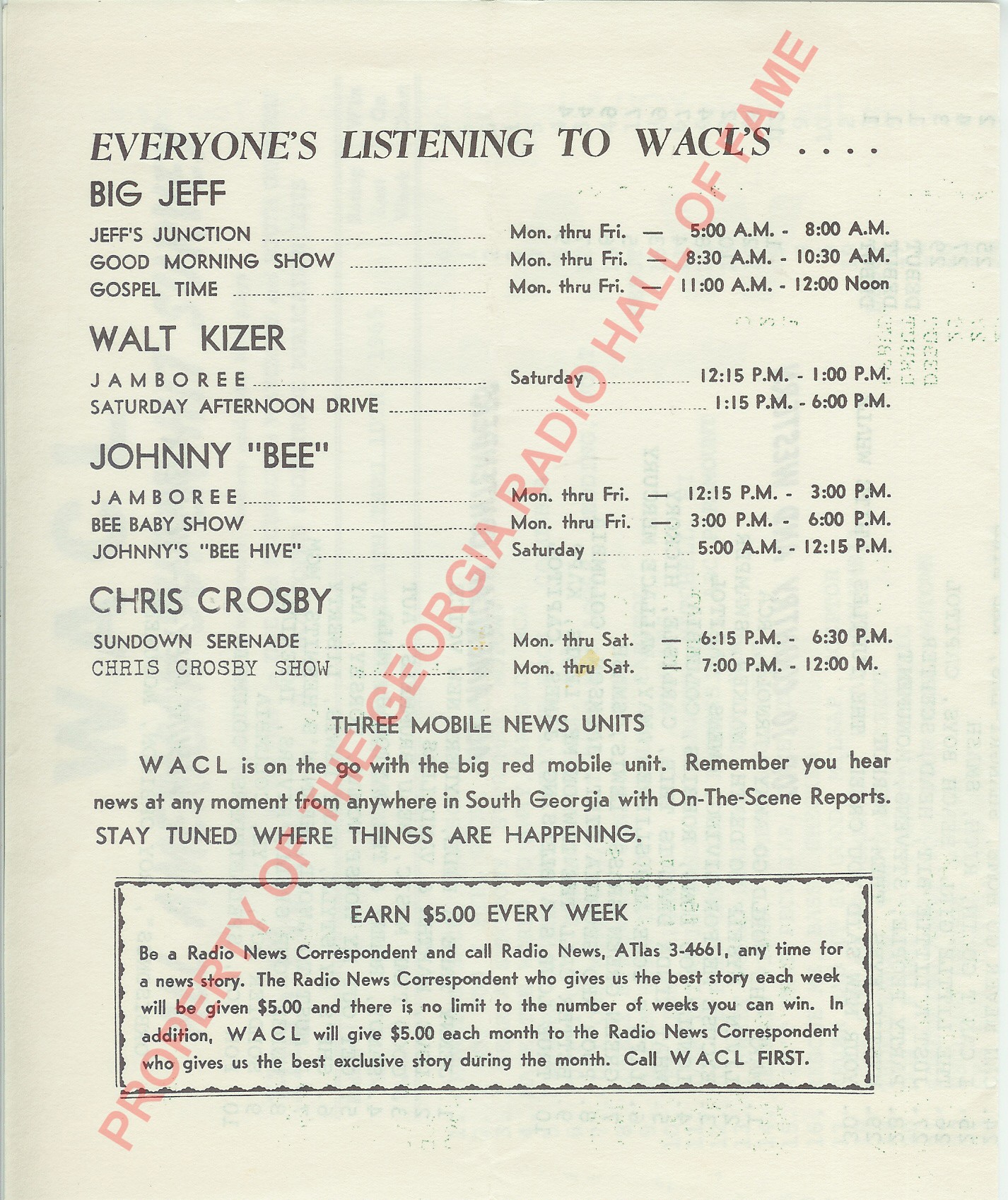 Photo used by permission of the Georgia Radio Hall of Fame, Inc.
Georgia Radio Hall of Fame Career Achievement Candidate
Johnny "Bee" Mosses was born in Twin City, Georgia and In the late 50's and early 60's began as a part-timer at a WJAT in Swainsboro. He attended the University of Georgia and graduated with a major in radio/television. He joined WALG in Albany as news director in 1961. Johnny went to WPCH Hawkinsville for a short time, then, moved to WACL in Waycross. In 1964, Mosses was name "Mr. DJ USA" and was a guest on the Grand Ole Opry. He left radio to book, managing, and promoting bands and shows. Under Johnny's guidance a group from Douglas, The Bushmen, became the most popular band in Georgia in the 60's, opening for and outshining the Rolling Stones at Georgia Southern in 1965. He moved to Atlanta in the 70's and got back into radio at WZGC doing all nights as the Z Man. From there he went to WLKQ FM in suburban Atlanta and oversaw a format change from country to oldies. Mosses left radio again and became a record promoter until his retirement.
(courtesy Georgia Radio Hall of Fame)
---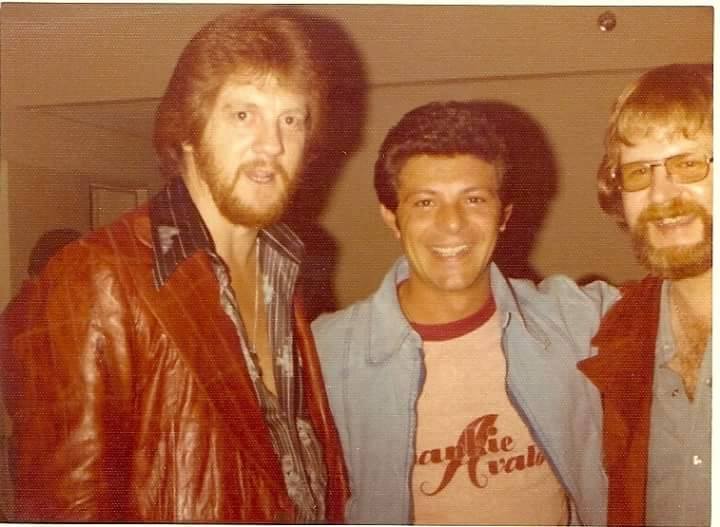 Johnny B. Moses, Frankie Avalon and Michael B. Scott
Pic courtesy Sidney R. Lucas
W A C L radio station, Waycross, GA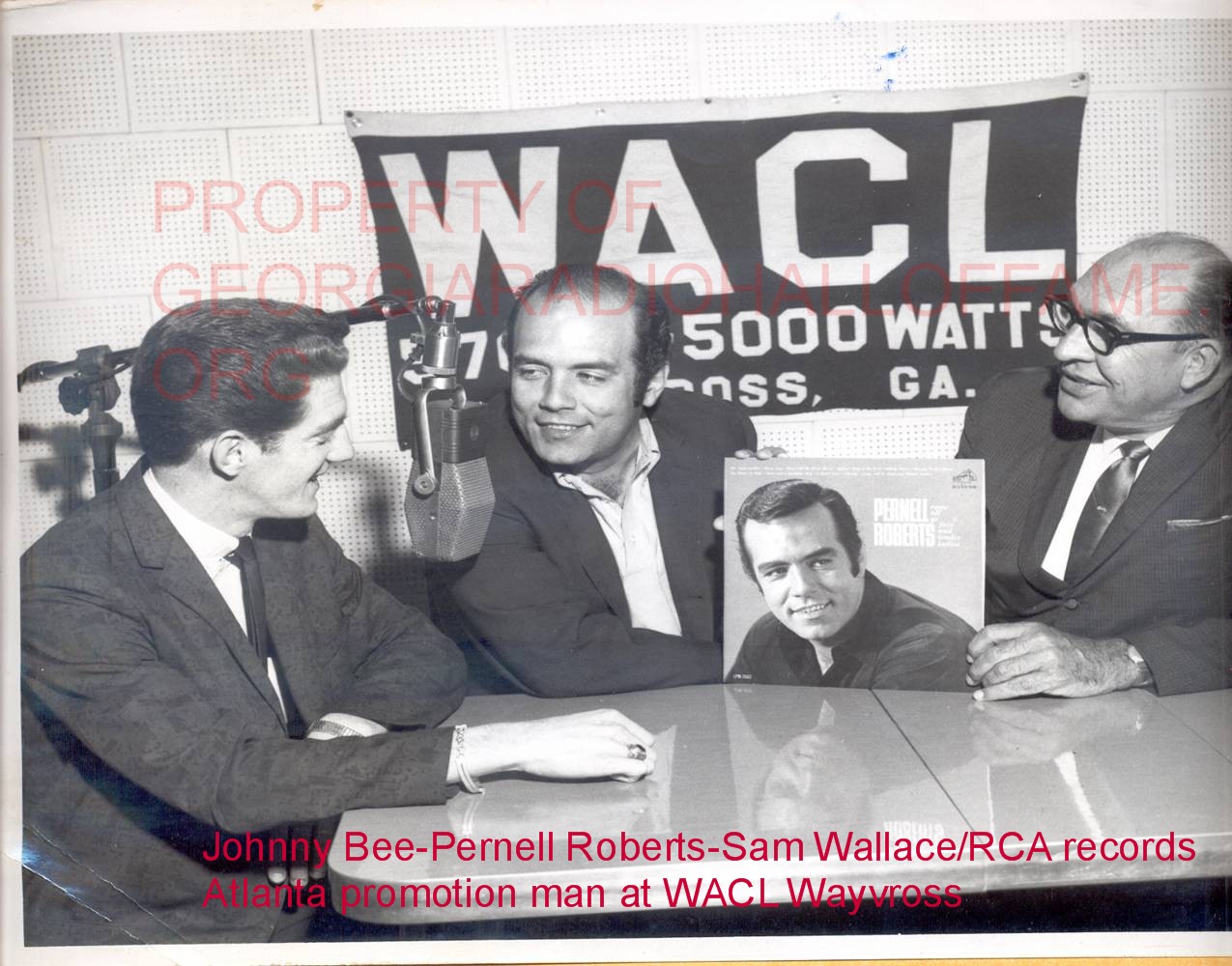 Photo used by permission of the Georgia Radio Hall of Fame, Inc.
Check out the website:
Georgia Radio Museum and Hall of Fame
Johnny Bee interviewing Pernell Roberts, who was born and raised in Waycross, Ga.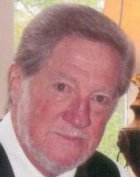 Recent pic of Johnny Bee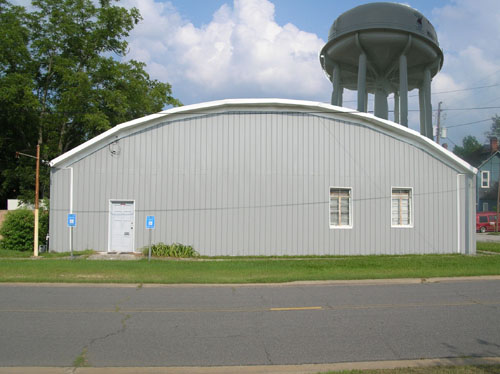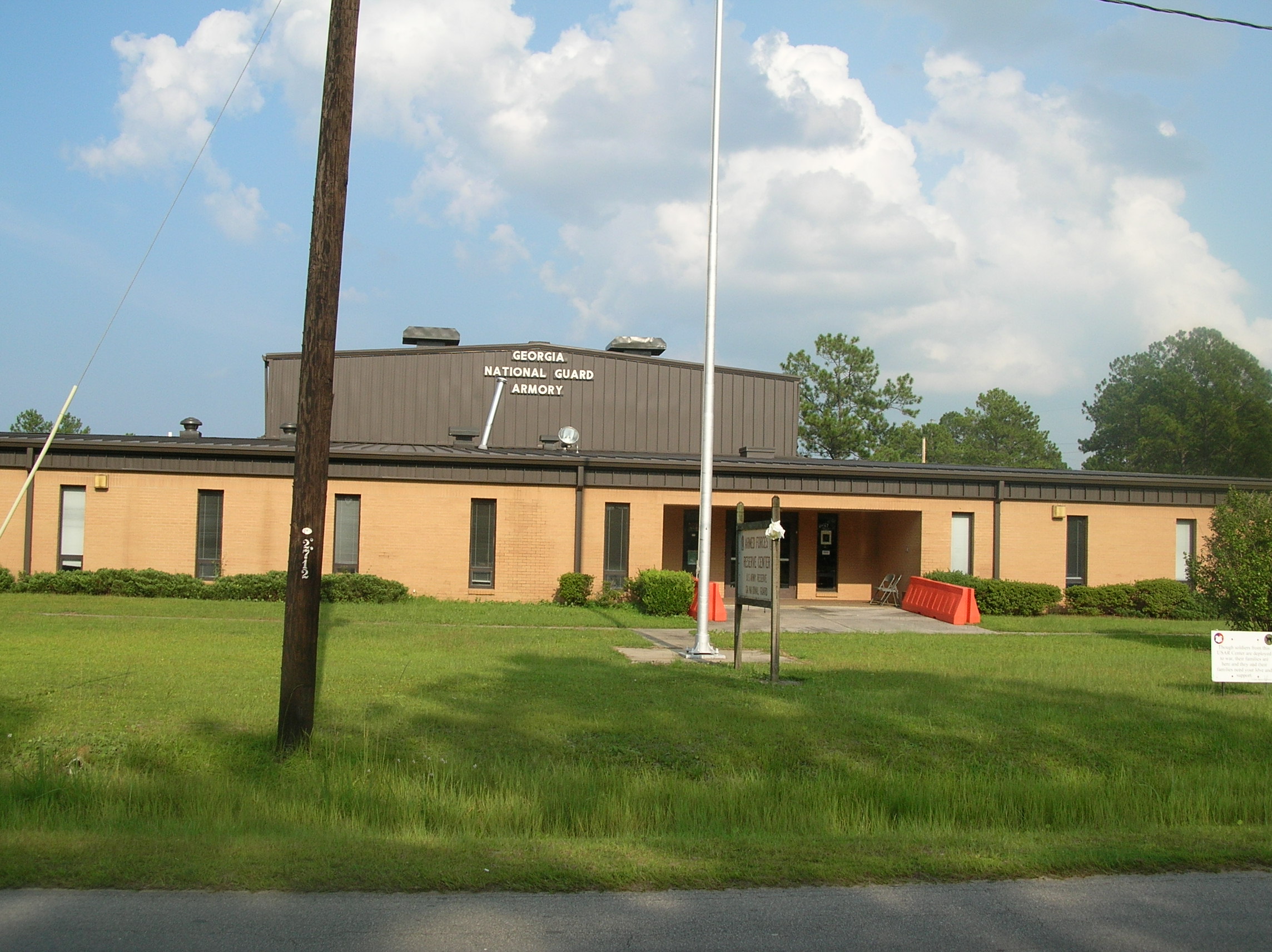 Current American Legion------------------------------------------------------- National Guard ArmoryGarlington Ave.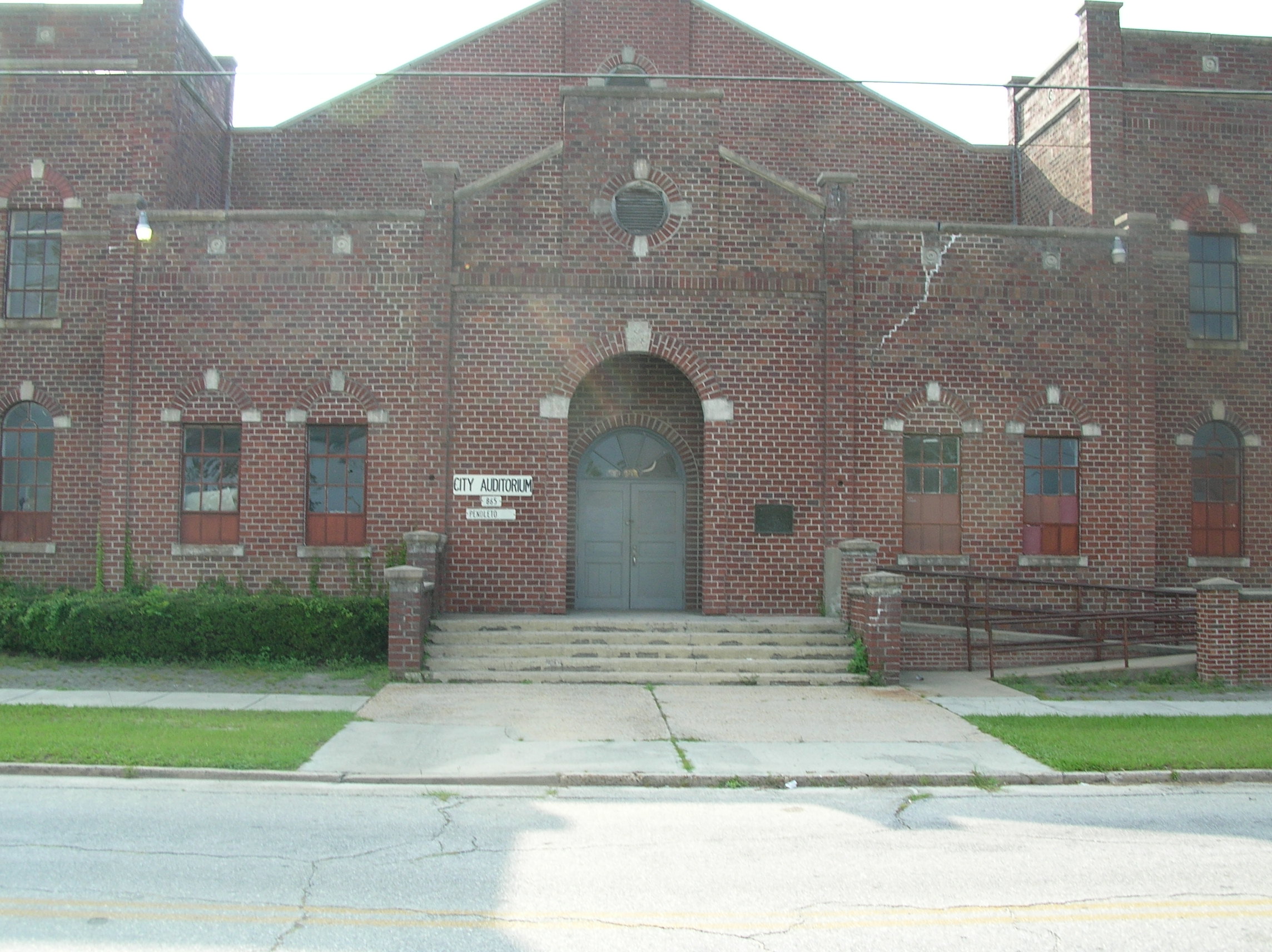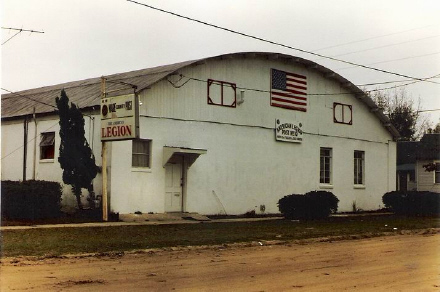 Waycross City Auditorium-Pendleton Street-----------------------------------------Old American Legion Jenkins Street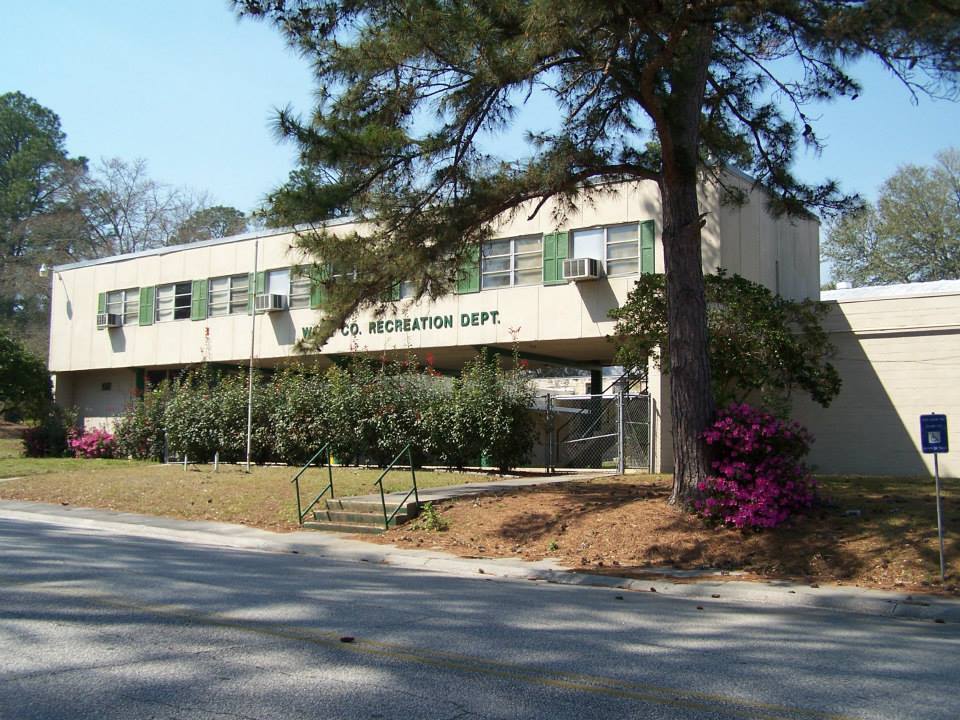 Waycross City Rec Department: Friday night dances after high school football games.
check out the history of music in Waycross, Ga, especially the city auditorium:
WAYX CITY AUDITORIUM : info courtesy Harris Atkins, Waycross, GA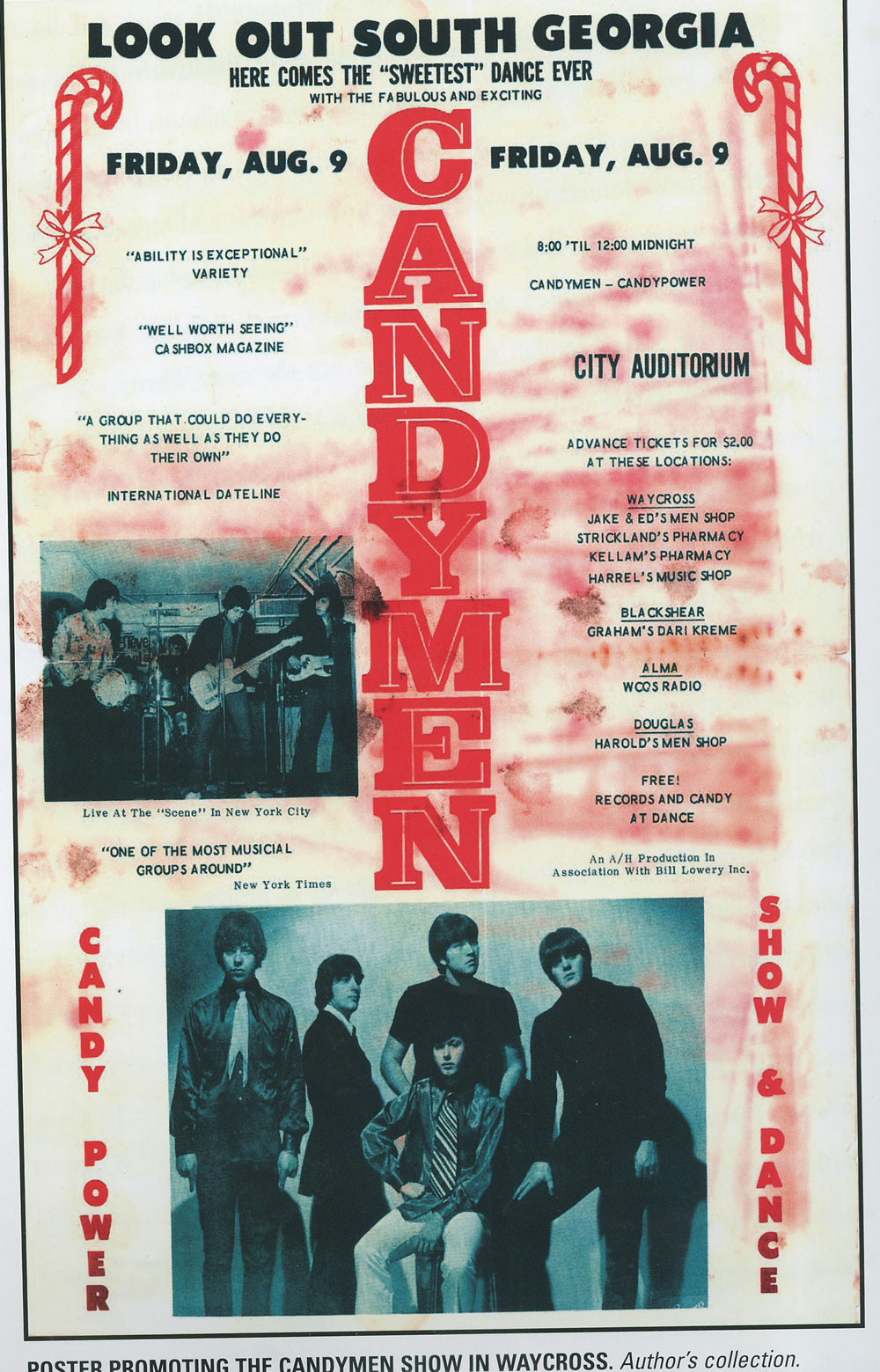 Classic poster from the 60s advertising a dance in Waycross, Ga featuring the fabulous Candymen. Dance all evening for only $2.00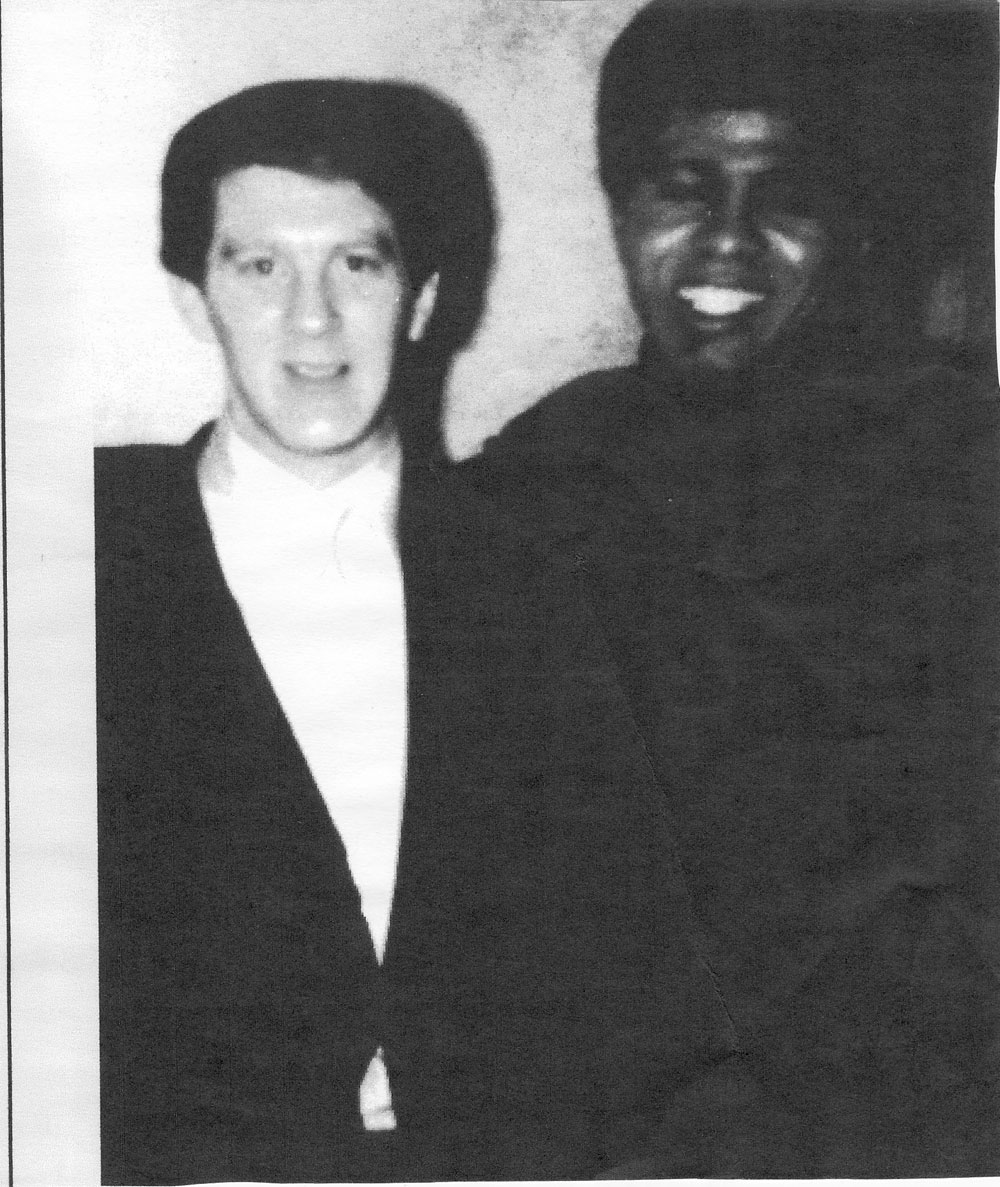 Johnny B. brings big talent to Waycross, Ga. Here Johnny B. is pictued with the soulful James Brown from Augusta, Ga.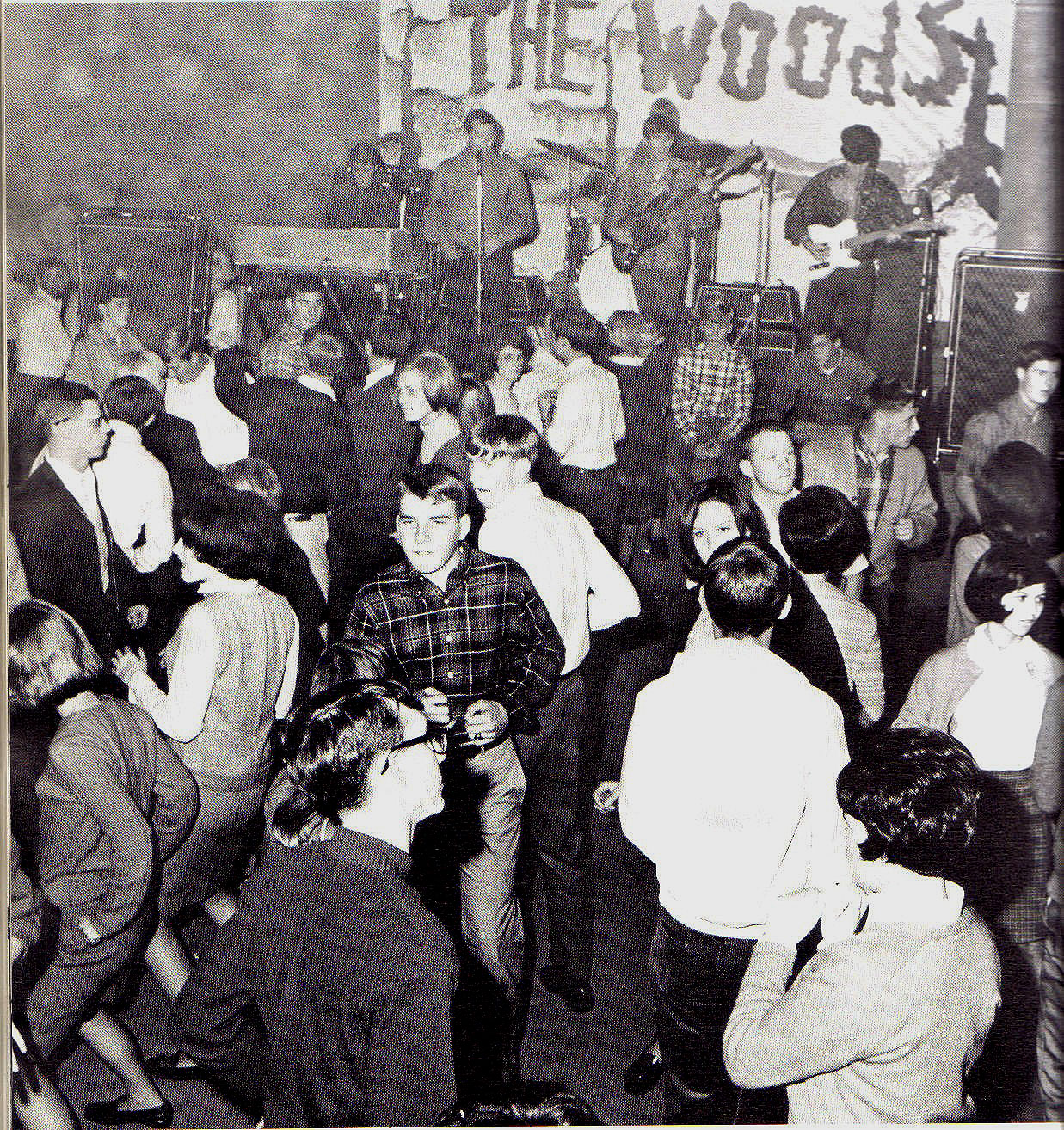 The Woods, Tifton, GA
photo courtesy of Buddy Thomley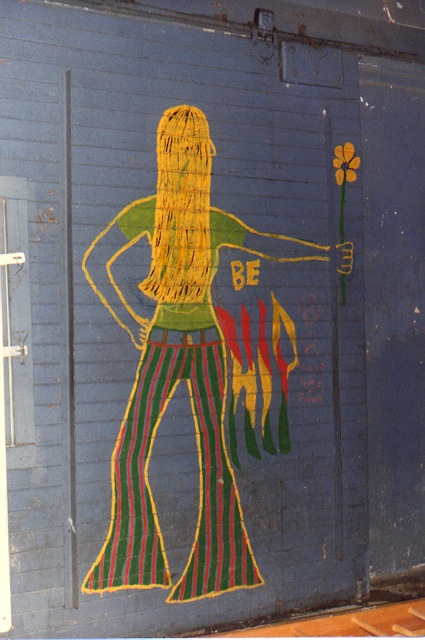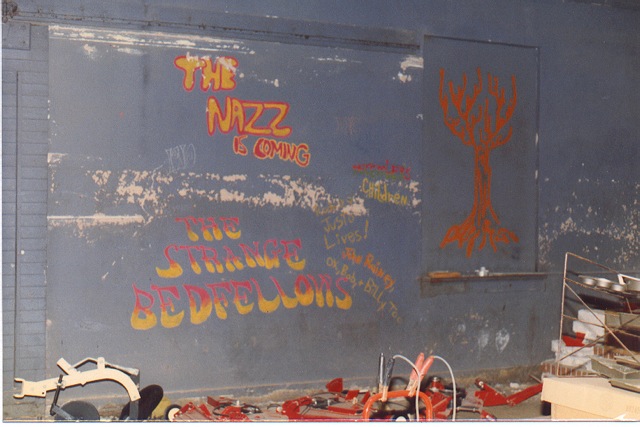 Summer of 67 The Woods had seen a band trailer we had decorated for the age of aquarius and asked me to paint The Woods with the day glo paint they had purchased. Gabrielle and Eve Ujhelyi painted this glow in the dark hip hugger flower child. The second features bands who had played there. All glowed in the darkness under blacklights. We also put on a primitive light show for the Lords of London and Strange Bedfellows.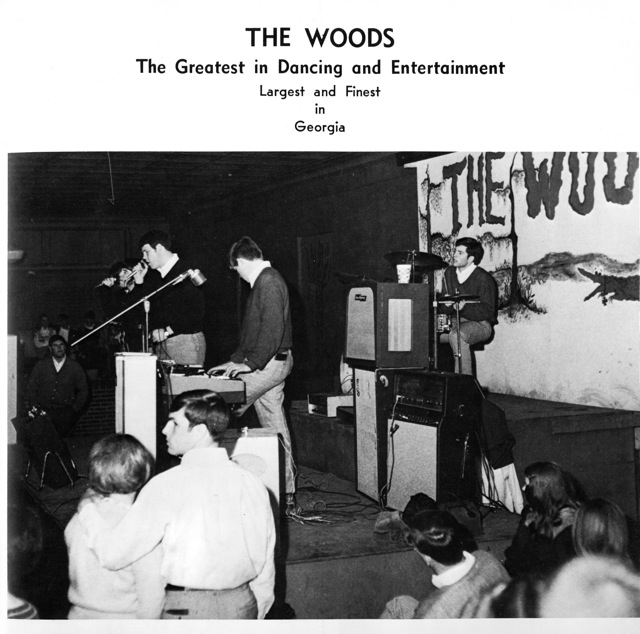 Parent friendly ad posted at area colleges. Carter Choate's family were part owners of The Woods. Perry Key's father owned The Bowl in Moultrie where I saw The Zombies!
(The band appears to be Eddie Middleton-with mic-and the Ceros from Albany, Ga. Mark Yarbrough is the drummer)
(Special thanks to Patrick Edmondson for above pics and info)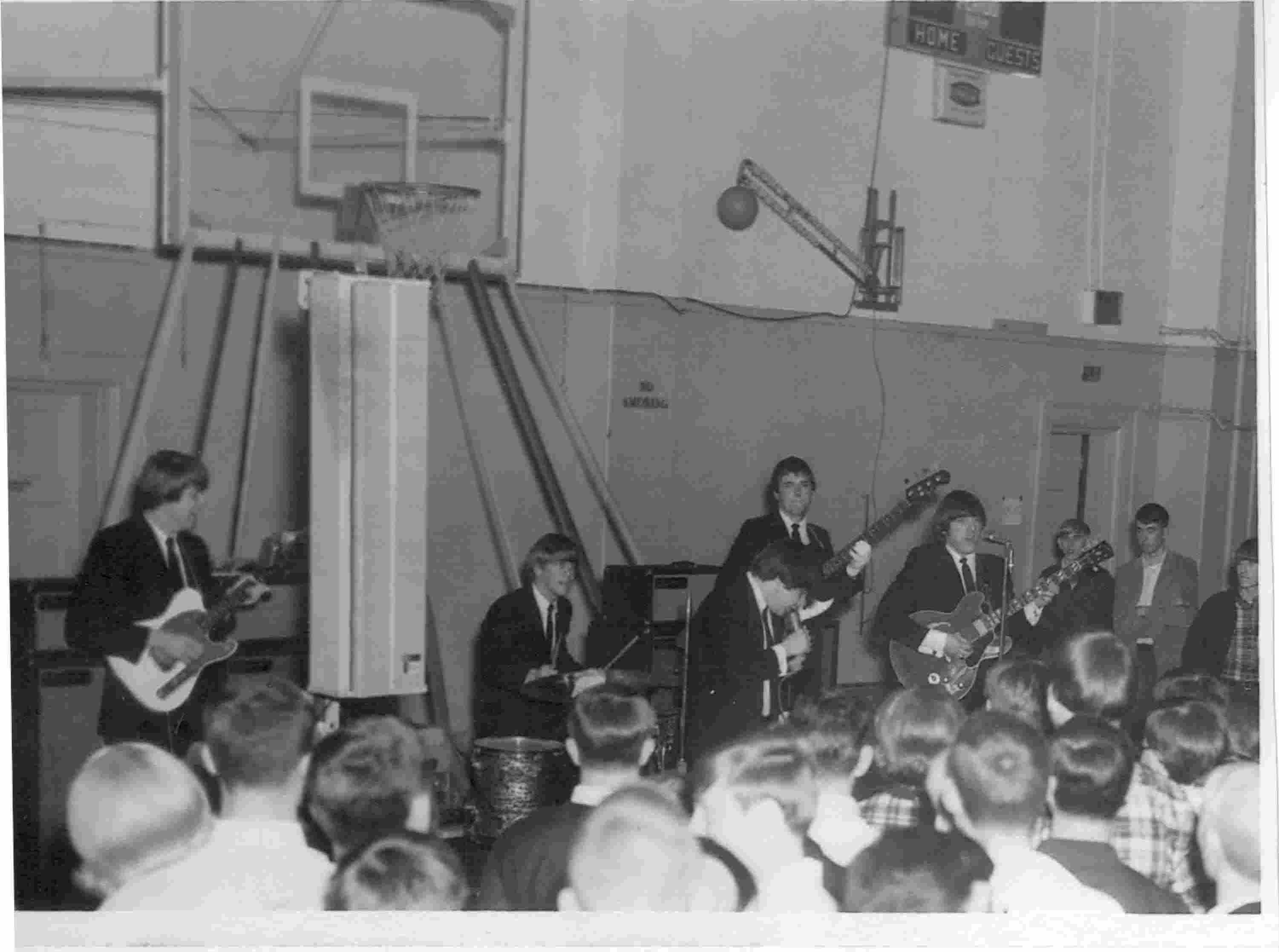 The Bushmen Frequently played South Georgia College at the gym in their home town of Douglas, GA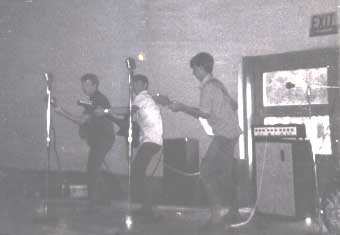 The Chain Reaction were partial to Mathis City Auditorium in Valdosta, GA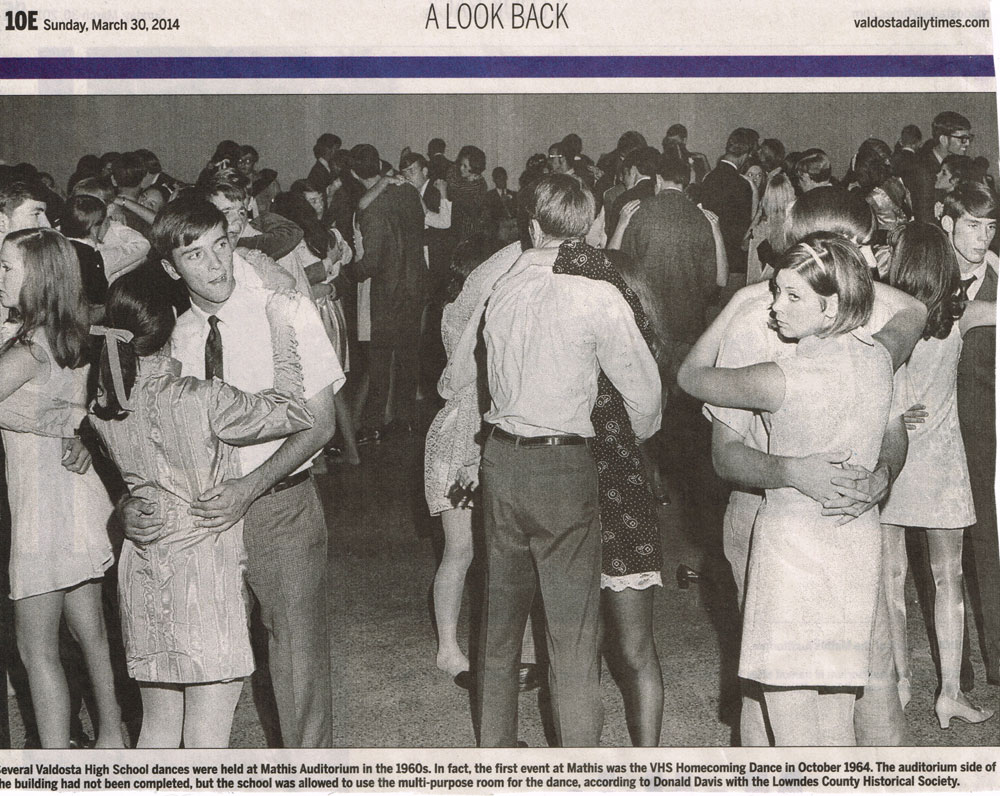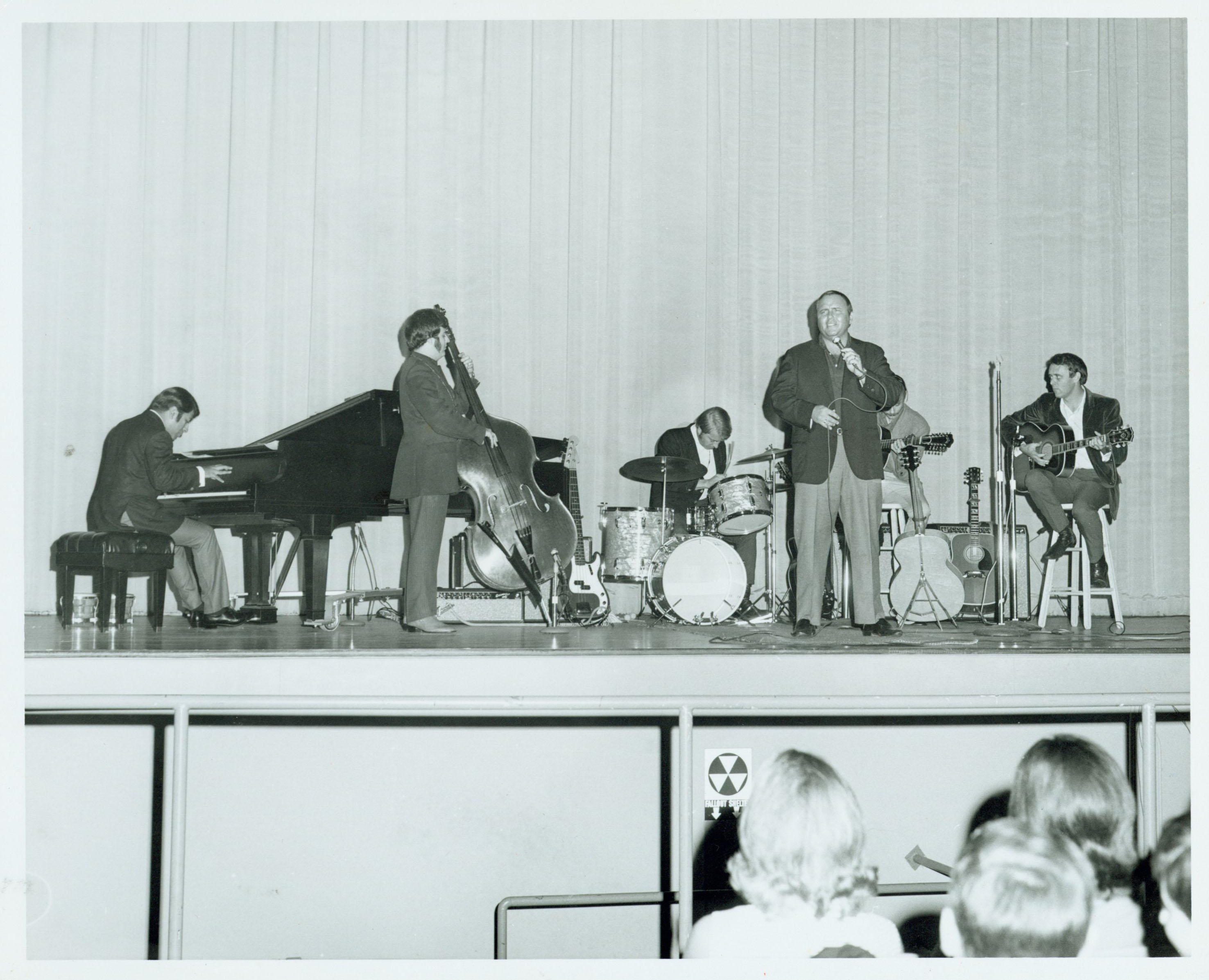 Glenn Yarborough performed at Mathis in the
1960s.
thanks to Larry Bowie for identifying this pic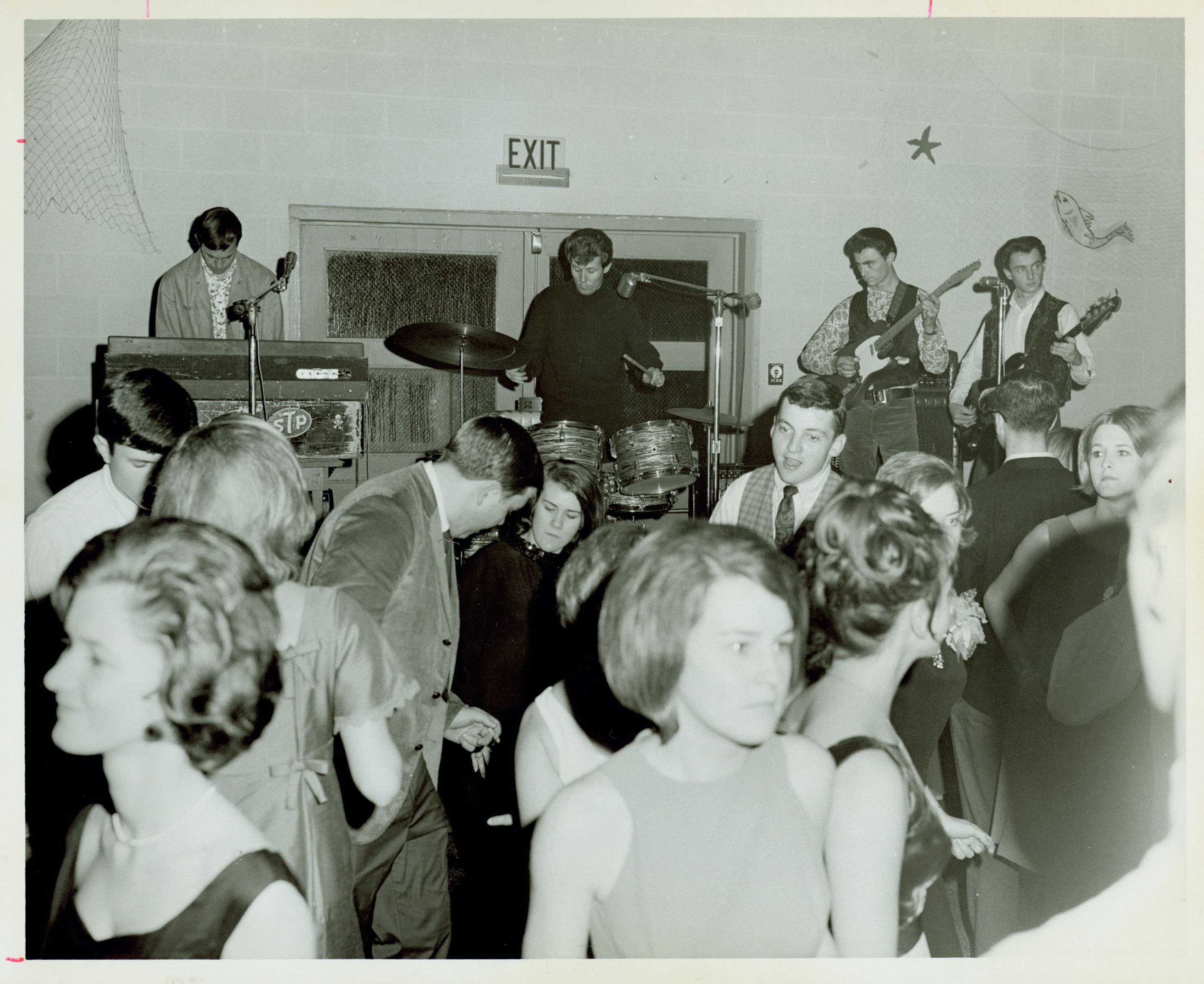 Dennis Yost and the Classics IV played Mathis
in the 1960s
thanks to Larry Bowie for identification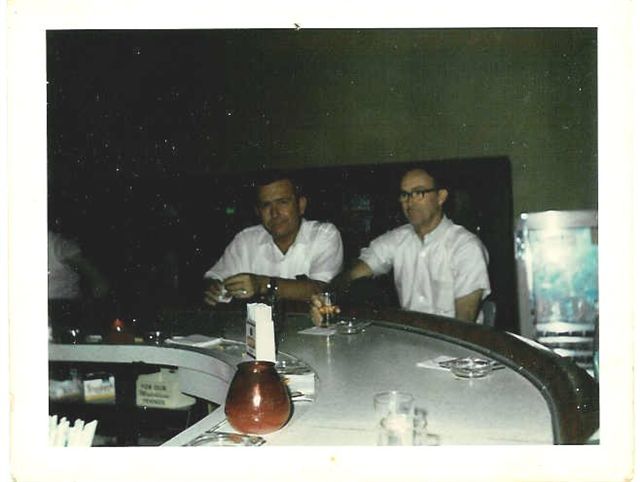 Here's a photo of the bar at the VFW in Valdosta, GA., from around 1969. On the left holding the Lucky Strikes is club manager Jack Johnson (my father) with an unknown bar patron. If you look closely, you can see the slot machines behind them. Back then, several clubs and bars in Lowndes County were alleged to be paying Sheriff Futch to allow them to have illegal gambling and slot machines in their clubs. The VFW featured local bands such as The Bulls, Papa Joe & The Rest, and Johnny Bass. The VFW closed in 1974, and Earl Walker reopened the club and renamed it The Knights of Georgia. It remained open until it burned down in 1982.
photo and info contributed by Dudley Johnson
Other Georgia venues include:
Grant's Lounge-Macon, GA: check these links courtesy Lon Fahs:
Grant's Lounge Grant's Bands Wall of Fame Band pics
The Community House-Ocilla, GA
The Bees Knees-Fitzgerald, GA
The Bowl-Moultrie, GA
Shrine Lake-Waycross, GA
National Guard Armory-Dublin, GA
Cracker Williams Rec. Center-E. Bay St. Jesup, GA
Legion Park-Fitzgerald, GA
Aquarama-Jekyll Island, GA
National Guard Armory-Fitzgerald, GA
National Guard Armory-Douglas, GA
Radium Springs Casino-Albany, GA
Poss' Lakeview-Athens, GA
Charlie Williams Pinecrest Lodge-Athens, GA
Georgian Hotel-Athens, GA
J&J Center-Athens, Ga
Atlanta, GA: Acworth Beach, Al's Corral, Big Hugh Babies Hop-A-Roonie, Bikini A-Go-Go, Cartoon Club, Comic Book Club, Fun Town Amusement Park, Georgia Terrace, Jefferson Park Auditorium, Kitten's Corner, Misty Waters Country Club, Muddy Rivers, Muhlenbrink's Saloon, Pat and Barbara's, Royal Paladium, Royal Pecock, Sans Souci Lounge, Scarlett O'Haras, Southeastern Music Hall, Stone Mountain (The Top), Uncle Sams
Augusta, GA: Bell Auditorium, Leonards Lounge, Harbour Light Bon Aire Hotel, Partridge Inn, Cactus Lounge, Julian Smith Sasino, National Guard Armory, Marine Room, Whiskey-A-Go-Go, Shamrock Club, Key Club, Celebrity Room, Cams
Columbus, GA-The Juwan Knight
Jeykll Island,GA- Aquarama B Room
Macon, GA-The Sandtrap
Savannah Beach, GA-Black Lace Lounge
Savannah, GA-Bamboo Ranch
Vidalia, GA-Vidalia/Lyons Elks Club
West Point, GA-West Point Teens Club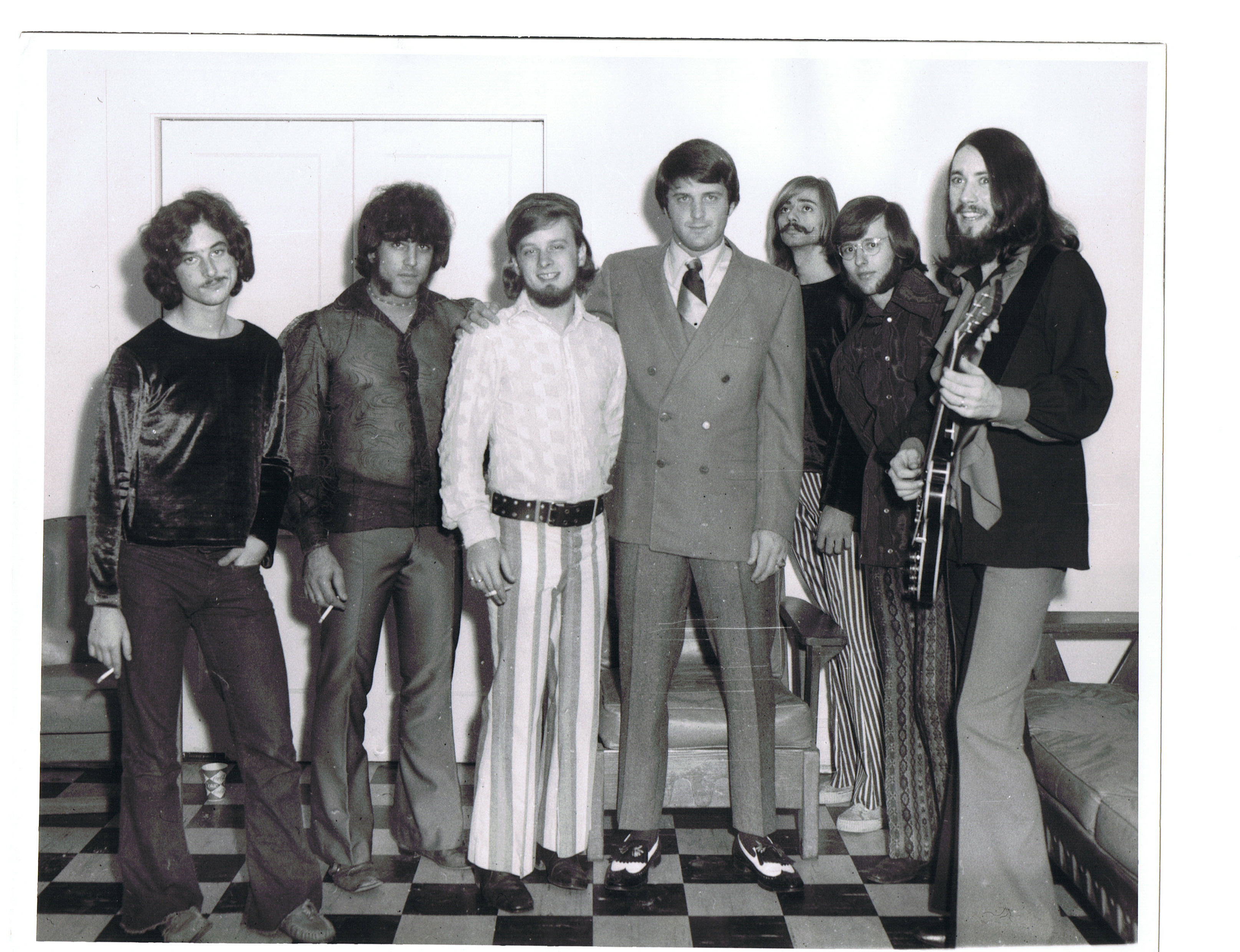 Lindsey Swida, center booked many of the same bands as Johnny Bee. Lindsey was a promoter in Dublin, GA.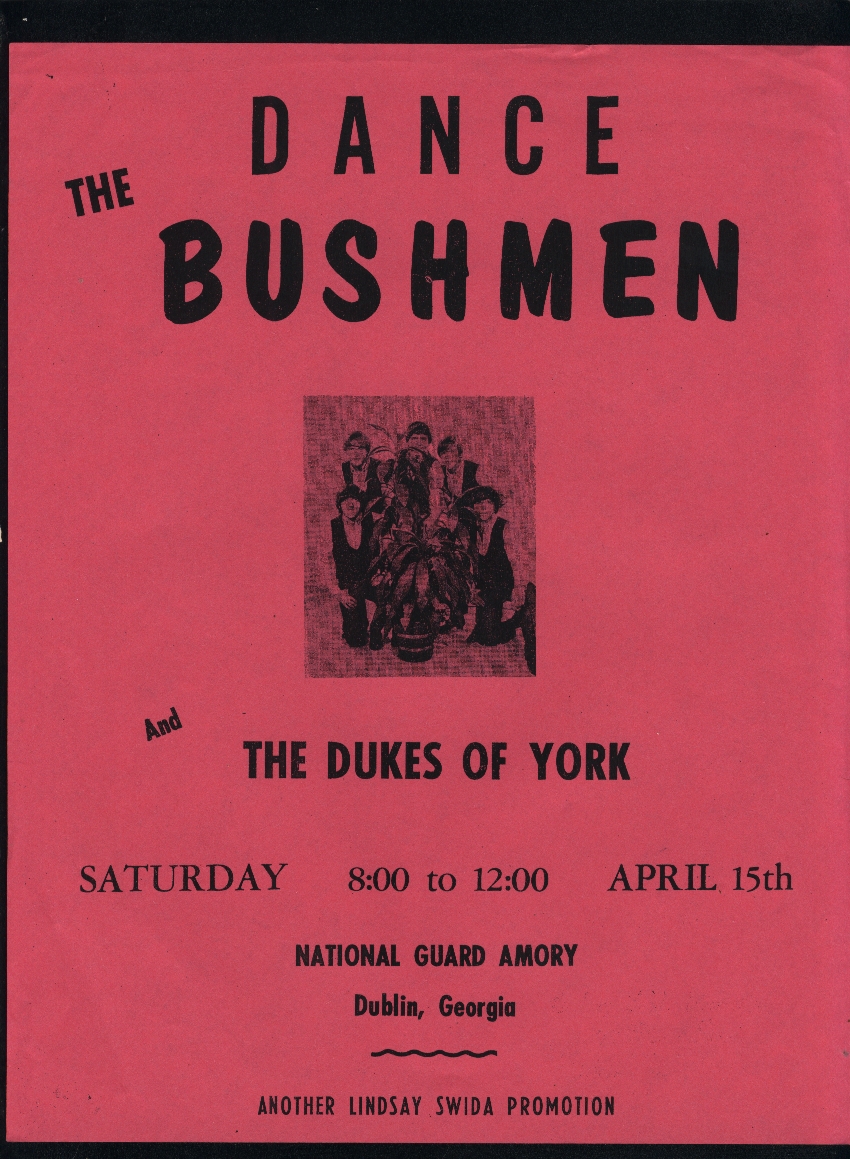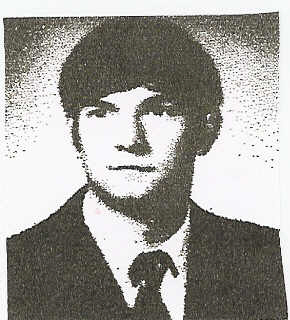 Tom Odom, Valdosta GA, began booking bands in his college days at Valdosta State College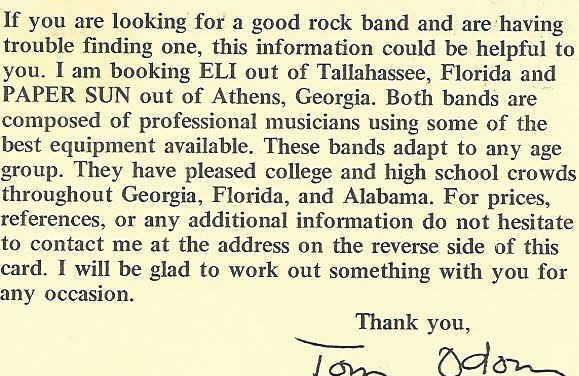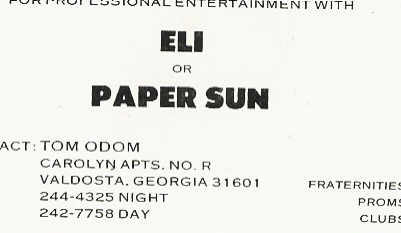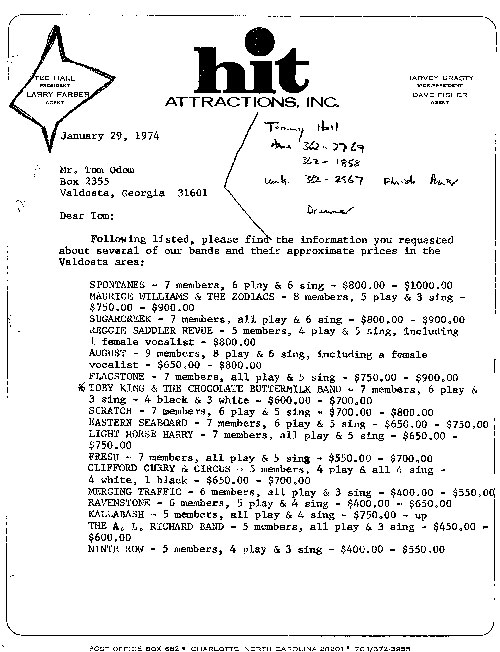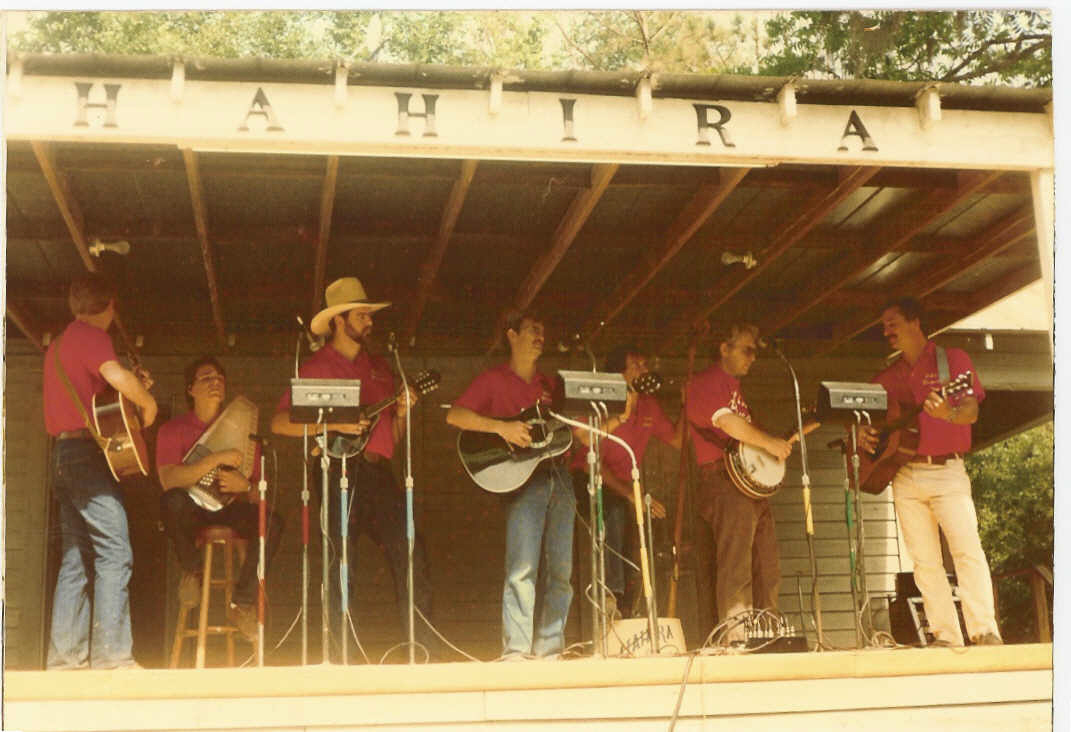 After his college days Tom became a founding member of Hahira Bluegrass Inc., sponsors of the Great Hahira Pickin'. Tom is seen above pickin' the washtub bass which he made. Andy the big guy with the ten gallon hat playing the little mandolin is Andy Patterson, co-webmaster of this site.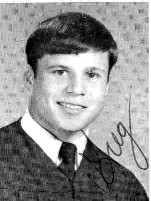 Greg Haynes started booking bands in Waycross, GA after Johnny B Moses left.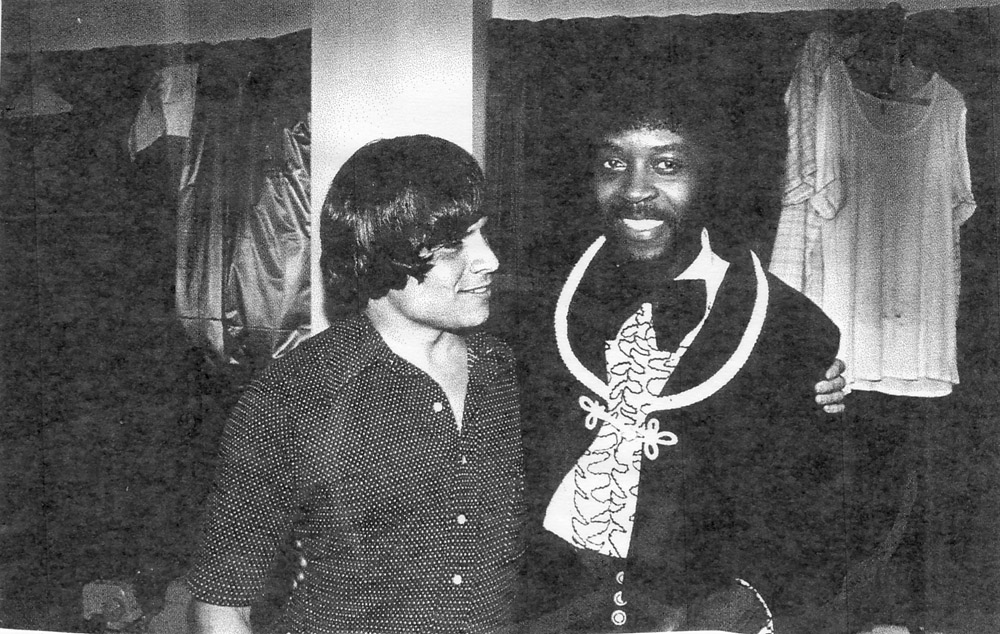 Author Greg Haynes in his promoter days with L.C.Junior, vocalist for the Tams Review.
(Source: The Heeey Baby Days of Beach Music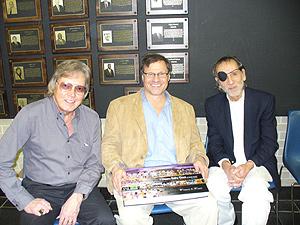 Greg, center at the Georgia Music Hall of Fame in Macon, Ga with Jimmy and Wilbur, former members of the James Gang.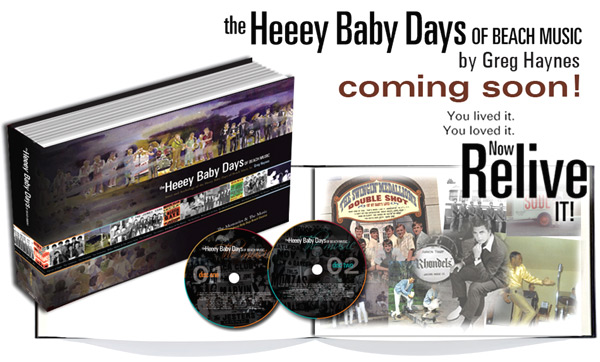 There's a book waiting to be written inside most people. The unpublished text that rumbled inside Greg Haynes for five years turned into 553 pages and weighs a whopping 16 pounds. The first-time author unveiled his creation recently at the Georgia Music Hall of Fame in Macon.
The son of a Waycross minister, Greg caught the music bug early as he sang from the Baptist hymnal. His brother Felix would follow his father's footsteps into the pulpit. When Greg heard a Top 40 song he liked, he raced to Kress, bought the 45 rpm record and "played it until the grooves fell off." His music library was stacked with rhythm and blues and soul music that gave birth to Greg's all-time favorite genre: Beach Music.
As a teenager, he became hooked on live music and launched a career as a promoter, booking bands for shows across the Southeast. His venues included the Waycross City Auditorium, Albany's Radium Springs Casino, Charlie Williams Pinecrest Lodge in Athens, the Landrum Center in Statesboro and fraternity houses. By the time Greg arrived at The University of Georgia, he was friends with some of the biggest names in the business - like The Tams, Percy Sledge, The Box Tops and The Swingin' Medallions.
I asked Greg to name his three favorite songs of the 1960s. Without hesitating, he fired back: 1) "Double Shot of My Baby's Love." 2) "Double Shot of My Baby's Love." 3) "Double Shot of My Baby's Love."
Indeed, The Swingin' Medallions was the party band of our college days. Back around 2000, Greg got the idea for the mammoth coffee table book, The Heeey Baby Days of Beach Music, complete with two CDs of music and a band directory. Plenty of us are pack rats, but Greg was able to pull from scrapbooks and trunks an incredible amount of memorabilia that make the Beach Music era sing from the pages. A mid-sized U-Haul wouldn't hold all the stuff Greg has stored over the past 40 years. He's a one-man museum.
And now, if you've eaten your Wheaties, you can carry Greg's chronicle of the music of our youth to the couch and relive the days when the theme song was "Be Young, Be Foolish, Be Happy," courtesy of The Tams. But behind this good man is a great woman, his high school sweetheart and wife, Nora. He quickly gives her credit, saying the project wouldn't have happened without her. Recently, I was in Atlanta and met Nora to receive an advanced copy. The petite lady's smile was as big as her husband's book. She'll admit that Greg has been a tad obsessive-compulsive about The Heeey Baby Days, but his only cure was to get the first edition into print.
Wayne County folks especially will enjoy the section on King David and the Slaves. We grew up with David and Moi Harris, Eddie and Butch Peede, Jack and Denny Brinkley, Russell Martin, Randy Replogle, Lee Riggins and Randall Bramblett. Harold Williams and Wayne Scarborough also played with the Slaves. We swayed and shagged to their music without realizing our friends were really famous. The Jesup band with its keyboard, guitars, trumpets, saxophones and drums played up and down the East Coast, including Myrtle Beach, the Mecca of Beach Music. They shared the stage with stars like Jerry Butler, Maurice Williams, Jackie Wilson, The Showmen, The Drifters, The Platters and The Tams. In Greg's book, Chuck Leavell, keyboardist for the Rolling Stones, calls Randall Bramblett "the most gifted and talented southern singer-songwriter/ musician of the past several decades."
Today, Greg is a leading industrial real estate broker in Atlanta. But he found a minimum of 4,000 hours to pour into his music project. For a closer glimpse and info on how to order this book, visit www.heybabydays.com.
As I listened to Greg's compilation of favorite songs and thumbed through his masterfully done book, I found myself humming Bruce Channel's "Heeey hey baby, I wanna know if you'll be my girl." Forty years evaporated, and I was back in college, partying to the music in a packed fraternity house basement.
Thanks, Greg, for unleashing The Heeey Baby Days from your soul and into our Beach-Music-loving hands.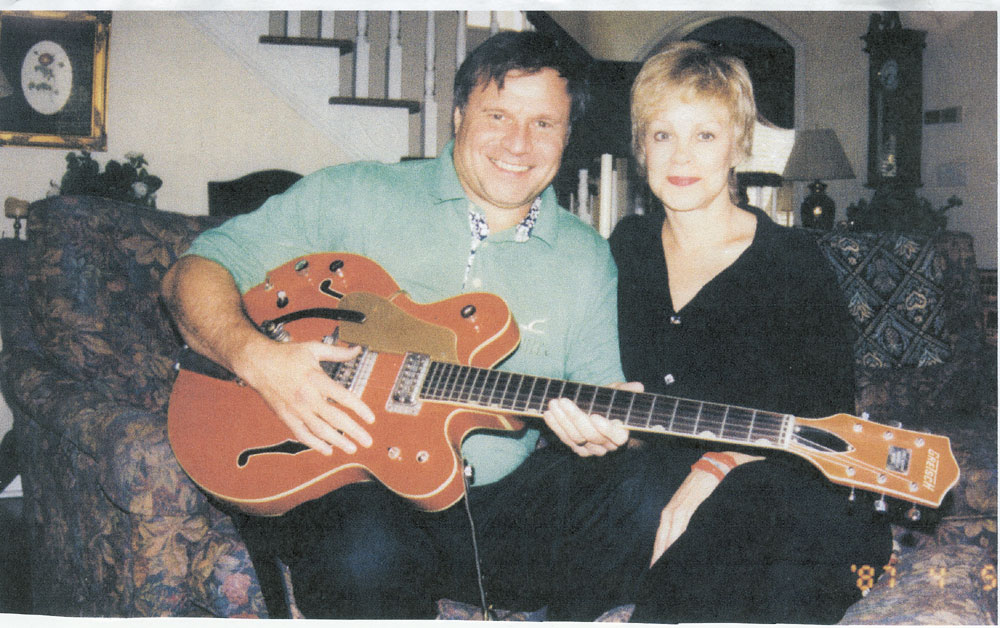 Greg and his beautiful wife Nora (2004). High school friends in Waycross, Ga in the late 1960s, today married and......still friends!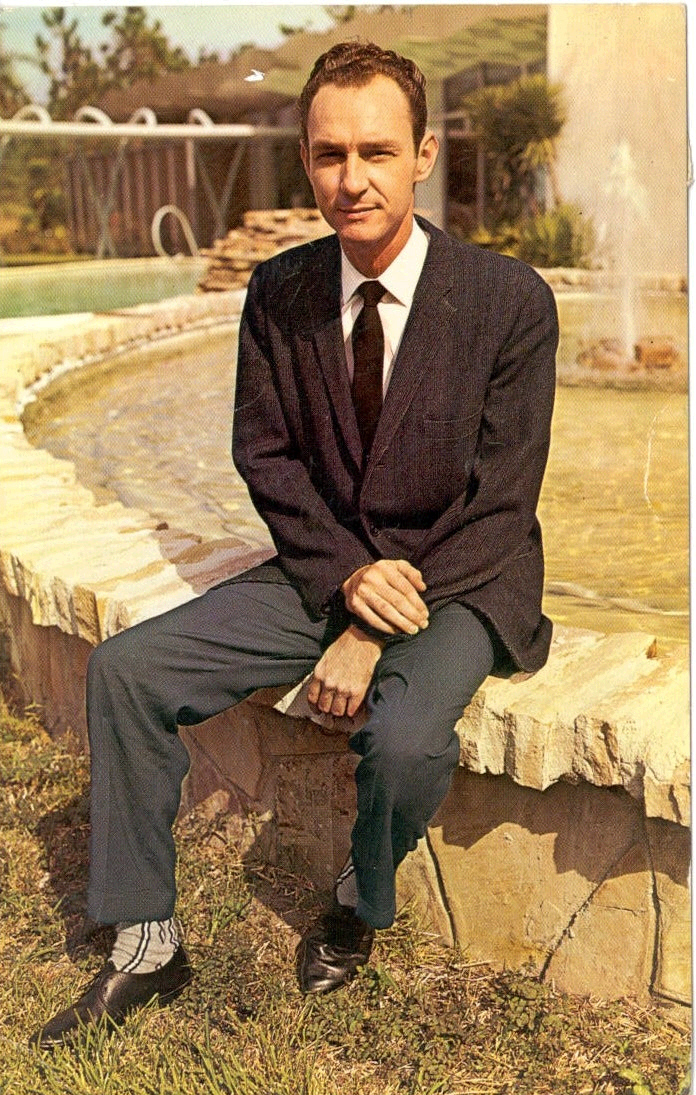 Jack Mock, afternoon DJ circa 1965 to 1967
Oh yeah that fountain is functional as well as ornamental!! It along with the Famous Big Ape swimming pool at the Orange Park studios were part of the cooling system for the 50,000 Watt transmitter!!!
Jack Mock, DJ for the "monster" radio station WAPE (the Big Ape) in Jacksonville, Fl. The Big Ape was popular all over the southeast and promoted dances and concerts on a regular basis, the biggest being the Big Ape Convention where numerous bands performed on one stage.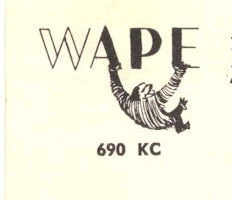 The MIGHTY 690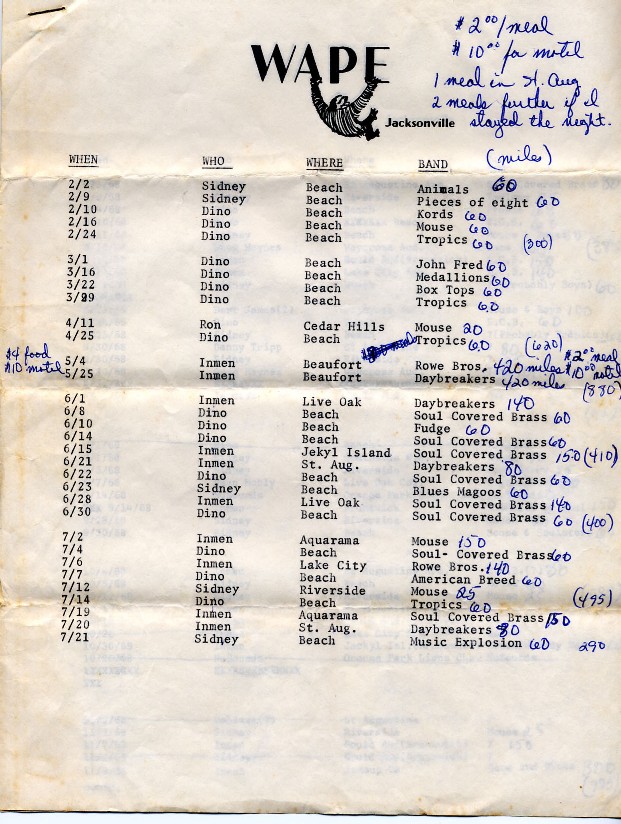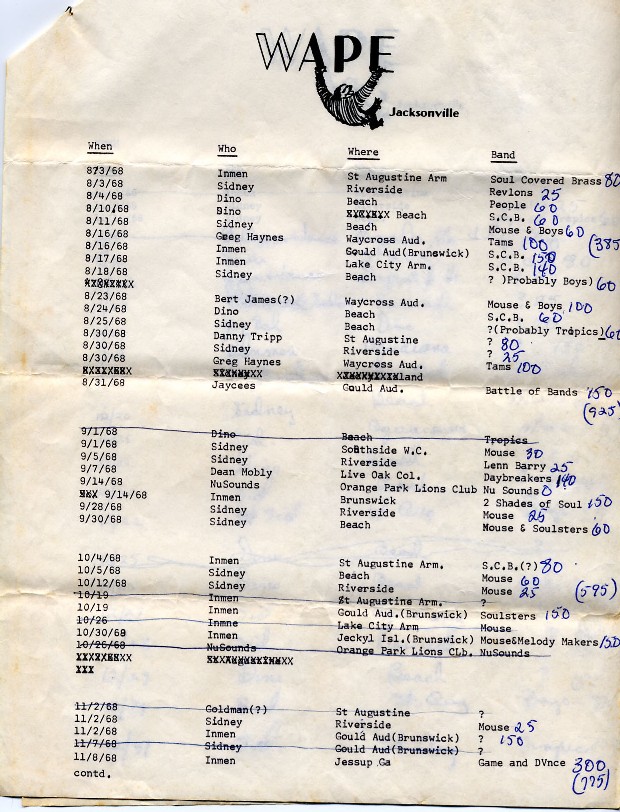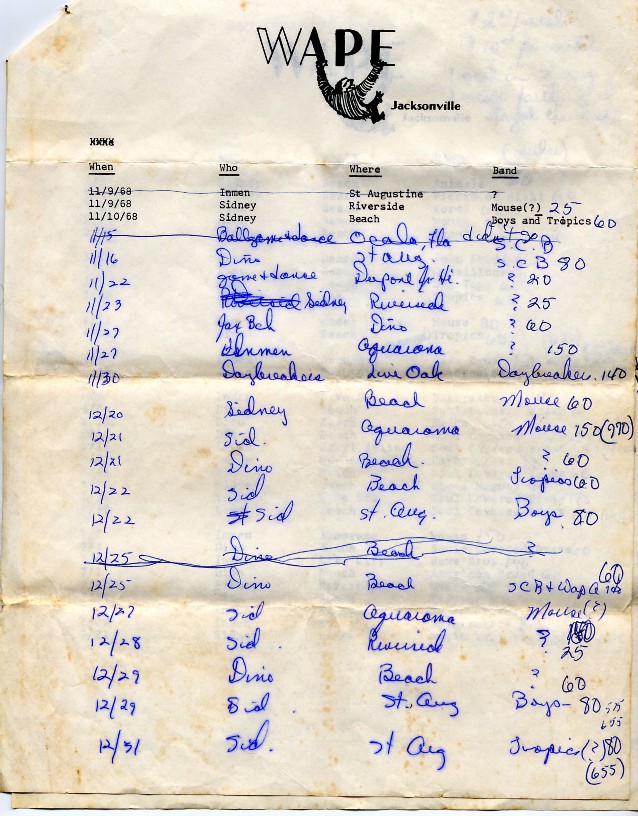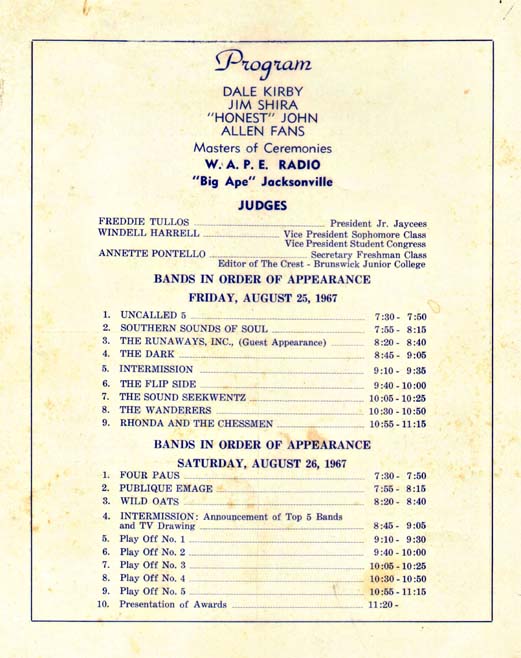 WAPDE Battle of the Bands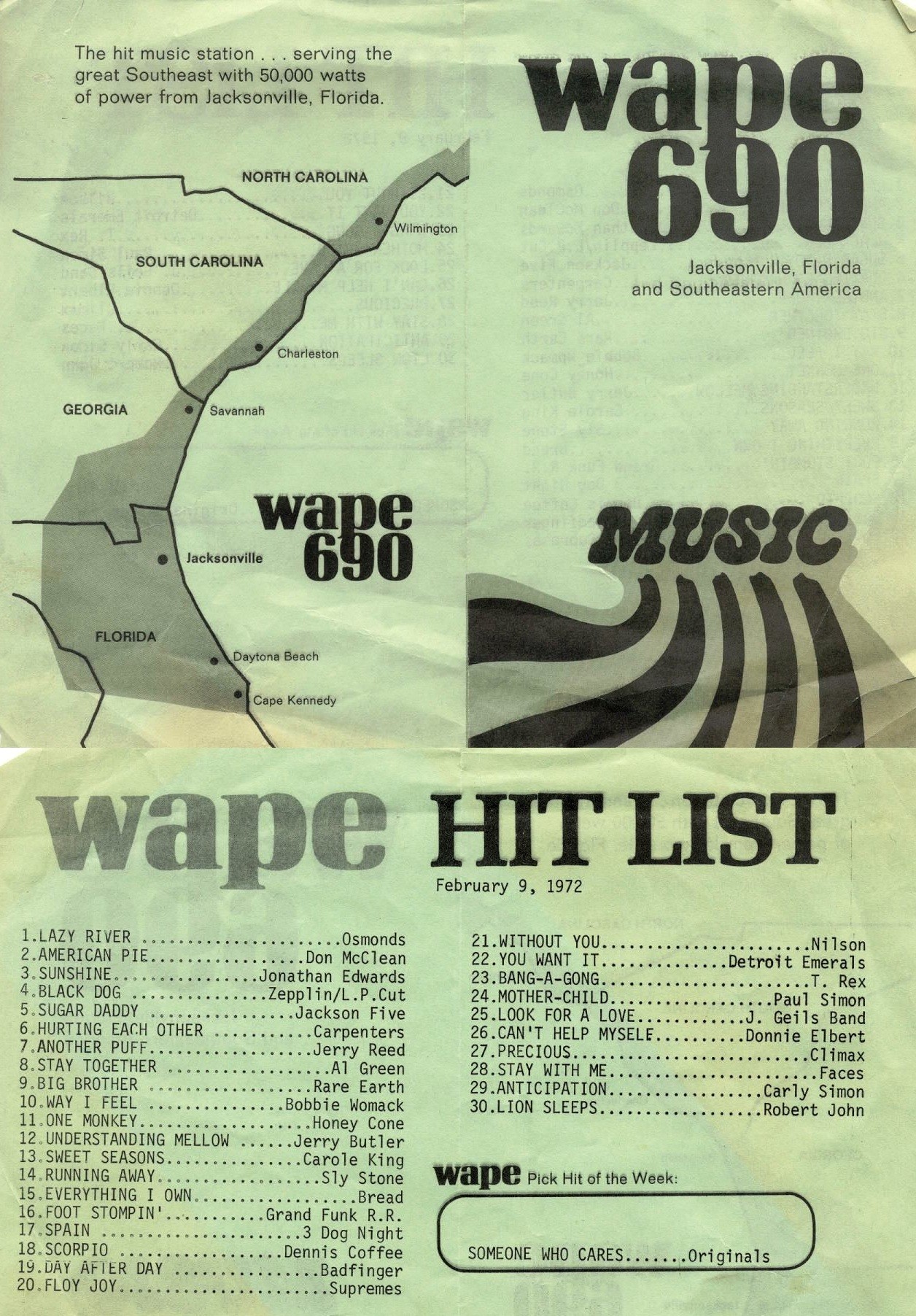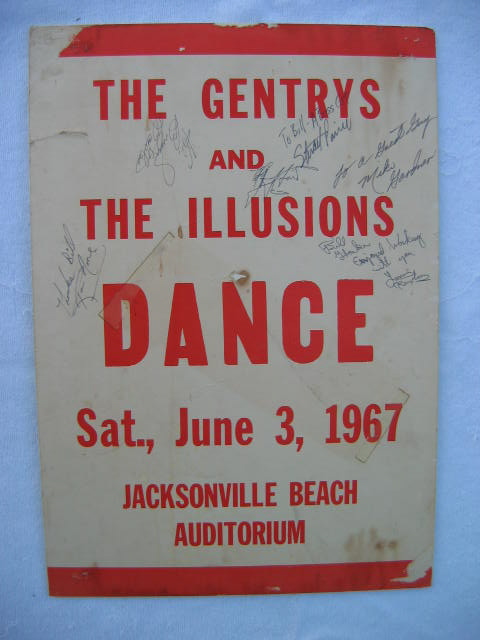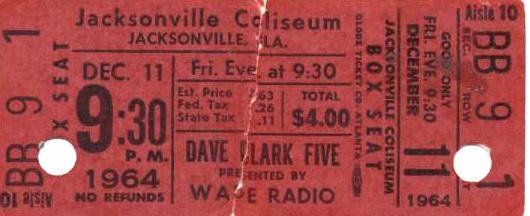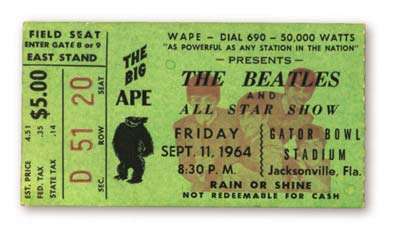 WAPE presents: The Beatles at the
Gator Bowl for only $5.00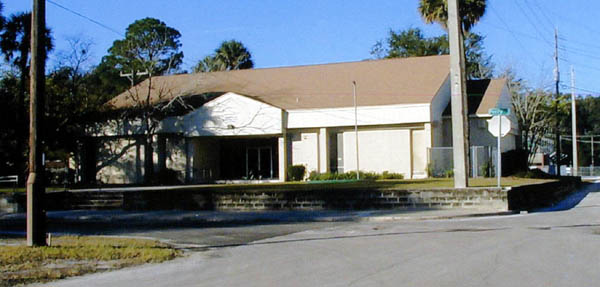 Tedrick Youth Center, Jacksonville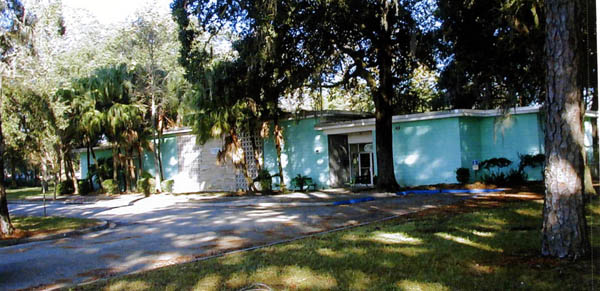 Woodstock Youth Center, Jacksonville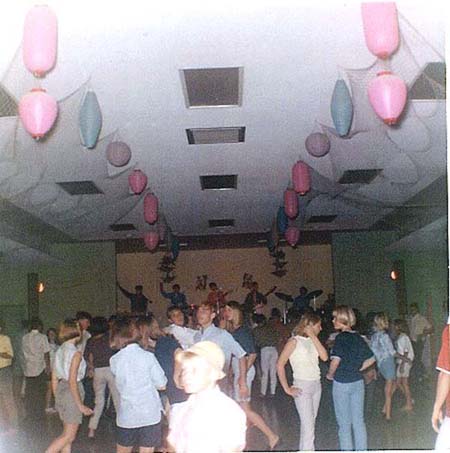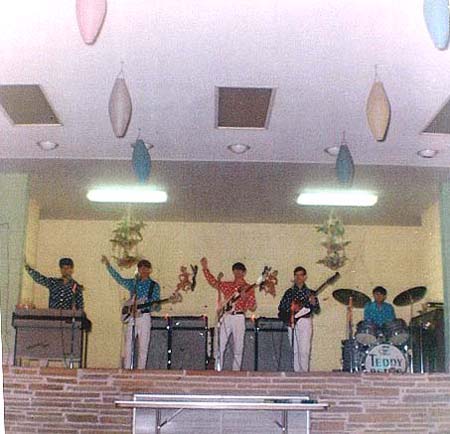 Woodstock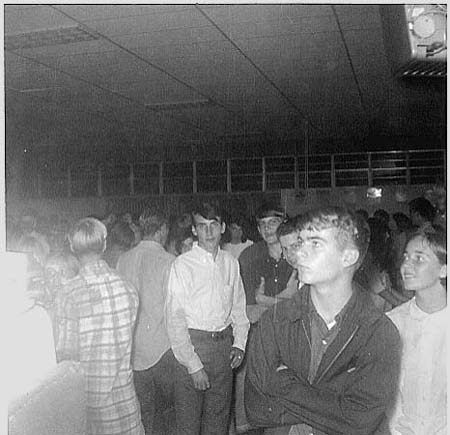 Teen Hill Teen Center, Jacksonville'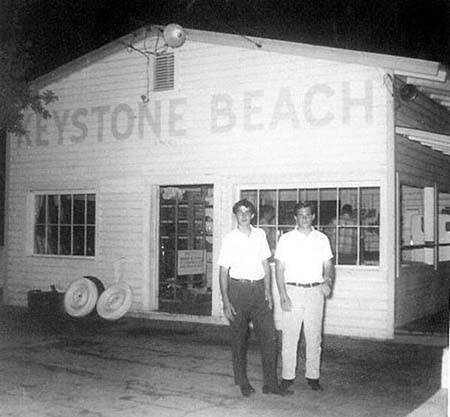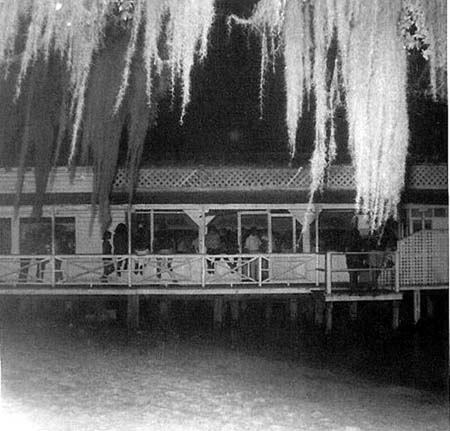 Keystone Beach Pavilion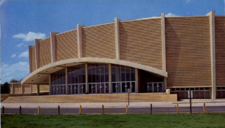 Jacksonville Beach Colliseum book huge acts, including the Big Ape Conventions
Other Florida Venues:
Daytona Beach-The Pier
Panama City Beach-The Red Rooster, Old Hickory, Old Dutch Inn
Pensacola-The Casino
Perdido Key-Flora-Bama
Tampa-The officers Lounge
Alabama Venues:
Auburn-Shepherd's Purse
Birmingham-Oporto Natijonal Guard Armory, Boom Boom Room, The Crazy Horse
Dothan-Natijonal Guard Armory, The Flamingo
Gadsden-Gadsden Convention Center
Monroeville-Land of a Thousand Dances
Tuscaloosa-Jaycee Civic Center, Brandon National Guard Armory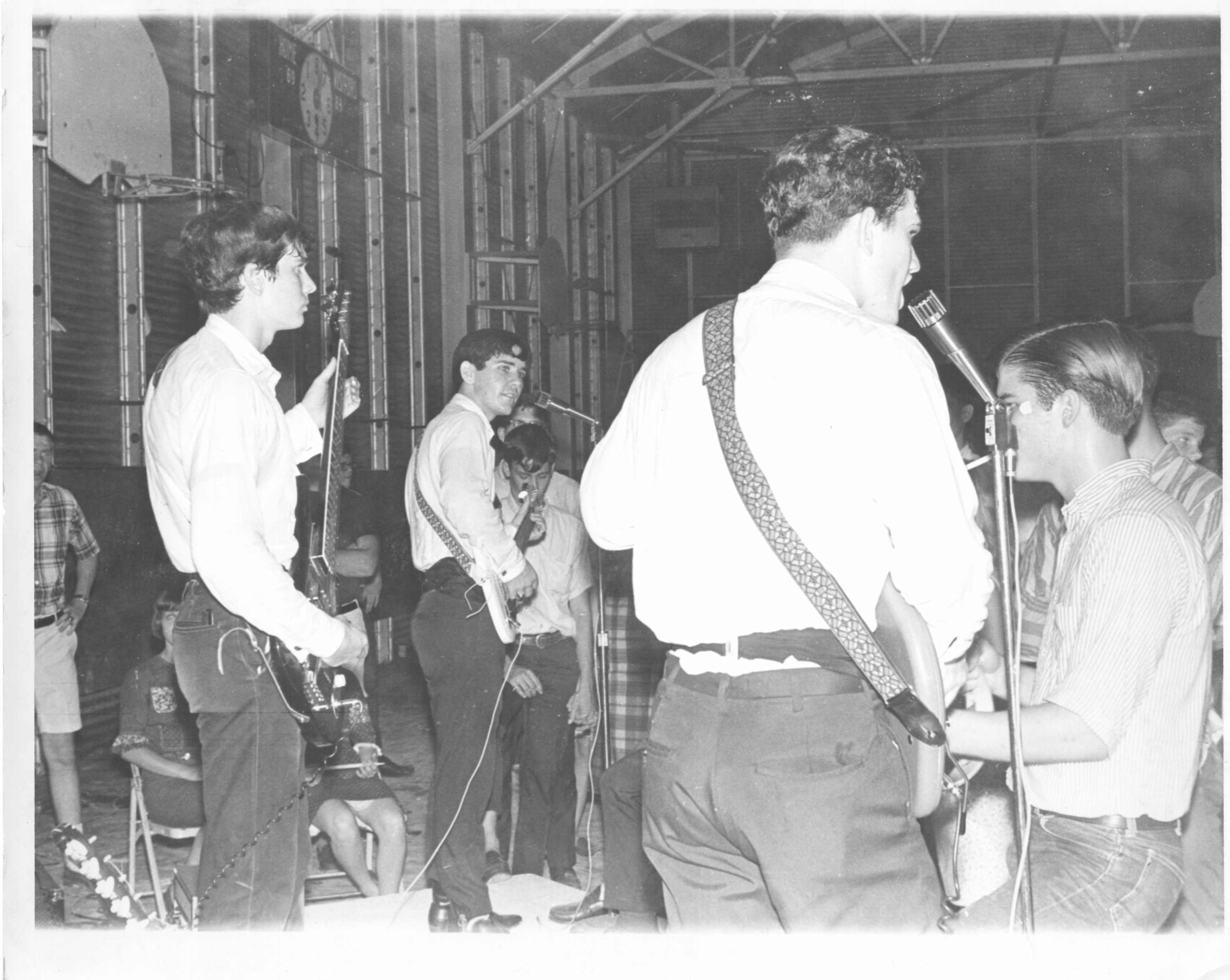 The Riots rock at the Rec. Center on Grove St. in Waycross, GA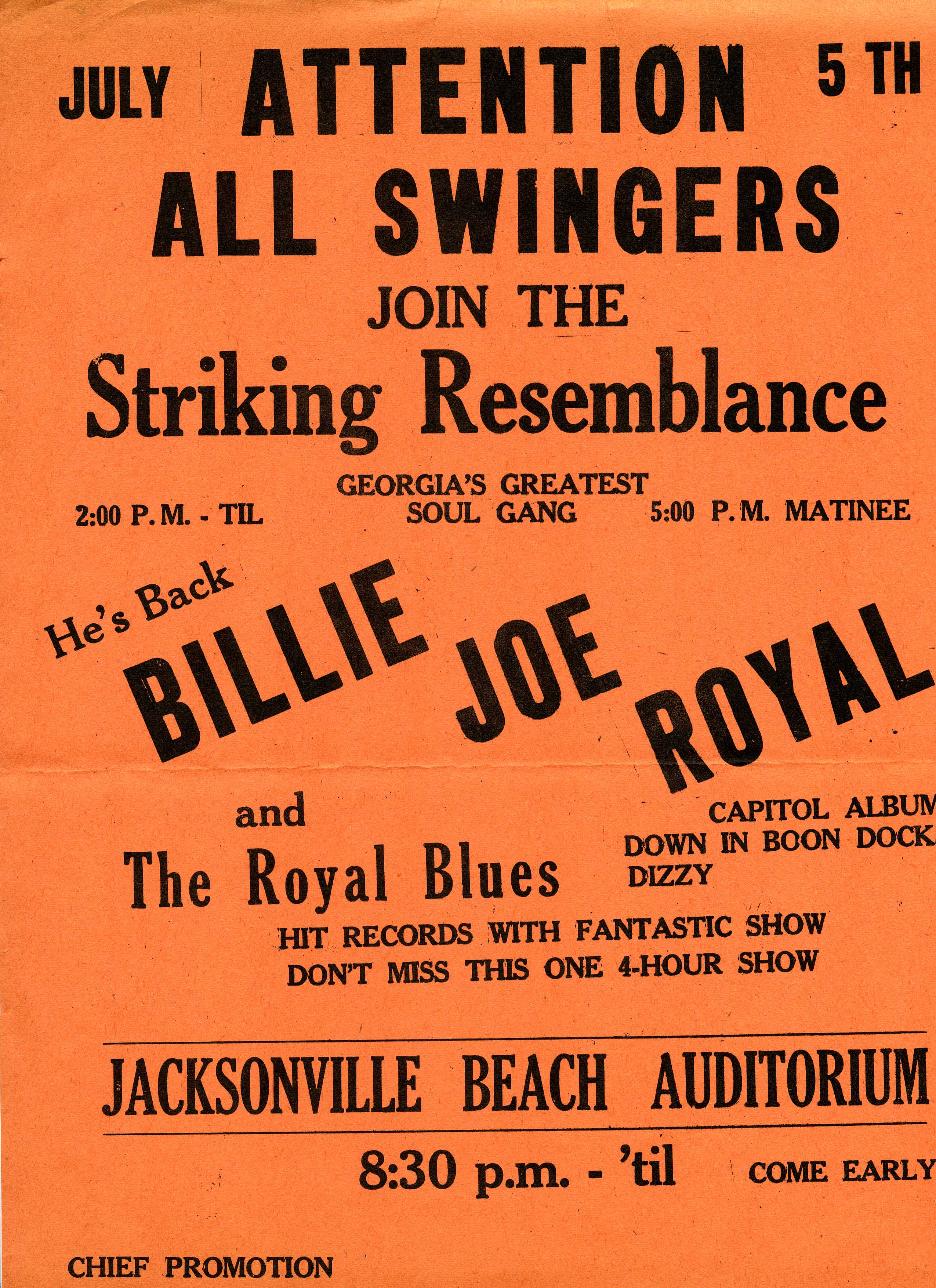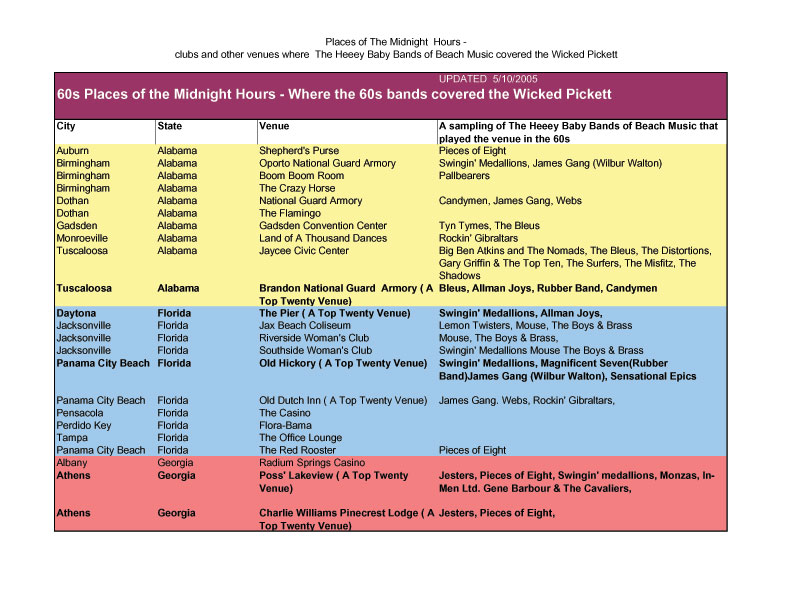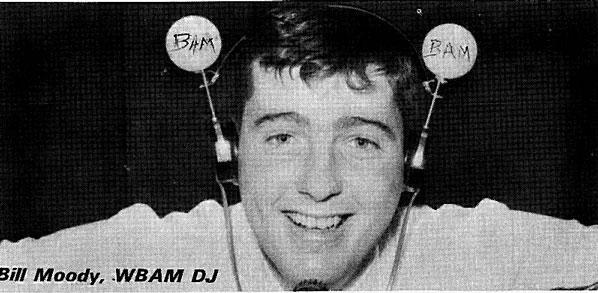 Bill Moody, popular DJ for WBAM in Montgomery (The Big BAM), Al. WBAM was the sister station to WAPE and was equally popular.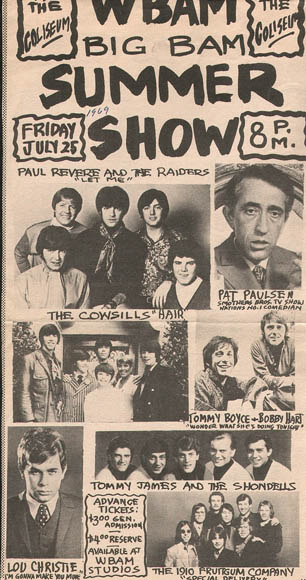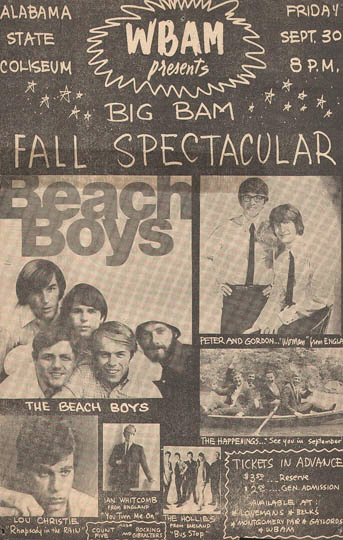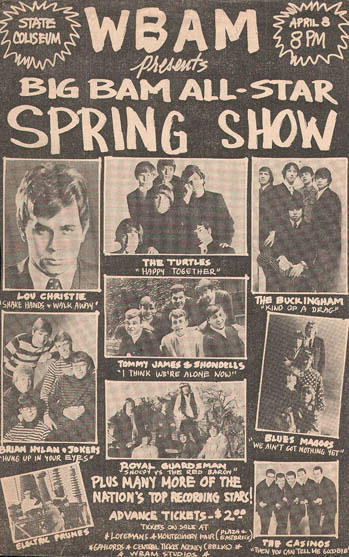 WBAM promoted huge concerts just like the Big Ape in Jacksonville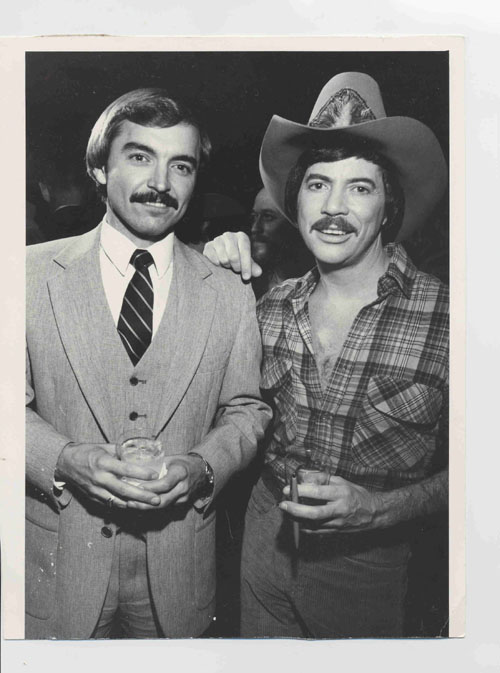 Jim Faircloth, DJ in Tifton, GA promoted dances at The Woods, an extremely popular dance spout in South Georgia that booked many of the top talent in the nation.
This is Jim on the left with Bobby Goldsboro, taken after a show in San Antonio in 1978. A lot of people told them that they looked like brothers.
Bobby and Jim had reconnected after several years of not having been together. They had become fast friends in the mid 60's when Jim would book him into small clubs around Georgia. Because they were similar in size and close enough with hair color and style, Jim would decoy the autograph seekers hanging out by the entrance to the various venues. He would get out of a car with an empty guitar case and with his head down walk toward the crowd while Bobby would slip undetected through another door leading backstage.
Jim now lives at Lake Oconee, near Greensboro, GA. He built a home there in 1989, but spent two years in Seattle and six years in Reno with various cable television projects during the intervening years.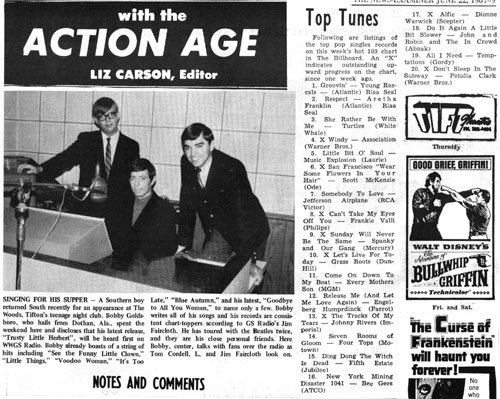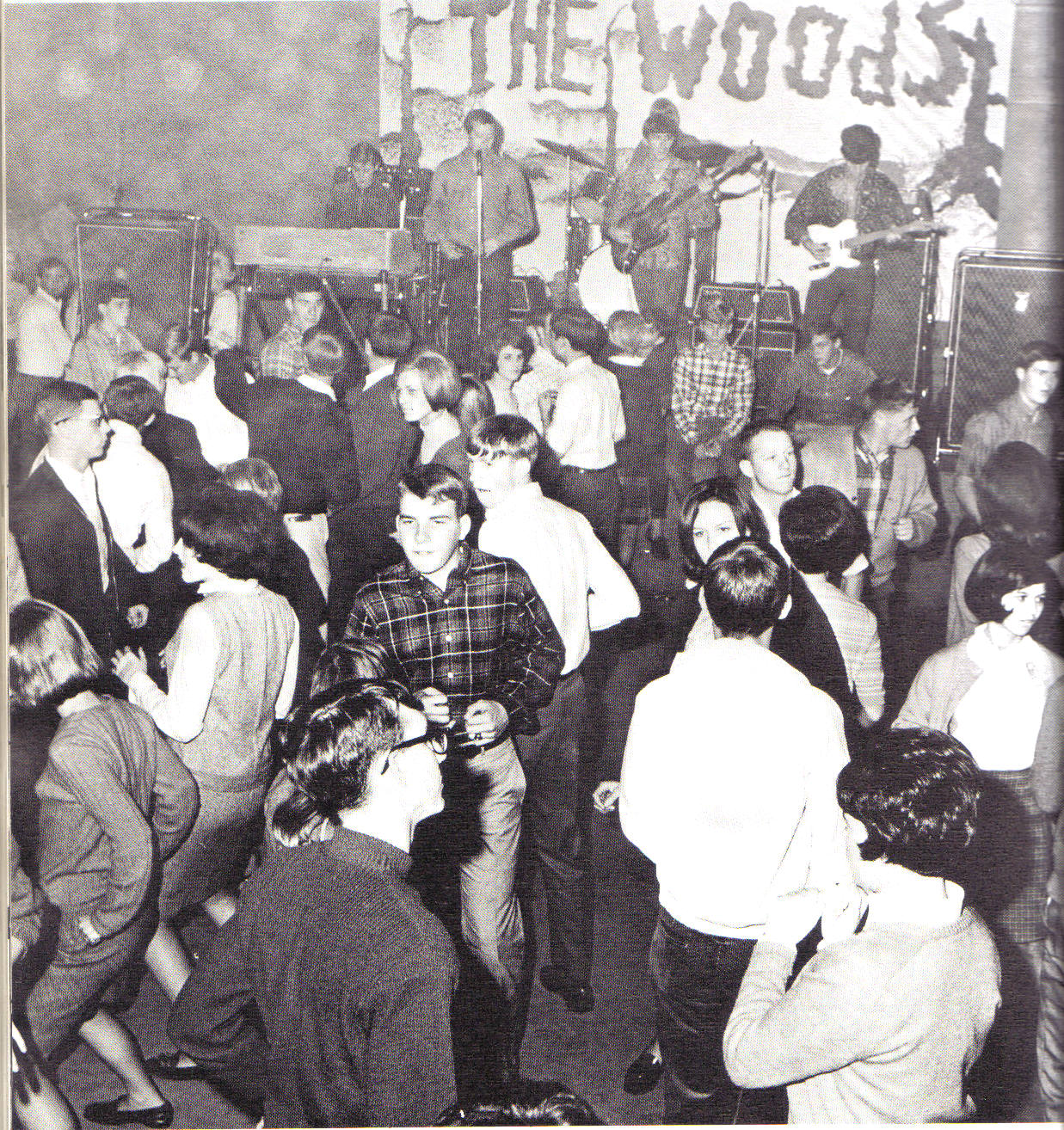 The Woods, Tifton, GA is hopping in the 1960s.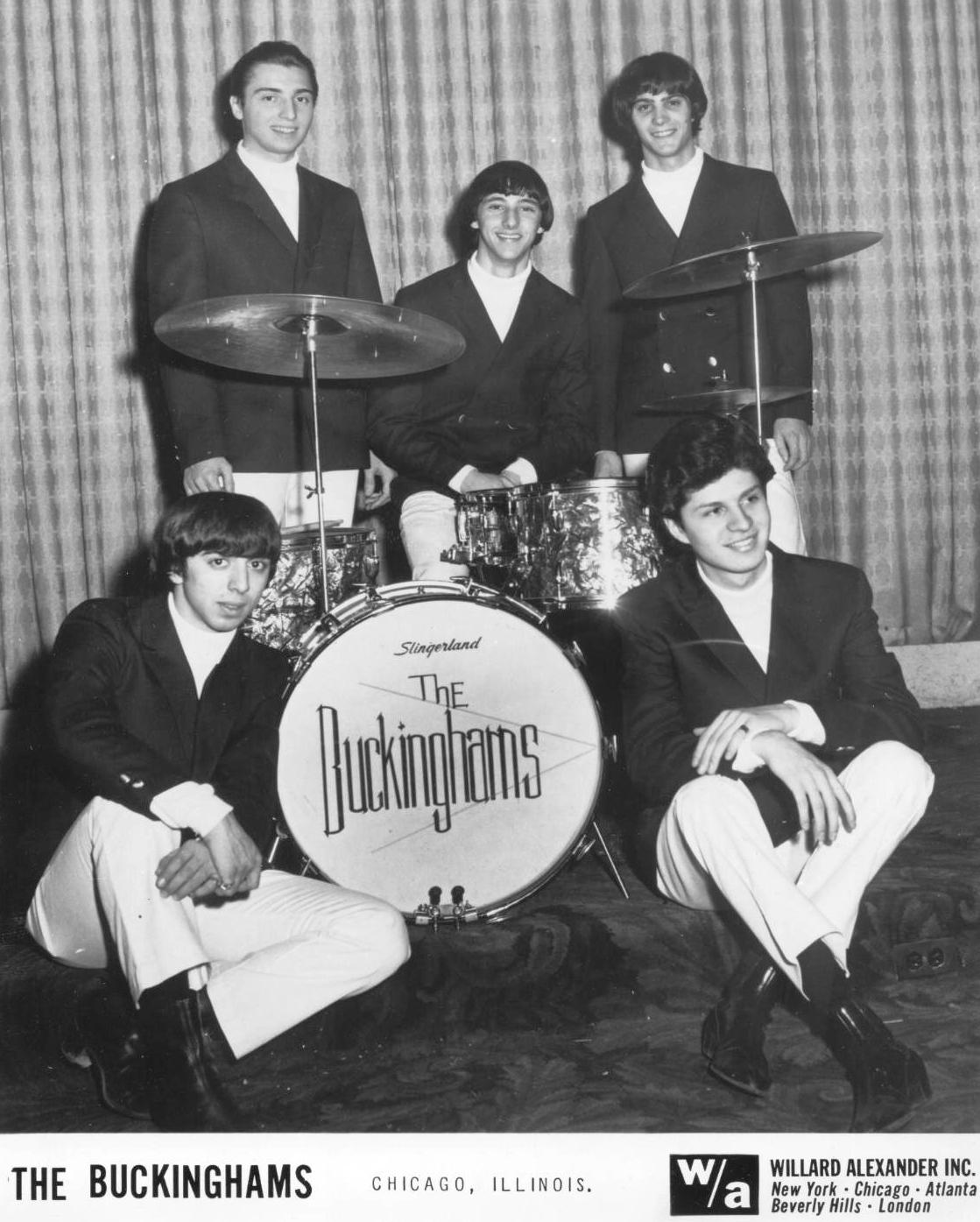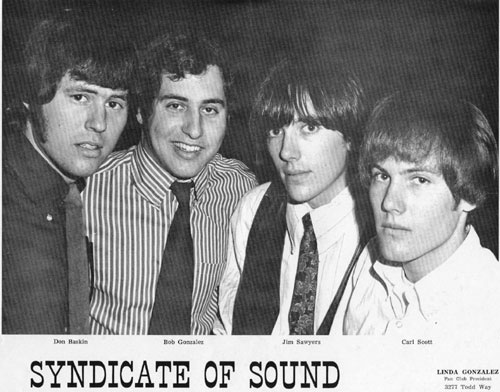 The Buckinghams and Syndicate of Sound were two of the top bands to perform at The Woods.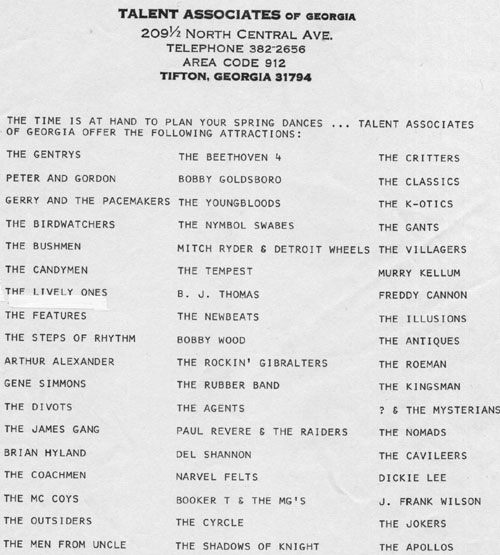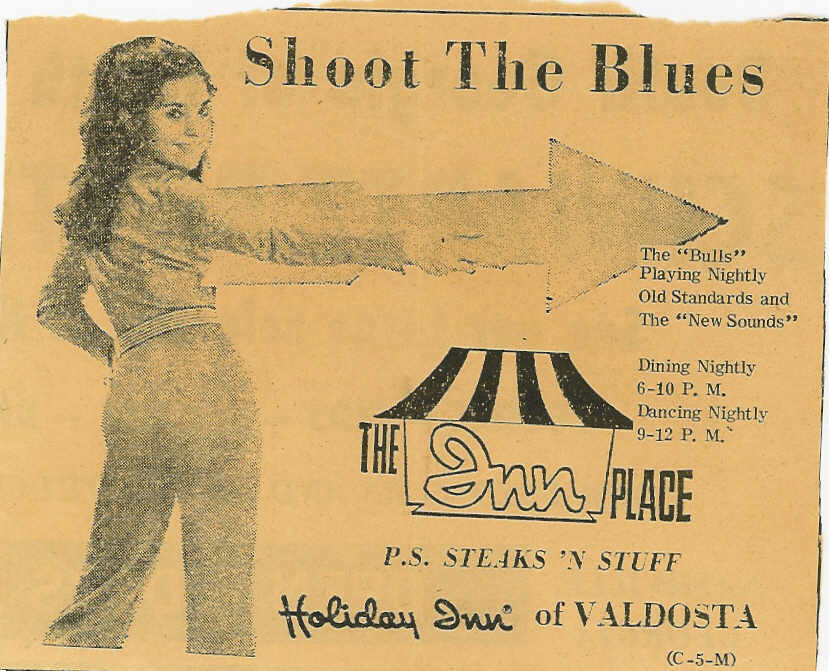 The Inn Place in the Holiday Inn in Valdosta, Ga packed in the late night crowds.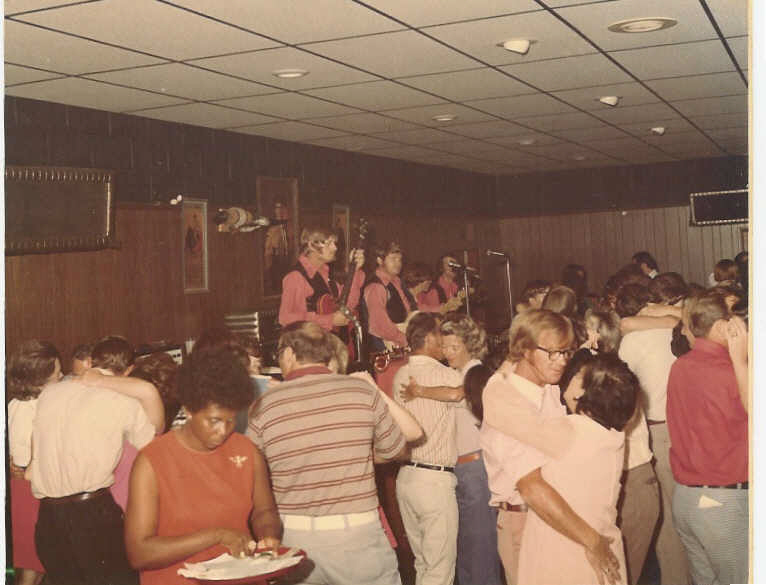 The Bulls perform at the Inn Place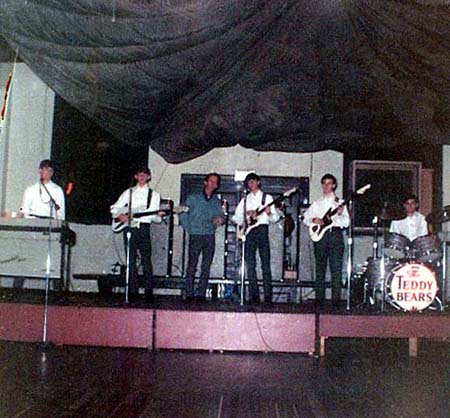 Coat of Arms Teen Center in Savannah, GA was another popular teen dance spot.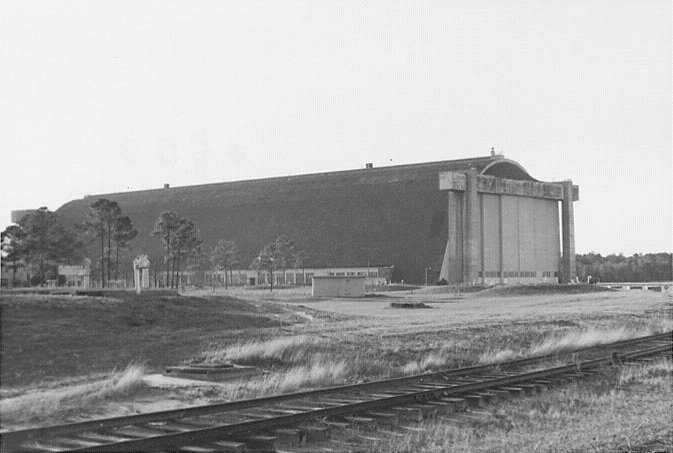 Blimp Hanger one
Glynco Teen Club, Brunswick, GA 1960s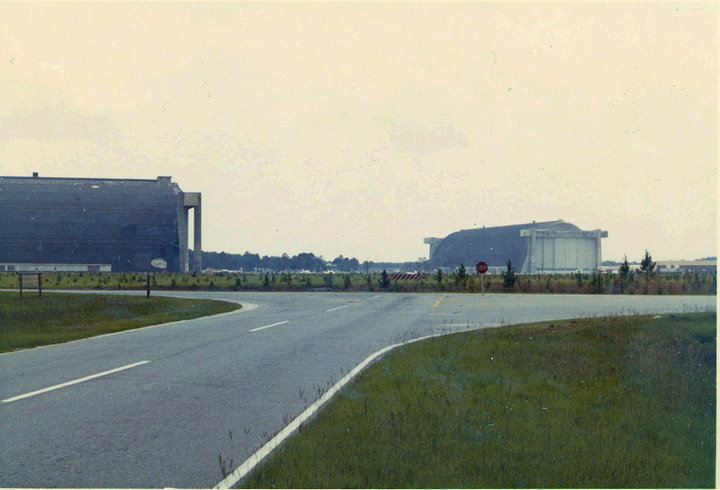 Hangers 1 and 2
Glynco Teen Club Brunswick, Ga 1960s
(hanger pics courtesy John Stevens)
ATHENS, GA
Home of rising star bands such as REM, B-52s and Widespread Panic
Athens has served as wellspring of musical talent
Few cities in the world can claim a musical identity that has become as well-known, diverse and entrenched as Athens'. Those that do are the metropolitan titans of the world: New York, Detroit, San Francisco, Seattle. Yet somehow little ol' Athens, Ga. has become inseparable from its music -- a David amongst the Goliaths of similarly well-known scenes.
Esquire once called it "the mother of modern music," while the Washington Post noted in 1984 that record company executives at the time listened to "virtually any tape dispatched from Athens."
From the outset, the Athens music scene has been closely tied to and made up largely of the University of Georgia's student body. Throughout the 1950s, UGA students danced to the likes of Jimmy Dorsey and his band or Charlie Spivah and his orchestra, often at locations such as the American Legion Hall, Stegeman Hall or the YMCA.
In 1958, Terry "Mad Dog" Melton formed an unnamed quartet that would play often at The Canteen, a site in Memorial Park that featured music and dancing usually on Saturday nights. The Canteen remained popular into the 1960's and was a common performance location for the Jesters, who formed around 1964 and continue to perform occasionally.
The Jesters blend of beach music and Motown earned them honors as the backup band for the likes of The Platters, The Drifters and Marvin Gaye outside of town. But it also demonstrated the prevailing emphasis of local bands at the time: cover songs played at places such as the VFW, Charlie Williams Pinecrest Lodge or even Doster's Skating Rink.
"Writing your own tunes was sort of unheard of," recalls Harold Williams of the Jesters.
But styles began to change somewhat as the later-dubbed Normaltown River of Music began to flow in the late '60s and early '70s and artists began writing their own music. Williams, Melton, Davis Causey, Randall Bramblett and Brian Burke began to perform with numerous other artists to form groups such as Goose Creek Symphony, the Normaltown Flyers and Dixie Grease. Some of these musicians eventually went on to perform with the Nitty Gritty Dirt Band and Gregg Allman.
The Last Resort, which began as a music club and bar at the corner of Hull and E. Clayton streets in downtown Athens in 1966 showcasing primarily folk and quieter music, expanded in later years to showcase bands such as the B-52's and Guadalcanal Diary. Around the same time, other bars in Athens were beginning to feature music along with their liquid refreshment, although the variety was still limited.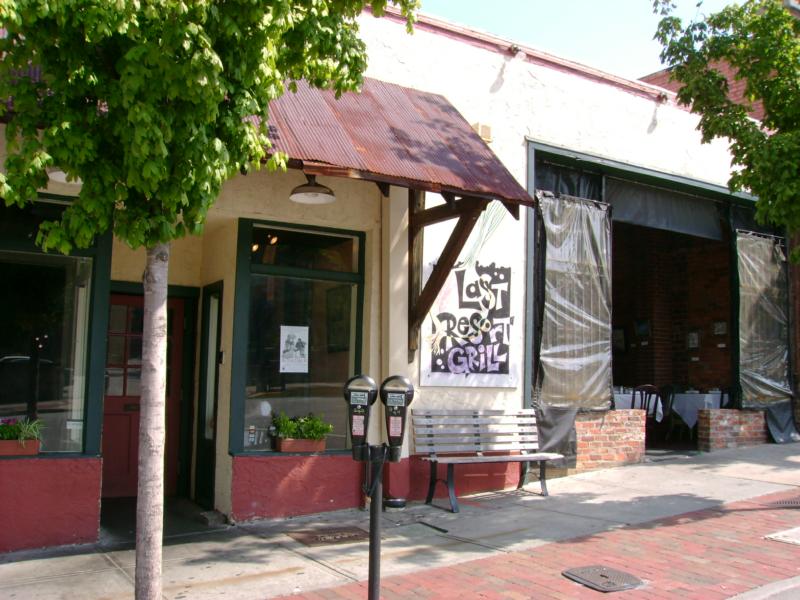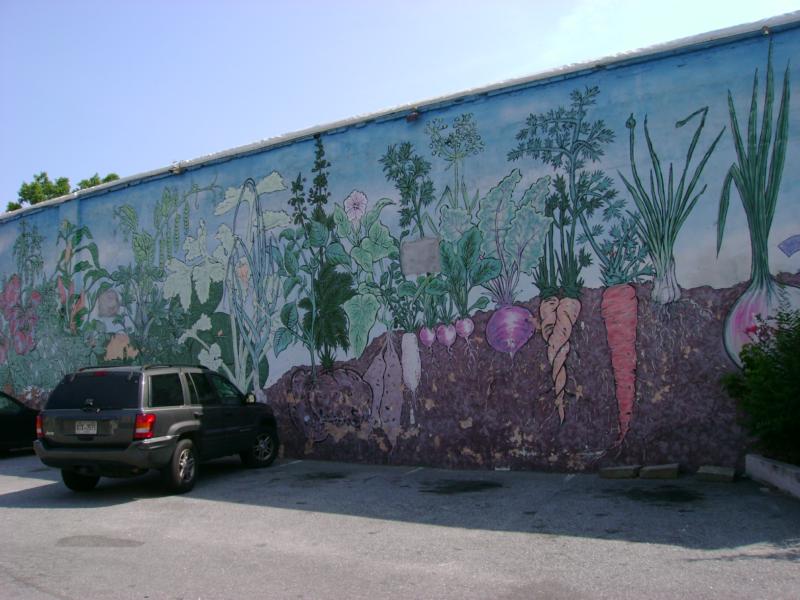 184 W. Clayton Street A music club and bar, The Last Resort began in
1966 down the street from three finance companies. It was said that if you
were turned down by all three, the bar was your "last resort." This pre-scene
bar and music club mostly featured bluegrass, folk, jazz bands and stand-up
comedy. It was owned for a while by pioneer Athens musician Terry "Mad Dog"
Melton. The B-52s played an awkward show here in 1978. Memorable
performers include Steve Martin, Randall Bramblett, the Sunbelt Millionaires,
Gamble Rogers and Jimmy Buffett. Guadalcanal Diary played their first Athens
show here. The club, under the ownership of Lynn Miller, expanded into the
space next door formerly occupied by a garage, and greatly expanded the
music hall but couldn't draw the crowds to fill it. The Last Resort closed down
in the mid-'80s. The space was occupied by a camera shop briefly and then in
August, 1992, The Last Resort Grill was reborn as an upscale restaurant.
(See the vegetable mural on the side wall by Athens artist Greg Williams which
covers an earlier painting by Charlie Gardner).
"That was really exciting to go to a bar and hear a band," says Williams. "That was new to Athens."
The B-52's performed a reunion concert at the Forty Watt club in Athens, Ga., in January 1994.Bob Rives/Staff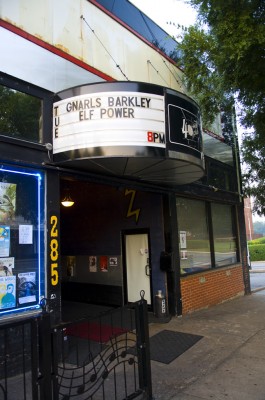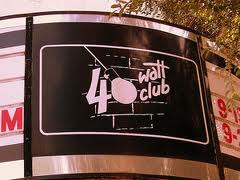 382 E. Broad Street Here was the fourth location of the 40 Watt Club,
billed as "The 40 Watt Uptown." Doug Hoescht opened the club here in early
1984, and he managed it and did the booking. University of Georgia offices
occupy the space now. Far more "upscale" than the previous spots, this 40
Watt soon became the largest club in town. The Replacements, The Lyres,
Kilkenny Cats, Red Hot Chili Peppers, Time Toy, Dreams So Real, Jason And
The Scorchers, The Plague, 10,000 Maniacs, Suicidal Tendencies, Final
Frontier, Mantra Factory and Bad Brains played there - need we say more? It
was a helluva club through the mid '80s. Club employees Jared Bailey and
Barrie Buck continued as managers after Hoescht suddenly left town. This
location closed in March, 1987.

Throughout the 1970s, other popular venues included at one time or another: Normaltown's Between the Hedges (where Foxz Tavern is now) and Allen's ; the B&L Warehouse on Oconee Street; the area called The Station (currently the Athens Area Council on Aging) at the north end of Hull Street; the Chameleon which later became Tyrone's O.C. on Foundry Street; and the first Georgia Theatre that opened as a club in 1978.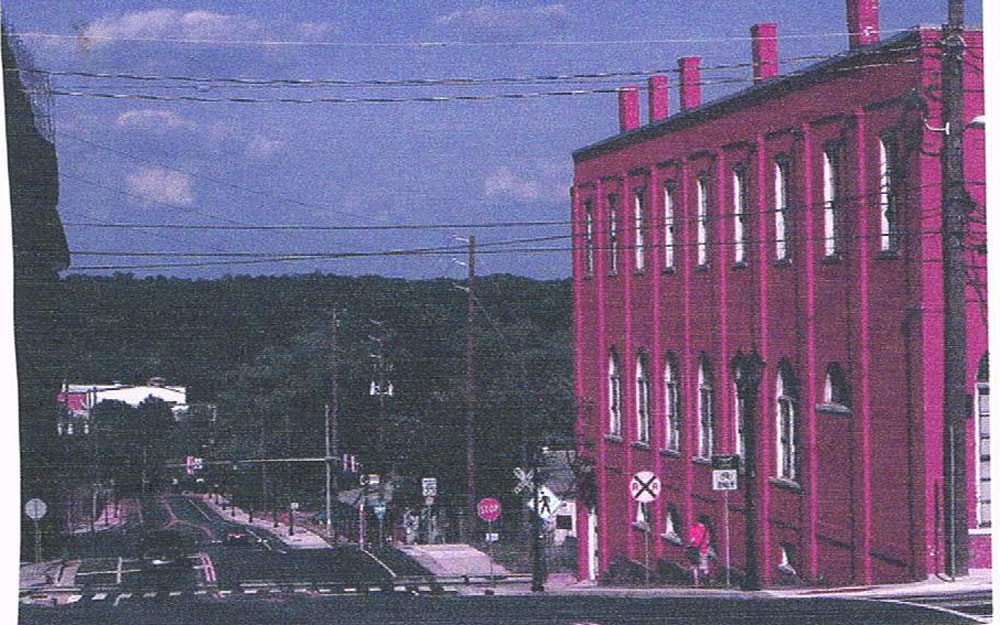 B & L also popular for it's mechanical bull rides during the Urban Cowboy days.
244 Oconee Street This large warehouse space served in the early '70s as
The B&L Warehouse, a cheap-beer watering hole that hosted rock and roll
cover bands in a cavernous room. The B&L gradually evolved into a big music
club around '79 and turned into The I&I Club in 1980. Iggy Pop played in '82.
The entrance was up a long staircase on the back side. Pylon practiced
upstairs and performed all-ages shows here in '81 and '82. Other memorable
gigs included Jason & The Scorchers, Guadalcanal Diary, The Killbillys. After a
short comeback as Buckhead Beach, it was later utilized as a band practice
space, artists' studios and keg-party room. The space was recently shut down
by the fire marshal and is now vacant, except for the memories.
The 1970s proved to be a fertile time for the Athens music scene on other fronts. The Athens Symphony debuted in 1978, Wuxtry Records opened its doors in 1975 and the University of Georgia's student-run radio station WUOG went on the air in 1972.
WUOG would prove over the years to be a major contributor to the scene, providing not only a host of music lovers as potential band members and listeners, but at least two band names -- the Woggles and the Wuoggerz -- as well as an eventual outlet for local bands to gain exposure.
Members of REM pose in their office in 1997 after announcing that Bill Berry will be leaving the band.Todd Bennett/Staff
A seminal event in the Athens music scene occurred on Valentine's Day in 1977 when the B-52's made their debut at a house party across from the Taco Stand on Milledge Avenue. The B-52's, self-described as a "tacky little dance band," took their wigs and zany antics and quickly went from being the delight of Athens and Atlanta to a larger stage and signed to Warner Bros. Records. By the winter of 1978, opined Rolling Stone in 1980, the B-52's had become the "hottest club band in New York."
"The B's came along and punched a great big hole and made it a whole lot easier, and even more lucrative, for bands like us to take a shot at it," said Pylon's Curtis Crowe to the Red and Black in 1981.
As a result, a handful of bands such as The Tone Tones, The Method Actors, Pylon, The Side Effects, Love Tractor, The Squalls, Little Tigers, Men in Trees, Limbo District and R.E.M. sprouted in the late '70s and early '80s, eventually performing at venues such as the I&I (formerly the B&L Warehouse), the Mad Hatter, the 40 Watt Club and Tyrone's O.C.
R.E.M. and The Side Effects both debuted at a friend's birthday party at an old church on Oconee Street on April 5, 1980, an event dubbed one of the 100 Greatest Moments in Rock History by Entertainment Weekly. It was fitting that the legendary event was a party, underscoring the role that the party scene has played in debuting bands, launching clubs and gathering like-minded music fans through the history of the Athens music scene.
But while the core group of friends was having a great time among themselves, the nascent scene was beginning to draw national attention. "Something is happening in Athens," remarked New York Rocker in 1980.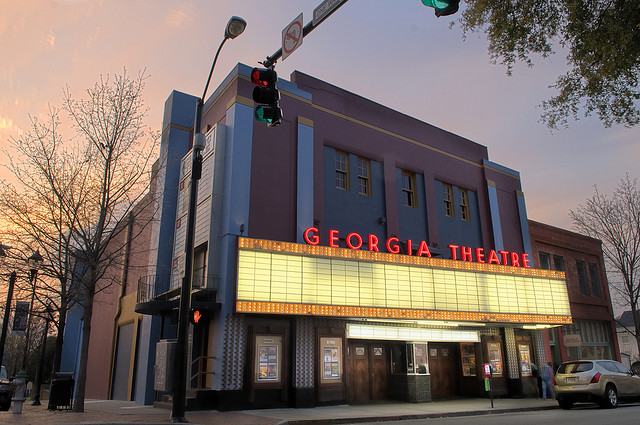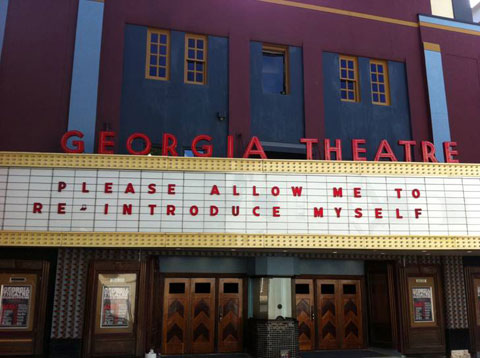 The Georgia Theater still going strong today after surviving a fire in 2011. Popular place to watch the University of Georgia Bulldog football games on the big screen for those who could not find tickets to Sanford Stadium.
215 N. Lumpkin Street Converted from an old movie theater to a music
hall by Hap Harris and Sam Smartt, the Georgia Theatre opened January 11,
1978, with Sea Level playing. David Allen Coe followed soon after. The Police
played a memorable show here during their first American tour in 1979. The B-
52s played the same year, after going out and selling the $1500 worth of
tickets demanded by the owners as a condition for letting the band play.
Tyrone Davis, B. B. King, Muddy Waters and Tom Waits all played the Georgia
in the early days, but Harris and Smartt were ahead of their time and couldn't
make the theater pay for itself. They kept it going around three years and then
pulled the plug. The old hall limped along as the Carafe and Draft movie
theater, with occasional live music, until Kyle Pilgrim and Duck Anderson reopened
it as a live music and movie venue in November, 1989. The two
partners have made the Georgia Theatre into a legendary music Mecca
hosting the likes of Widespread Panic, David Allen Coe, Wynton Marsalis, Ice-
T, Warren Zevon, Rev. Horton Heat, Phish, The Dave Matthews Band, Bela
Fleck, Hootie And The Blowfish, GWAR and many, many local bands. Portions
of the R.E.M. video for "Shiny Happy People" were filmed here.

R.E.M.'s rise only fanned the flame when The Village Voice named "Radio Free Europe" Single of the Year in December 1981 and R.E.M.'s IRS Records full-length "Murmur" was dubbed the Album of the Year by Rolling Stone over Michael Jackson's "Thriller" and the Police's "Synchronicity" in 1983.
In January 1983, People magazine ran a "family portrait" of 12 Athens bands in front of the Elijah Clarke monument on Broad Street, while the likes of Newsweek and The Washington Post came to town and began to write stories about the Athens music scene.
Tyrone's O.C. burned down in January 1982, and the 40 Watt Club took on even more focus as the core of the scene. Given its name for a Halloween party in 1979 due to the lone bulb that lit up the original space above what is now The Grill, the 40 Watt moved to different locations around town until eventually coming to rest at its current location on W. Washington Street in 1990.
The mid-'80s saw other parts of the scene pop up. The North Georgia Folk Festival made its debut in town in 1984 and a trio of musicians calling themselves Widespread Panic began performing in 1985, becoming known for their weekly jam sessions at the recently opened Uptown Lounge on E. Washington Street.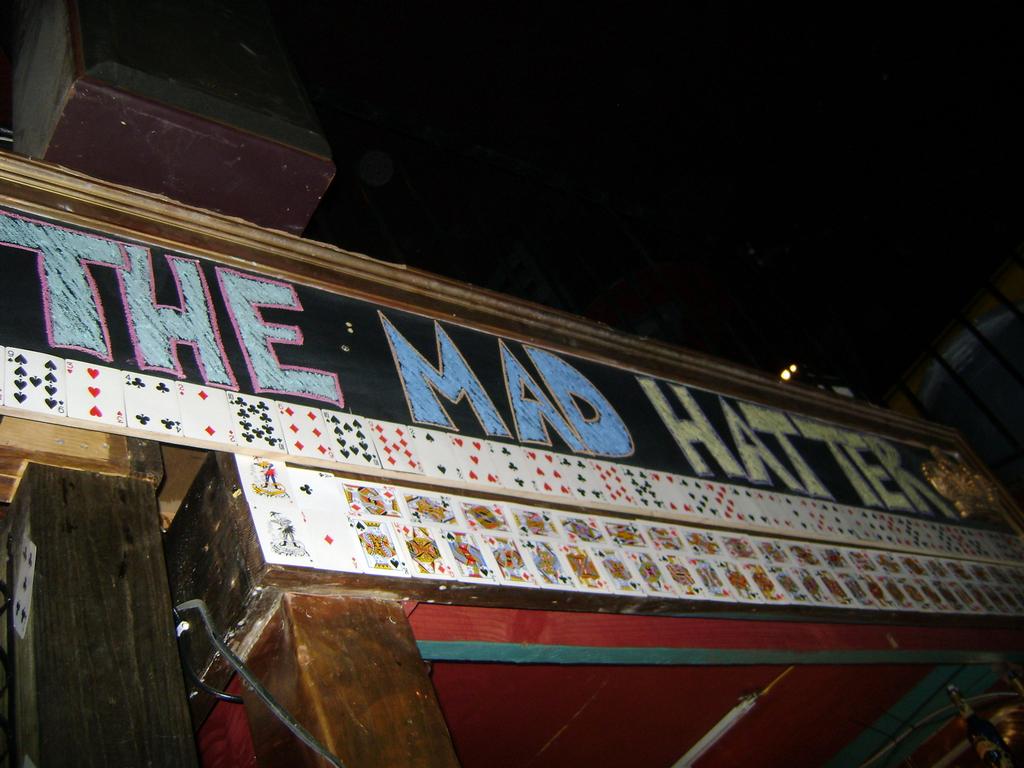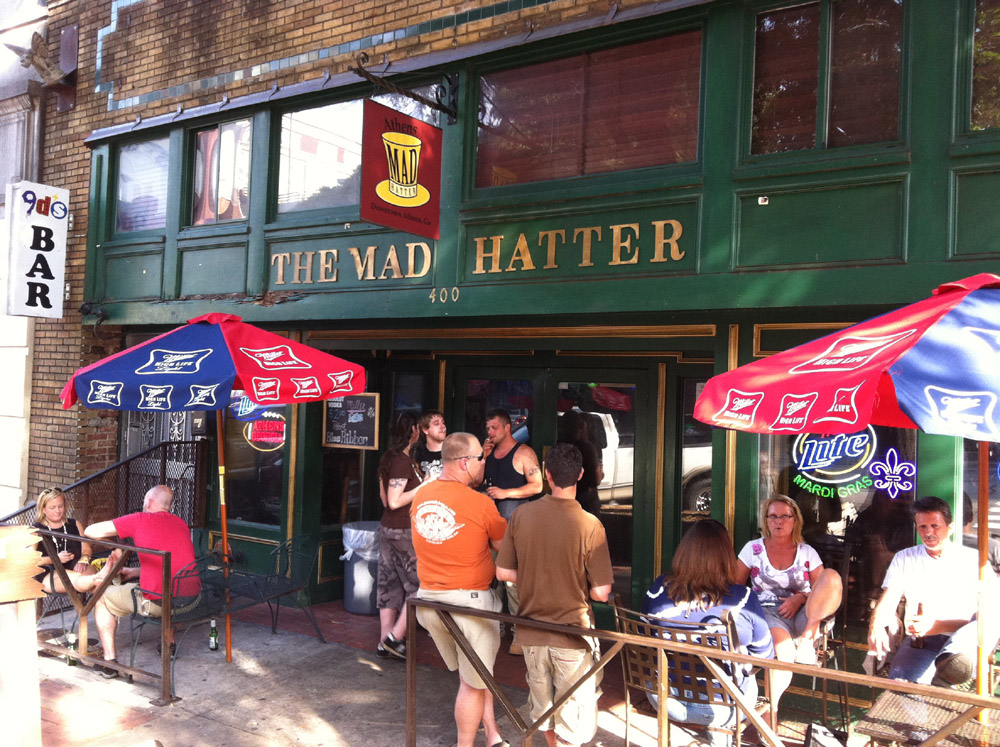 Two major events occurred in 1987 with lasting effects on the music scene. The film documentary "Athens, GA -- Inside/Out," which attempted to showcase the scene at the time, quickly became a cult classic despite including some folks with dubious Athens ties. Also that year, 40 Watt co-owner Jared Bailey started Flagpole Magazine as the "Colorbearer of Athens Alternative Music." Two years later, Bailey wrote an editorial that was used in 1997 as the catalyst for the first annual AthFest, an event that continues to showcase scores of Athens bands each summer.
By 1987, the Uptown Lounge had become the largest club in town, but eventually closed as a club in 1990 and moved to a new location. Smaller clubs such as the 40 Watt Club, the Rockfish Palace (now Boneshakers) and The Downstairs (now D.T.'s Down Under at E. Clayton Street) took on their own niche of bands and crowds throughout the late '80s. The Georgia Theatre, which had been converted to a movie theater some years earlier, was reopened as a club in November, 1989 and became one of Athens' most well attended clubs.
The former Uptown Lounge space eventually became the Atomic Music Hall that featured the likes of Harvey Milk, Dayroom, Jucifer and Kevn Kinney until closing in 1997, while a former 40 Watt space became the Caledonia Lounge in 1999.
Artists such as Buzz Hungry, Jack Logan, Five-Eight, Hayride, Roosevelt and Jack O'Nuts left their mark throughout the early 1990s, before a new tide of bands that made up much of what was called the Elephant 6 collective garnered attention. These new bands such as the Olivia Tremor Control, Elf Power, Of Montreal and Neutral Milk Hotel drew new attention to Athens in the mid-1990s as a close-knit group who played on each others' records and gained a loyal following while puzzling the media who attempted to chronicle their incestuousness.
A similar buzz grew up around Athens' Kindercore Records, a pop label that formed in 1996 and has since released more than 50 records, including those from locals such as Japancakes, Masters of the Hemisphere and the Sunshine Fix.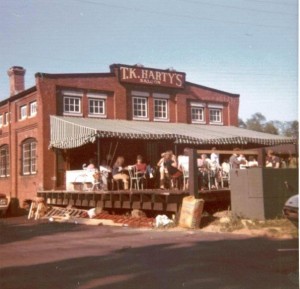 T K Hartys Saloon
137 Hoyt Street This old train depot area called The Station, on Hoyt
Street between Dougherty Street and College Avenue, was occupied by
several bars, music venues and cafés throughout the '70s and '80s. TK
Hardy's Saloon, located on the south end, opened in 1971 and hosted
various classic rock and country bands into the late '80s.
In 1998, Widespread Panic hosted a record release party for their album "Light Fuse, Get Away" with a free concert on W. Washington Street outside the 40 Watt Club. After several weeks of wrangling with details, security and a local wedding, the concert went on and drew an estimated 70,000-100,000 people to the show.
That same year, Pylon's Michael Lachowski opened Candy, a DJ store on Broad Street. It would soon become the headquarters for several years for the burgeoning Athens dance music scene that included the likes of DJ 43, Danger Mouse and the Phungus crew before closing in 2001.
A series of recent projects have focused on helping and acknowledging the Athens music scene of today and yesteryear. In 1999, Flagpole
established the annual Athens Music Awards as a way for voters to recognize others in town. Nuci's Space, a one-of-a-kind space formed by Linda Phillips in response to her son's suicide in 1996, opened its doors in September 2000 to provide counseling, low-cost practice space and other resources for area musicians.
An Athens Music History exhibit showcased memorabilia from the scene in June of 2001 while working to find a permanent home, while the Athens Music Preservation Society formed in part to collect and clean past recordings. AthensMusic.net and RockAthens.com, online information and record sources, both launched in recent years. Additionally, the Georgia Music Hall of Fame is planning an Athens music exhibit for the summer of 2002.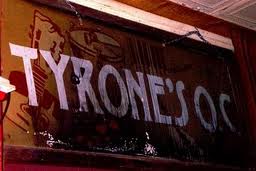 Tyrone's O. C.
Corner of Foundry Street and East Broad Street Facing Foundry, across
East Broad from the present Flagpole office, where a parking lot now meets
the eye, Tyrone's O.C. (Old Chameleon) succeeded Chameleon, an earlier
club, in late '78. Tyrone's was a fertile hotbed of underground activity in the
burgeoning local scene. Pylon made its debut here. R.E.M. played many early
shows, as did such local scenesters as Is Ought Gap and Time Toy. Tyrone's
burned down in January of 1982. (Legend has it that hefty bar tabs belonging
to R.E.M. bassist Mike Mills and Pylon bassist Michael Lachowski burned,
too.) A famous bootleg recording of an R.E.M. set at Tyrone's is still floating
around on cassette. The crumbling brick at the sidewalk and the caved-in
remains of the outside deck at the end of the parking lot are all that remain of
this once jumping spot. Lost, o' lost.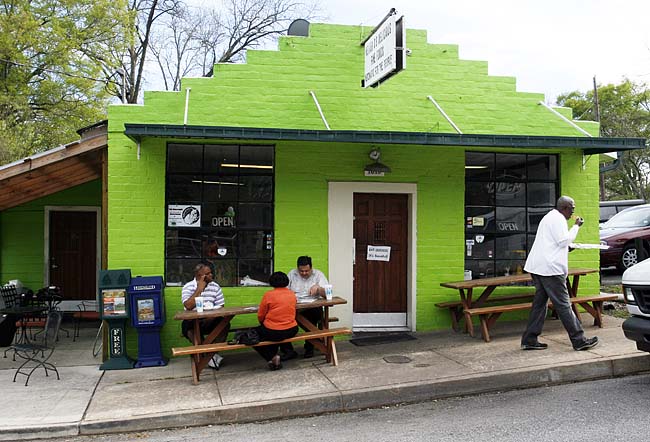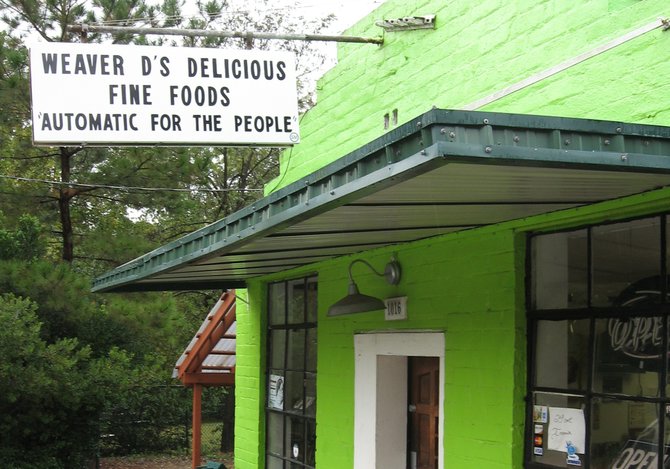 Weaver D's
1016 E. Broad Street Just down the hill from downtown, Weaver D's Fine
Foods serves up soul food. R.E.M. used proprietor Dexter Weaver's slogan
"Automatic For The People" (featured on the restaurant's sign) as the title of its
1992 album.

Today, more than 400 bands are listed in the most recent Flagpole Music Directory, and the scene boasts more clubs than ever before. Some think that with so many outlets, artists and distractions that the current scene is slightly diluted. Others think the strength of today's scene is its diversity with rock and pop being fleshed out by the burgeoning electronic and hip-hop scenes. A recent example is Athens newcomer Bubba Sparxxx, whose hip-hop debut this fall peaked at #3 on the Billboard charts.
But whatever the thoughts about the current state of the Athens music scene, perhaps Lachowski put it best in a 1986 Open City article that still holds true today: "There can be no doubt that there is an Athens Music Scene. By this time, though, it doesn't really matter what's been said or what's been done or what people think. It's just good to be doing it and it keeps going on..."
Jeff Montgomery works in the Athen-Clarke County Public Information Office. He has worked as the Promotions Chair for Athfest, he runs AthensMusic.net and is a member of Das Cowboys UK and The Reel Deal.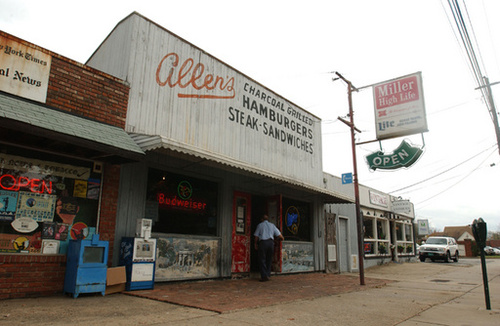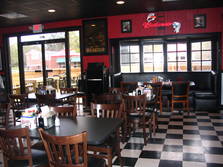 1294 Prince Avenue In the heart of Normaltown, Allen's Hamburgers
has been at the center of things since the '50s and was the focal point for a
whole musical flowering back in the '70s long before bands like Pylon, the B-
52's and R.E.M. got the present downtown scene started. Many Athens
musicians such as Randall Bramblett, Harold Williams and Davis Causey were
regulars at Allen's, and they're still making good music today. The Normaltown
Flyers were a popular band of that period, and with several changes of
personnel, are still going strong and still playing at Allen's, along with latter-day
counterparts like The Star Room Boys.
Step into Allen's, order a beer or a soda pop and a hamburger; and end this
walking tour of Athens music where it all started.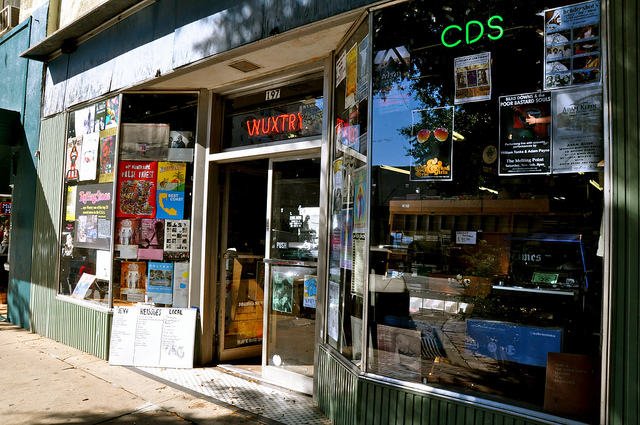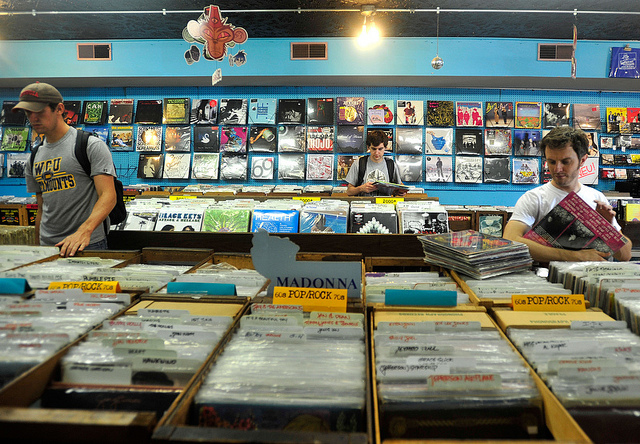 Wuxtry Records
197 E. Clayton Street This small local music shop, Wuxtry Records,
which is still here, was established in 1975 and became known for its wide
selection of mainstream and obscure vinyl, CDs, cassettes and publications.
R.E.M.'s Pete Buck worked here and at its sister store Wuxtry Café at 510
Baxter Street as a clerk and an enthusiast in the late '70s and very early '80s.
Wuxtry owner Dan Wall and his staff have been major supporters of the
Athens music scene.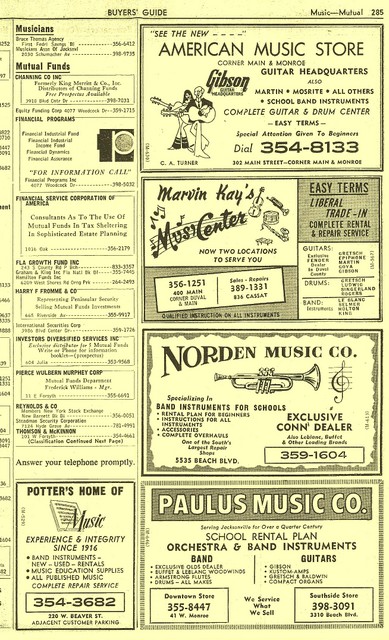 Also promoting the bands and music of the era were the music stores in Jacksonville, the best around. Musicians from all over the Southeast would buy their instruments at Marvin Kay's and Paulis Music Co.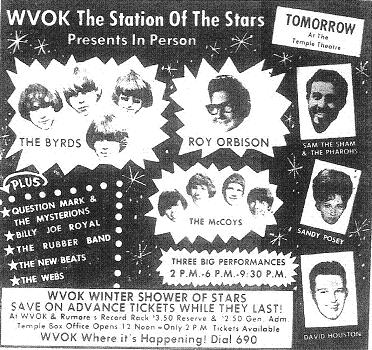 WVOK radio station also brought in the big name talent.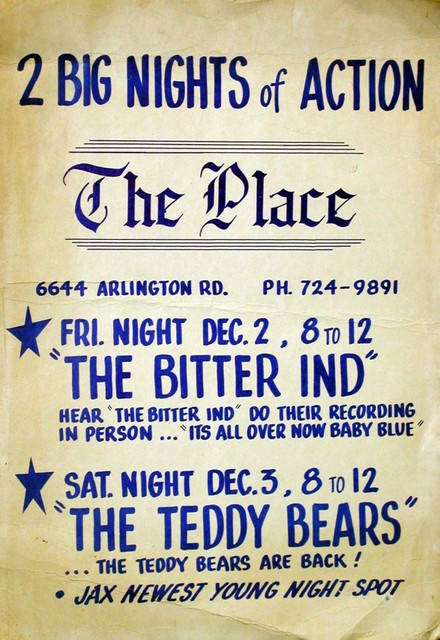 Another Jacsonville dance venue.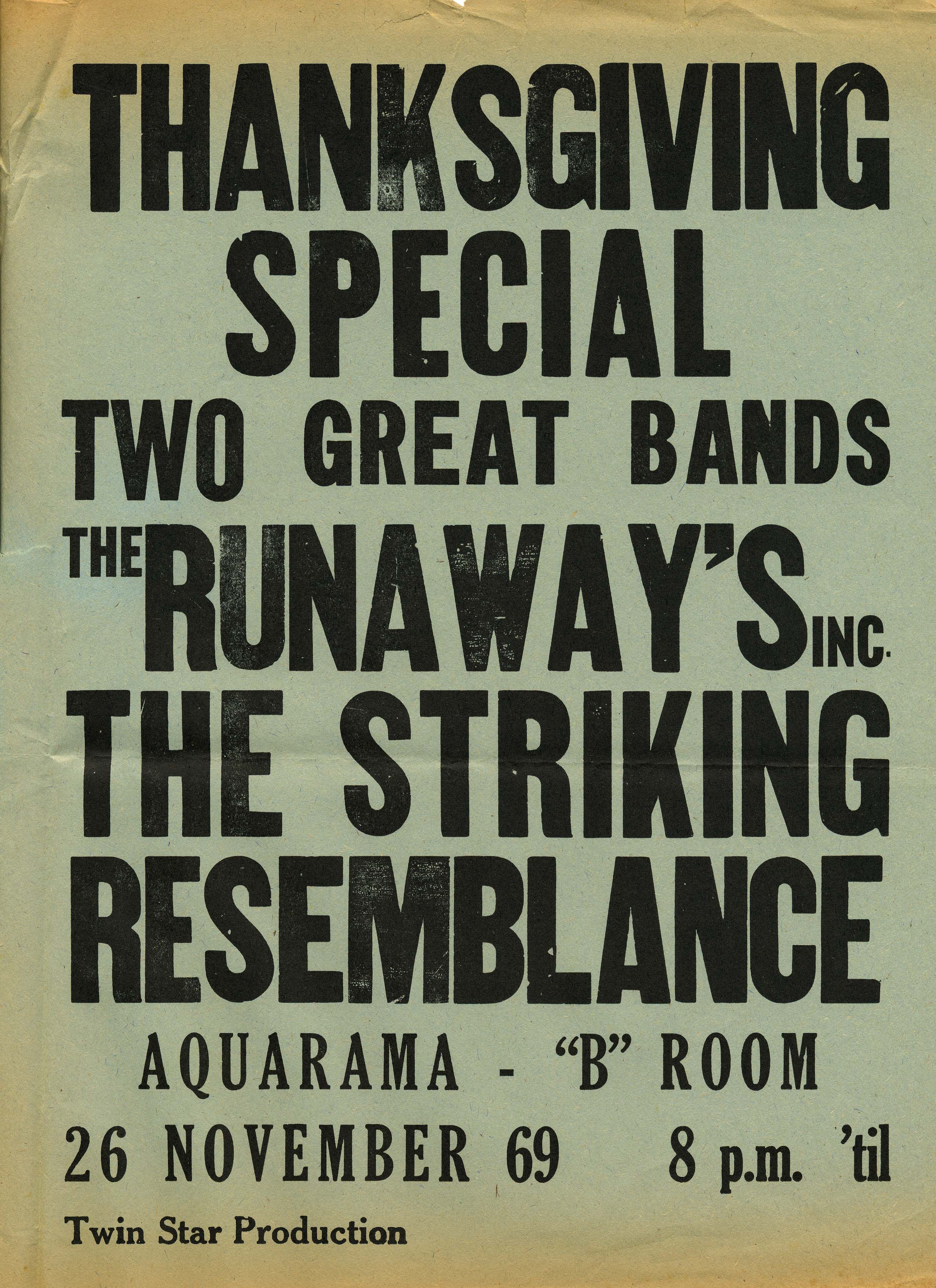 St. Simons Island and the Aquarama at Jekyll Island, GA were also hot venues for dances.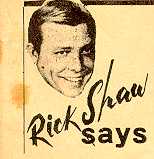 Extremely popular DJ for WQAM in Miami, Fl promoted bands and dances in the South Florida area.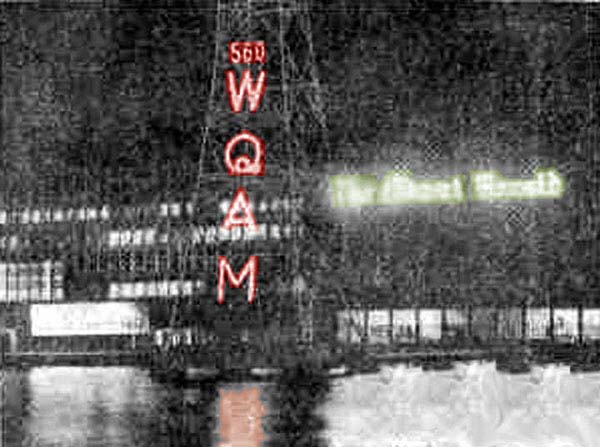 WQAM broadcast tower, 560 on the radio dial


WQAM Tiger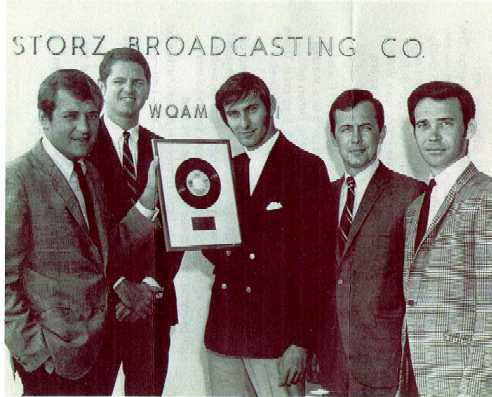 WQAM Team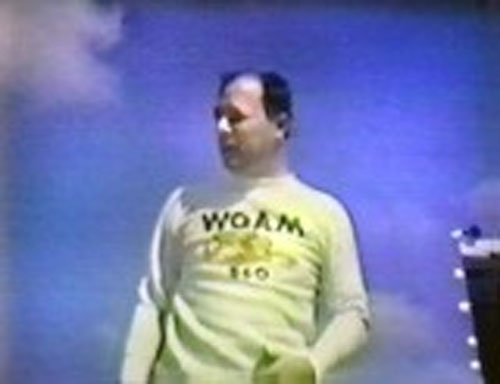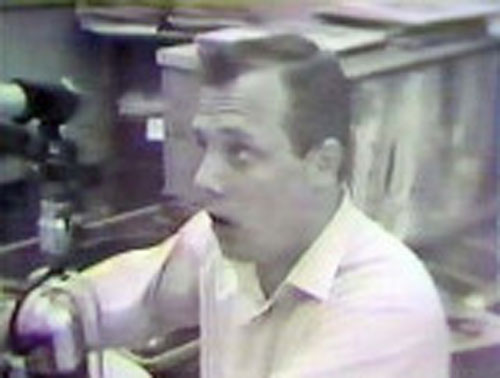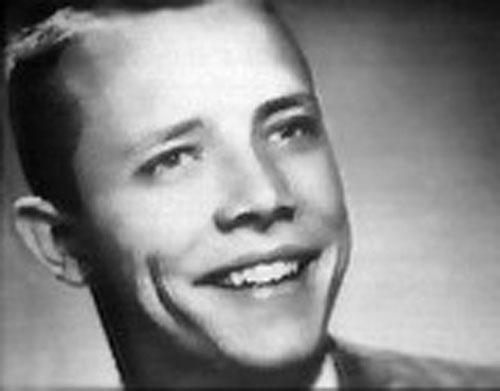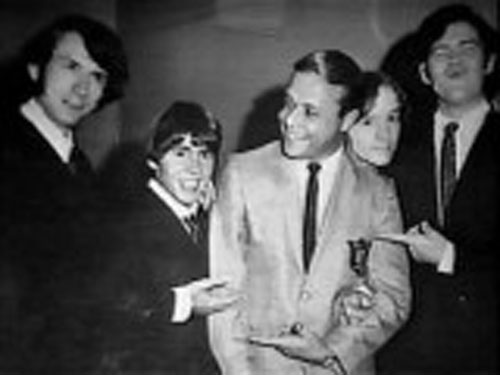 Rick Shaw: Tiger sweatshirt/on air/promo photo/with Monkeys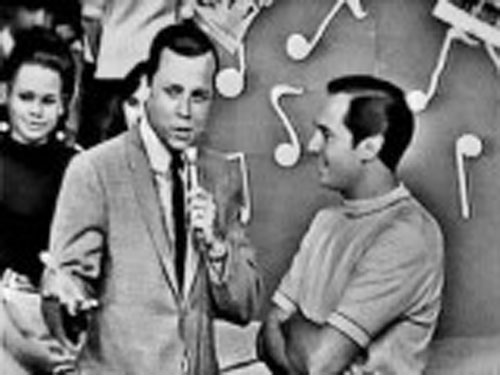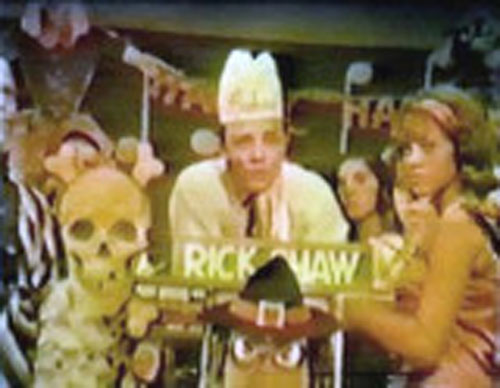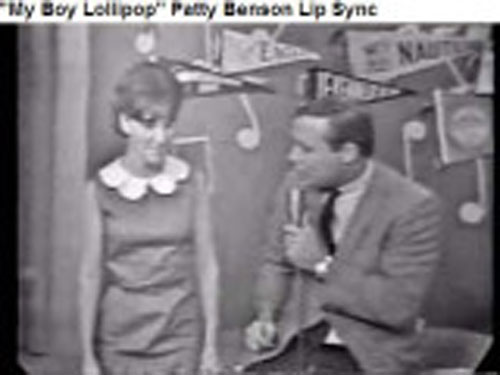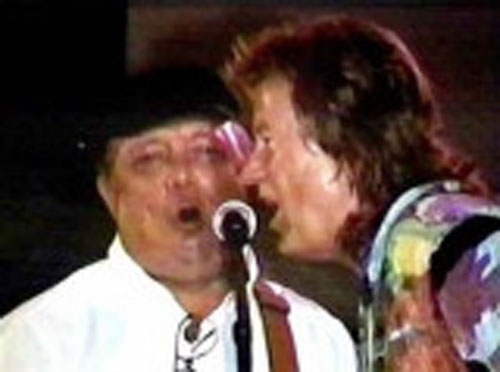 Rick Shaw: with Neil Sadaka/Saturday Hop/with Pat Benson/with Jan of Jan and dean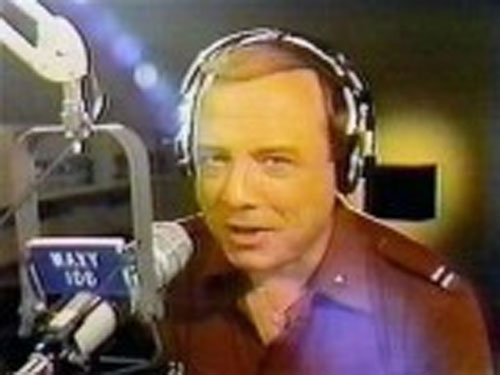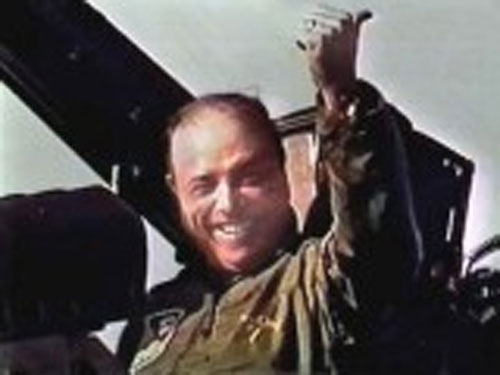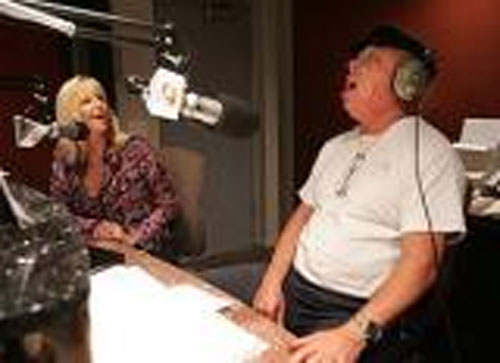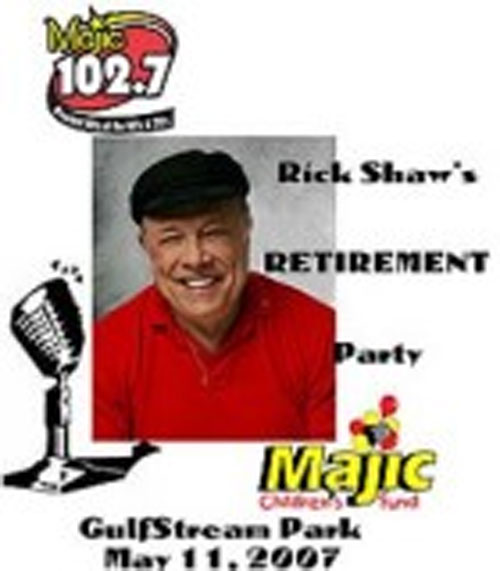 Rick Shaw: on air/with Navy Blue Angels/on air/retirement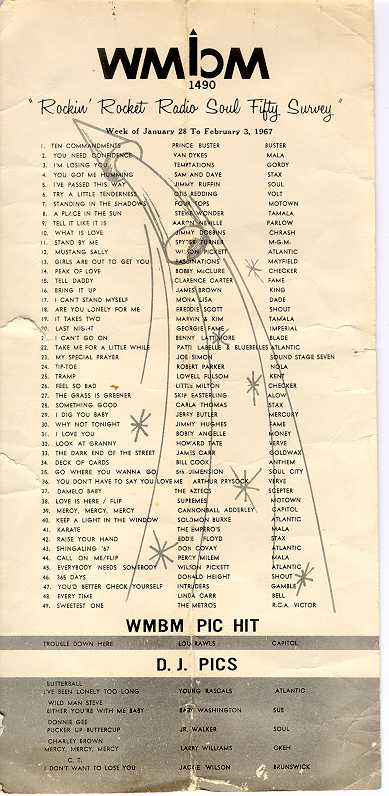 WMBM of Miami Fl.

Sweet soul music on this station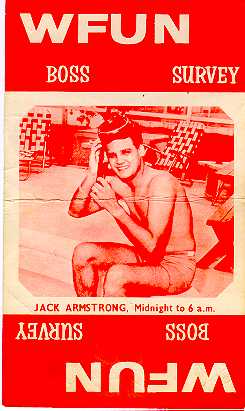 Jack Armstrong of WFUN radio station, Miami, Fl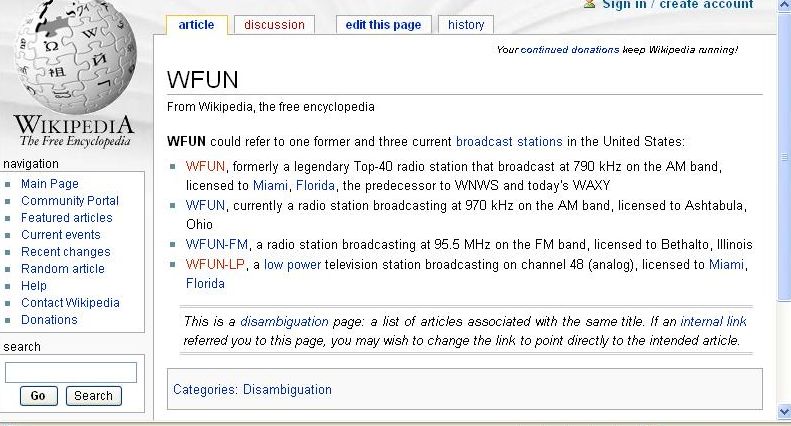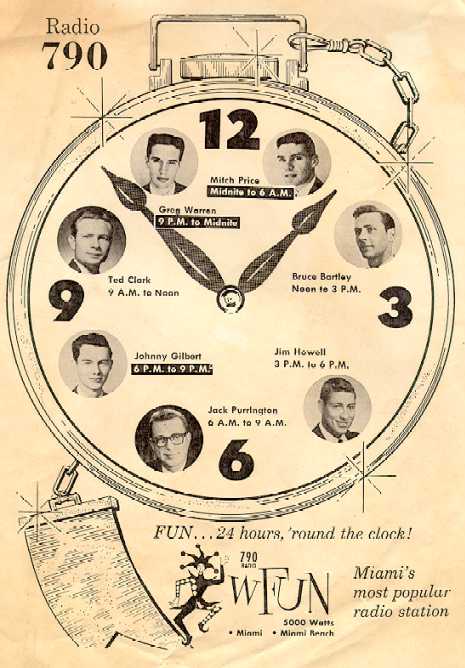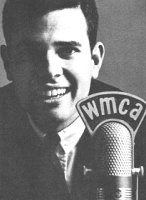 Gary Stevens of WMCA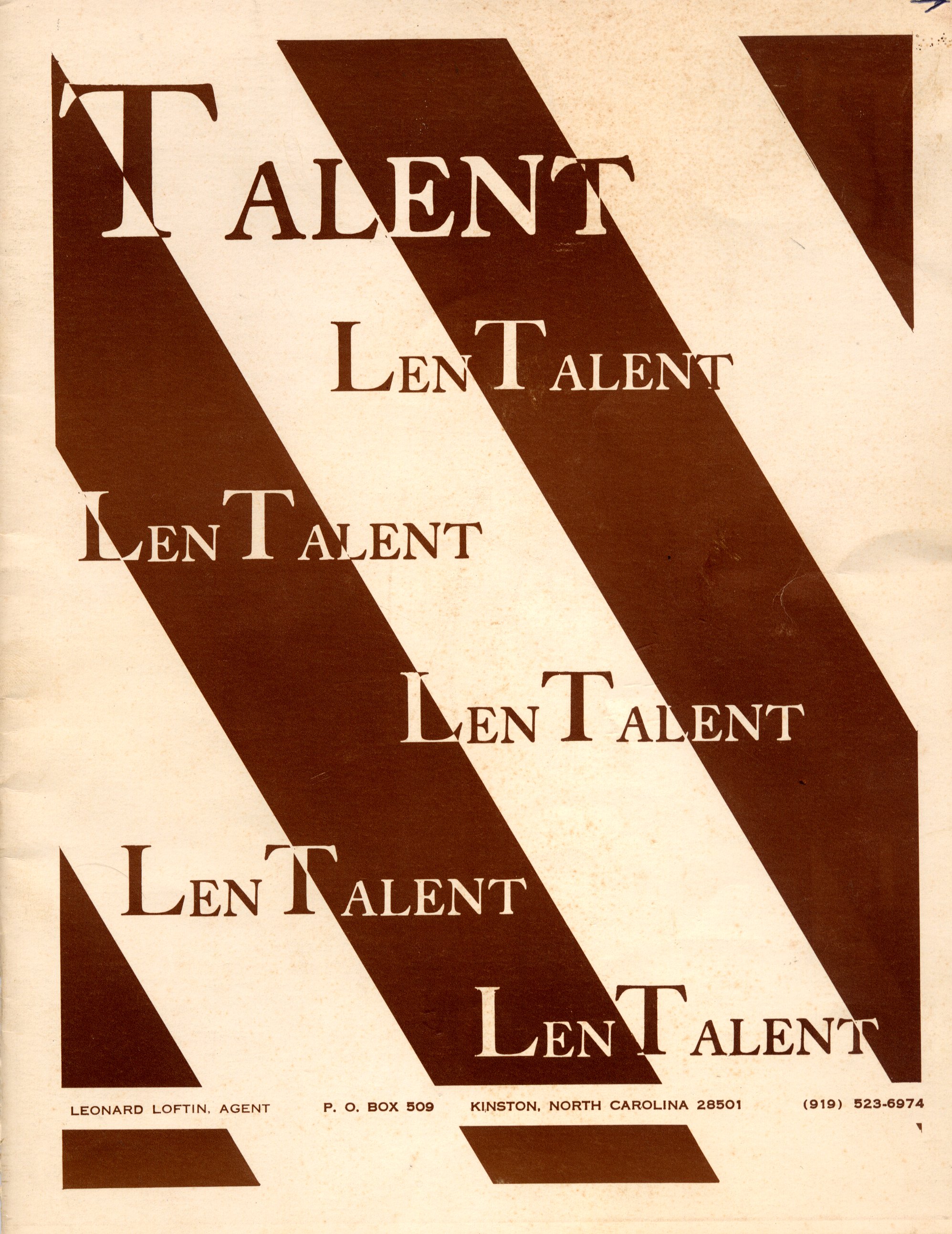 LenTalent agency from North Carolina
booked bands in the Virginia area as well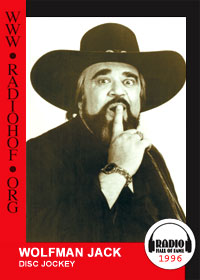 Wolfman Jack
Robert (Bob) Weston Smith (21 January 1938 – 1 July 1995) was a gravelly-voiced, American disc jockey who became world famous in the 1960s and 1970s under the stage name of Wolfman Jack.
One of radio's most distinctive voices, "Wolfman Jack" was born Robert Smith in Brooklyn, New York on January 21, 1938.
A longtime fan of radio, Smith first hit the airwaves as "Daddy Jules" on Newport News, Virginia station WYOU-AM. In 1962, Smith became "Big Smith" for station KCIJ/ Shreveport, Louisiana. Here, he drew upon his love of horror movies and rock and roll to create the raspy-voiced, howling persona of "Wolfman Jack."
In the mid 1960s, the Wolfman crossed the border to Mexico and joined the 250,000-watt powerhouse XERF-AM. Thanks to XERF and later XERB-AM, the Wolfman reached most of the southwestern United States while selling everything from coffins to inspirational literature.
In 1969, the Wolfman returned to America and KDAY/Los Angeles. The following year, he began an association with Armed Forces Radio that would last until 1986. In 1972, he moved back to his hometown and joined WNBC/New York.
For all of his fame, many of Wolfman Jack's fans had never seen him until 1973, when he appeared in George Lucas' hit film American Graffiti and began an eight-year stint as host of NBC-TV's Midnight Special.
"Wolfman Jack" died on July 1, 1995.
"Wolfman Jack" was inducted into the Radio Hall of Fame in 1996.
WFUN: Miami's 24 hour station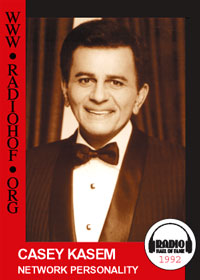 In the 1970s, Casey Kasem pickedup where the 60s left off.
Casey Kasem has been counting down musical hits for millions of fans for the last 25 years. Currently he can be heard on "Casey's Top 40 with Casey Kasem," "Casey's Countdown," "Casey's Hot 20" and his five minute program, "Casey's Biggest Hits." His trademark trivia teasers -- which he developed in 1954 -- are now a familiar part of "American Top 40" and are a standard in the radio industry.
Young Kemal Amen Kasem, the son of Lebanese Druze parents, dreamed of becoming a baseball player but instead wound up a high school sports announcer. His easy going style and crackling voice has since taken him to the very top of his profession. Over the years, he's done countless voiceovers for commercials and cartoons, has made guest appearances on dozens of television shows, has hosted many specials including the Annual American Video Awards and his own televised musical countdowns, and has cohosted Jerry Lewis' Labor Day Telethon since 1981.
Well-known for supporting a great number of philanthropic causes which have taken him around the world, award-winning Casey is the consummate humanitarian. He and his wife, actress Jean Kasem, maintain a high profile on the charity circuit, and are spokespersons for anti-smoking, anti-discrimination, anti-alcohol abuse and drunk driving, vegetarianism, and much more. Together, they have a five year old daughter, Liberty, and Casey has three older children, Kerri, Michael and Julie.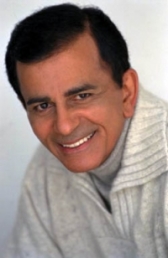 Born Kemal Amen Kasem, Casey Kasem grew up in a Lebanese-American household in Detroit, Michigan. He made his radio debut while in high school and studied radio broadcasting while a student at Wayne State University. He became involved in radio acting with roles on shows like The Lone Ranger. In 1952 he was drafted into the U.S. Army where he was a successful announcer and dj for the Armed Forces Radio Korea Network.
Casey Kasem and American Top 40:
After returning from Korea, Casey Kasem spent most of the next two decades working his way up to national prominence as a radio announcer. In 1970, working with childhood friend and Hollywood producer Don Bustany, Kasem proposed a countdown radio show loosely based on the 1940's and 1950's hit show Your Hit Parade. The result was American Top 40 which debuted on July 4, 1970 on 7 radio sations.
Trivia Fact About Casey Kasem:
From 1977 to 1981 Casey Kasem narrated all of the national promotional announcements for shows on NBC television.
The Success of American Top 40:
American Top 40 quickly became one of the most popular syndicated radio shows in the country and then around the world. By 1986 the show was featured on more than 1,000 radio stations in 50 countries around the world as well as Armed Forces Radio and the Voice of America. American Top 40 spawned a television spin-off, America's Top 10, that ran from 1980 through 1990 and featured Casey Kasem counting down the week's top 10 hits and playing music videos.
Voice-Over Actor:
Casey Kasem is not only well-known for his radio work, but also as a voice-over actor. His best-known voice-over work has been in the role of Shaggy in various incarnations of the Scooby-Doo show. He left the role of Scooby-Doo in 1995 in a dispute over a Burger King commercial, but Casey Kasem returned in 2002 when it was determined Shaggy would be a vegetarian like Kasem. He has also appeared in a wide range of other shows including The Adventures of Batman and Josie and the Pussycats.
The Demise and Rebirth of American Top 40:
When his contract with ABC Radio, owners of American Top 40, expired in 1989, Casey Kasem left after the two parties could not reach financial agreement on a new contract. Shadoe Stevens took over as new host, and Casey Kasem began his own competing show Casey's Top 40. Casey Kasem proved the most popular, and American Top 40 folded in 1995. Legal control of the name reverted to Kasem, and American Top 40 returned in 1998 with its original host.
Casey Kasem Honors:
Casey Kasem was inducted into the Radio Hall of Fame in 1992 and the National Broadcaster's Hall of Fame in 1995. Casey Kasem was presented the National Association of Recording Merchandisers (NARM) Presidential Award for Sustained Executive Achievement in 2001. In addition, Casey Kasem is continually recognized for his many efforts to fight discrimination against the Arab-American community, his own ethnic group.
Into the Future:
In 2004 Casey Kasem retired from hosting American Top 40. He passed the hosting duties on to Ryan Seacrest. However, Kasem has not resigned completely from radio countdowns. He continues to produce American Top 20 and American Top 10, both Adult Contemporary countdown shows, for Premiere Radio Networks. Now in his mid-70's, Casey Kasem is a radio and top 40 living legend. He credits his success to a "guy next door" voice and his interest in telling the stories behind artists and songs with a focus on the positive.