THE PHANTOMS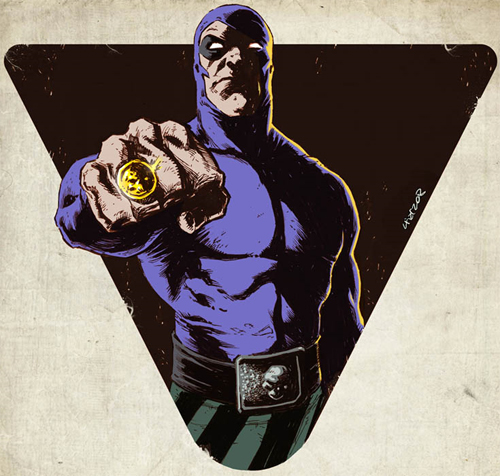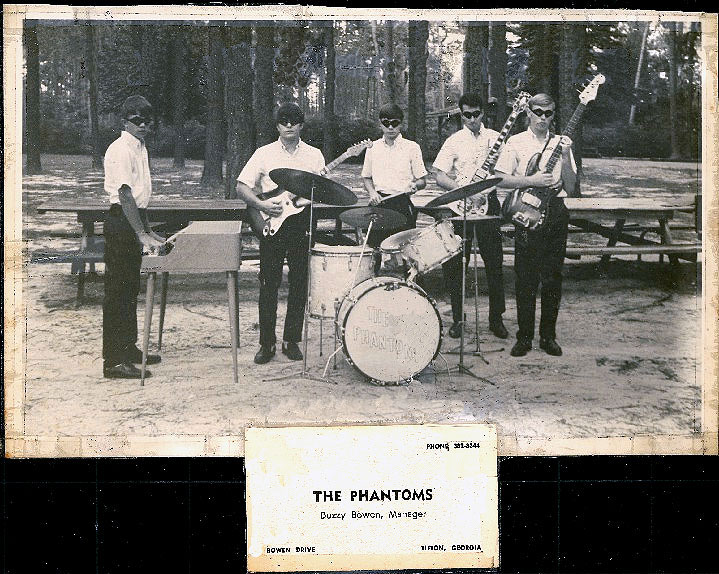 Left to right: Perry Key, Hulus Key, Norwood Donaldson, David Tony and Sonny Raley.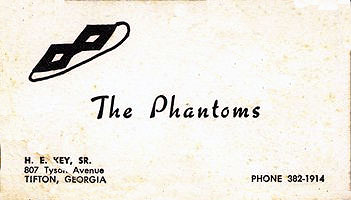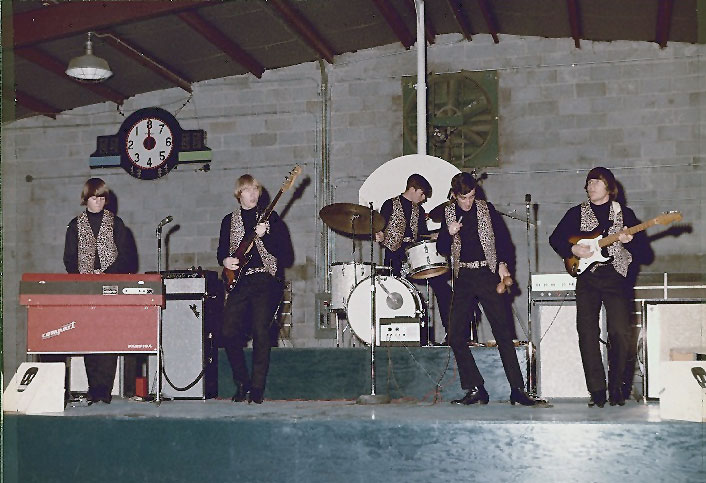 The color photo from left to right: Perry Key, Sonny Raley, Norwood Donaldson, Bob Harrell and Hulus Key.
Checking out the equipment we see a Farfisa Combo Compact organ on the left. Next is a Fender amp, probably a Bassman and Sonny Raley is playing a sunburst Fender Precision Bass. Can't tell what kind of drums but there is an interesting attachment to the front of the kick drum that must be a damper. In front of the kick is a box that the microphones appear to be plugged into. It doesn't look like a mixer but maybe it is an echo unit. On the right, Hulus is playing a sunburst Fender Stratocaster through one of those wonderful Silvertone amps that were not a big name brand but had really good tone as they were well made, full tube circuits and some fine Jensen speakers loaded in the cabinet. What really is interesting however are the two white wedge shaped cabinets in front and on either side of the band, with the "Phantom" skull emblazoned on them. Could these be stage monitors? If so these guys were one of the first to have them.
From Tifton, Ga, The Phantoms played for several school proms, etc., as well as being the first band to play at "The Woods" and "The Bowl". Buzzy Bowen (one of the owners of "The Woods" and a great guy) was our manager at the time.
The original Phantoms were Hulus Key, Perry Key, David Tony, Norwood Donaldson and Sonny Raley.
Click below to hear The Phantoms, recorded live in 1965!
Thanks to Sonny Raley and Frank Raley for sending all this great info on The Phantoms!
©DaveandAndy 2015