MALIBUS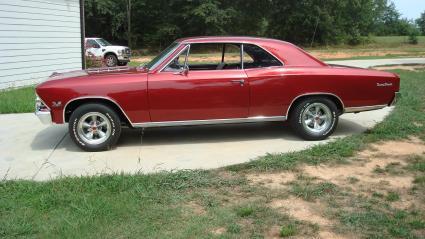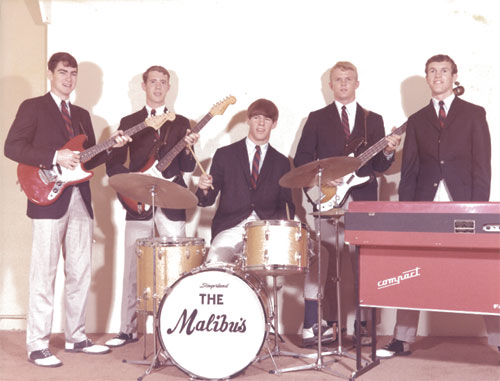 Ft. Valley, GA band
The Malibu's photo (from left to right):
Chris Smisson, Dennis Herbert, Wes Wheeler, David Luckie, Eddie Byrd
The Malibus was a band of members from Fort Valley, Georgia. It's original members included Wes Wheeler, drums (now residing in Americus, Georgia), Dennis Herbert, lead guitar (still living in Fort Valley), Chis Smisson, rhythmn guitar (deceased), and me, David Luckie, bass and lead vocal (now residing in Griffin, Georgia). The band was formed in 1965. Eddie Byrd (now residing at Lake Oconee, Georgia) joined the group a number of months later on organ and additional lead vocals. The Malibus preferred our name to be spelled with an ' as in The Malibu's. The ' gets dropped alot. Hey, what the heck. We recorded a 45 in the winter of 1966 in Warner Robins, Georgia. The record company was located in Macon, Georgia. The record came out in April, 1966 with I've Gotta Go on one side with I Want You to Know on the other. The ' got dropped even on our record. I wrote both songs. I was 17 years old. I actually wrote 3 songs for the recording session. The band voted on these two. I've Gotta Go received a lot of airplay in Georgia, Alabama, and Florida. It was heard from WLS in Chicago to WAPE in Jacksonville. I Want You to Know also received a lot of airplay. Chris Smisson dropped out of the band and was replaced with Grady Trussel (from Reynolds, Georgia and now residing at Lake Blackshear) on bass. I began playing guitar and trumpet. We added another horn player, Mike Jacino (now residing in Atlanta). The band changed its name to The Sixpence. We played all over the South and became the backup band at times for Billy Joe Royal, B.J. Thomas, Eddie Floyd, Peggy Scott and Jo Jo Benson, and Tee Fletcher. When we perfomed as backup for Billy Joe Royal the players were Freddie Weller (became a member of Paul Revere and the Raiders and later a country music star) on lead guitar, Tommy South (Joe South's brother) on drums, Dennis Herbert on rhythmn guitar, Eddie Byrd on organ, David Luckie on bass, Wes Wheeler on percussion, and of course fronted by Billy Joe Royal. The band during the 60s performed with a lot of notables as both The Malibu's and The Sixpence...Freddie and The Dreamers, The Beau Brummels, The McCoys, The Bobby Fuller Four, The Strangeloves, Paul Revere and The Raiders, Joe Walsh, and Doug Clark and The Hot Nuts among others.An interesting note is that I Want You to Know by The Malibus was included on the compilation cd...Psychedelic States - Georgia in the 60s which was released in 2002 by Gear Fab Records. The record is being sold around the world through Amazon.com among other sites and seems to be doing well. I Want You to Know and I've Gotta Go are both included on another compilation cd by AIP Records called The Essential Pebbles Collection. This is a two-set cd of 55 songs from bands across America. Only 2 bands have 2 songs on the cd. The Malibus is one of those bands. This cd was released in 1997 and is still going strong around the world. It is available on Amazon also along with other sites.
One last interesting note is that David Luckie, Dennis Herbert, and Eddie Byrd are still performing together in a band today. This trio has lasted 42 years playing music together. Wes Wheeler sits in with them when the band is in Wes' area.
Check out the Malibu's story in the book written by band member David Luckie: The Malibu's
One more gig February 2016
The Malibus later changed the band name to
SIXPENCE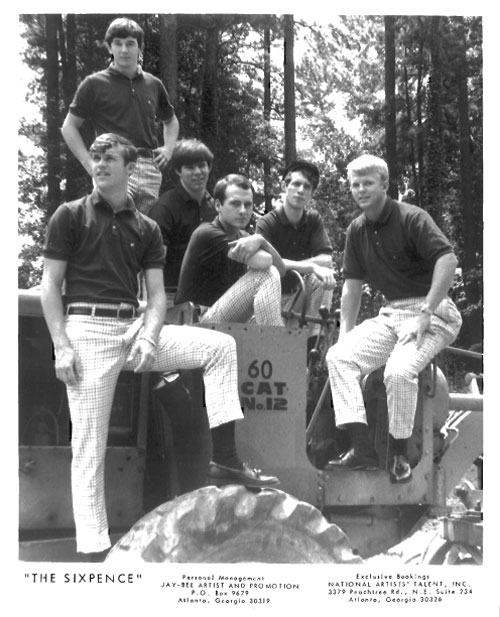 The Sixpence photo (from left to right):
Eddie Byrd, Grady Trussell, Wes Wheeler, Mike Jacino, Dennis Herbert, David Luckie
Photo and info provided by David Luckie