KICKIN' MUSTANGS
Ashland, KY originally,
Huntington, West VA later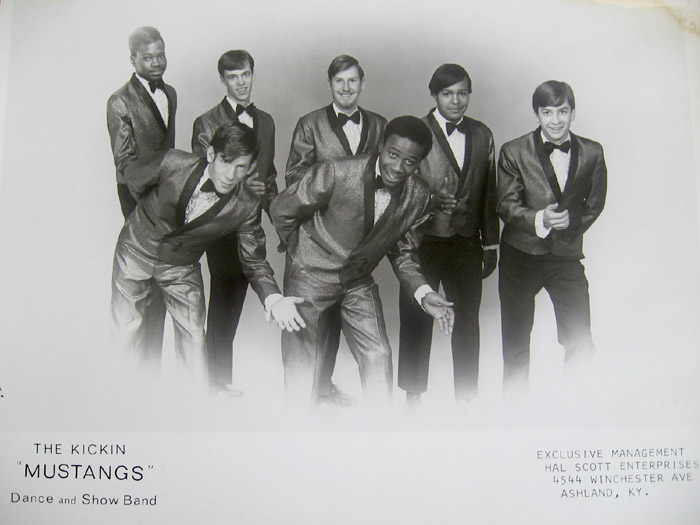 Back row from left: Albert Richardson, Larry Creech, Larry Talerico, Buddy McCoy, Brad Rhodes;
Front row from left: Danny Shortridge and Bruce France. Missing is Pat Loving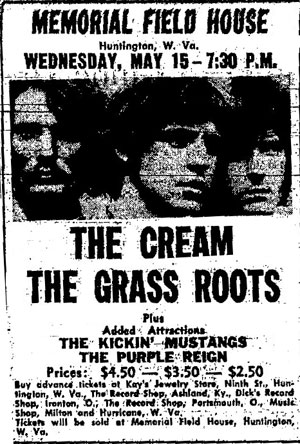 The band was from Ashland, Kentucky, original billed as simply the Mustangs. The original band included
Danny Shortridge - lead vocals
Larry Creech - sax
Darrel Tucker - trumpet
Rudy Hester - keyboards
Boots Shelton - bass, replaced by Larry 'Frog' Johnson
Dave Osborne - drums
By the time of the Kickin Mustangs single, Danny Shortridge and Larry Creech remained from the original group, but the rest of the members were new:
Danny Shortridge - lead vocals
Bruce France - lead vocals
Larry Creech - sax
Larry Talerico - trumpet
Pat Loving - lead guitar
Brad Rhodes - keyboards
Albert Richardson - bass
Buddy McCoy - drums
Later members included Terry Sanders on drums and Mike Tolone. Pat Loving and Larry Creech have since passed away.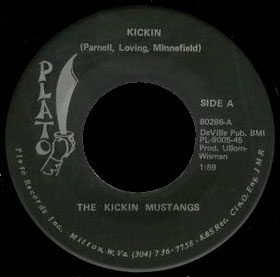 "Kickin'" was written by Parnell, Loving, & Minnefield. "Take a Miracle" on the flip is a nice ballad written by Bob Minnefield. This is also the most valuable record on the Plato label, by the way.
(courtesy garagehangover)