CORONADOS

Jacksonville, Florida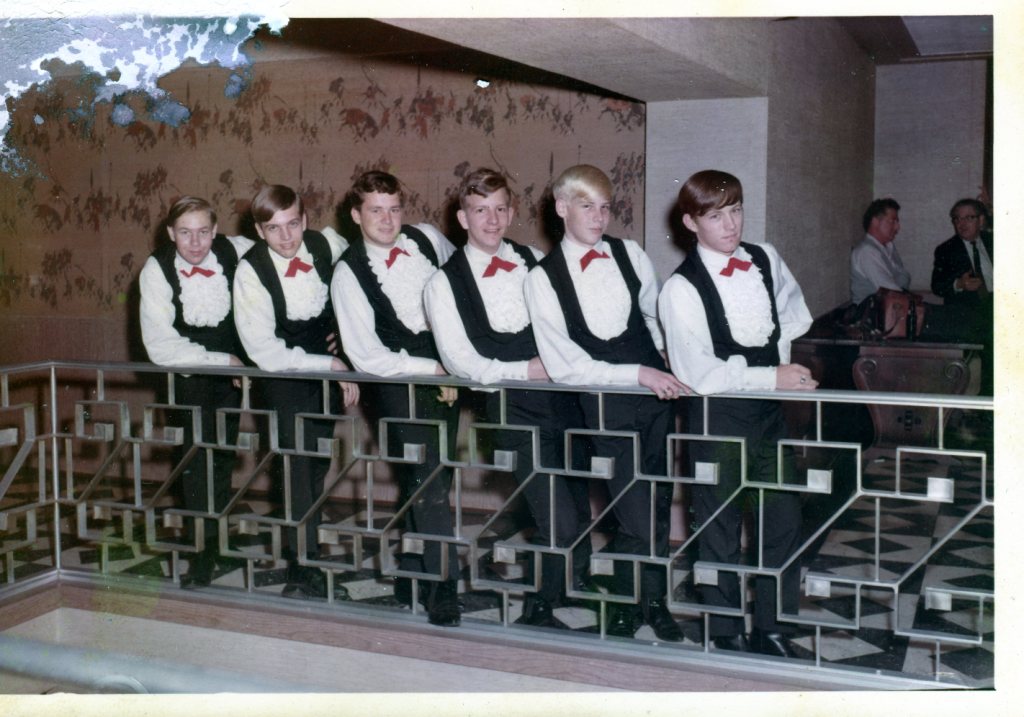 From left to right:

Zachary Ziegler - bass guitar
Mark Mori - keyboards
Michael Broos - rhythm guitar
Willy Vance - drummer
Wally Messer - lead guitar
James ("Butch") Smith - vocals
Zachary Ziegler and Michael Broos first perfomed together in the 8th grade, which would have been about 1963, per Michael's recollection. They started the Coronados around 1964 and kept the band together until they graduated from high school, when they all went their separate ways. It was a great experience, and Michael has various pieces of Coronados memorabilia on the wall of his study, where he can see them every day.
Sadly, Zach died in 2003, when he was only 53. His obituary is here: http://www.fesaonline.com/wattscurrent/marmay2003.html, and reporduced below. Michael lost touch with the other members of the band when he went to college in Boston.
Obituary:
Zachary Michael Ziegler, former FESA member, 53, passed away on March 31, 2003. He was born in Jacksonville, FL and survivors include 2 brothers: William J. (Tuula) and Allen E. (Betty) Barlow; and many loving nieces and nephews. His family received friends from 7-9 PM Thursday April 3rd and between 11-12 PM Friday, April 4th at HARDAGE-GIDDENS RIVERMEAD, 127 Blanding Blvd., Orange Park. Graveside services were held Friday 12:30 PM, April 4th at Jacksonville Memory Gardens.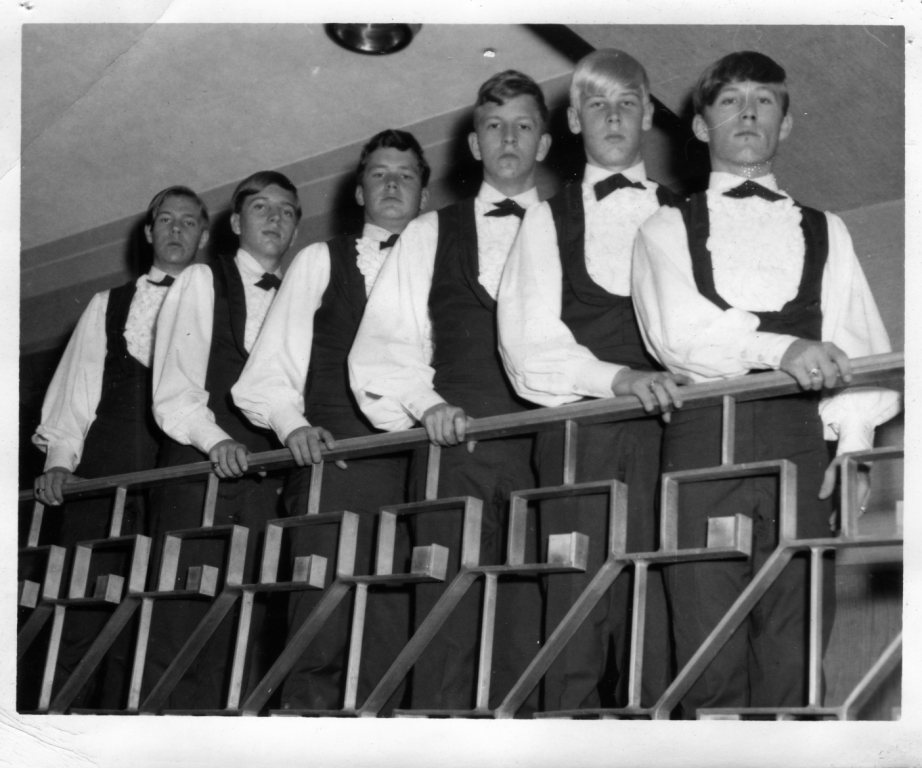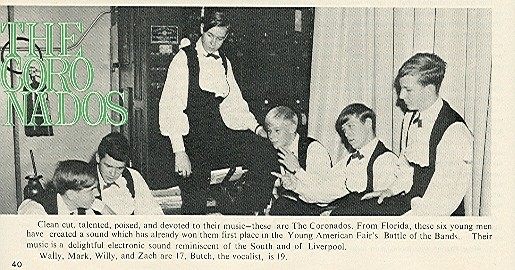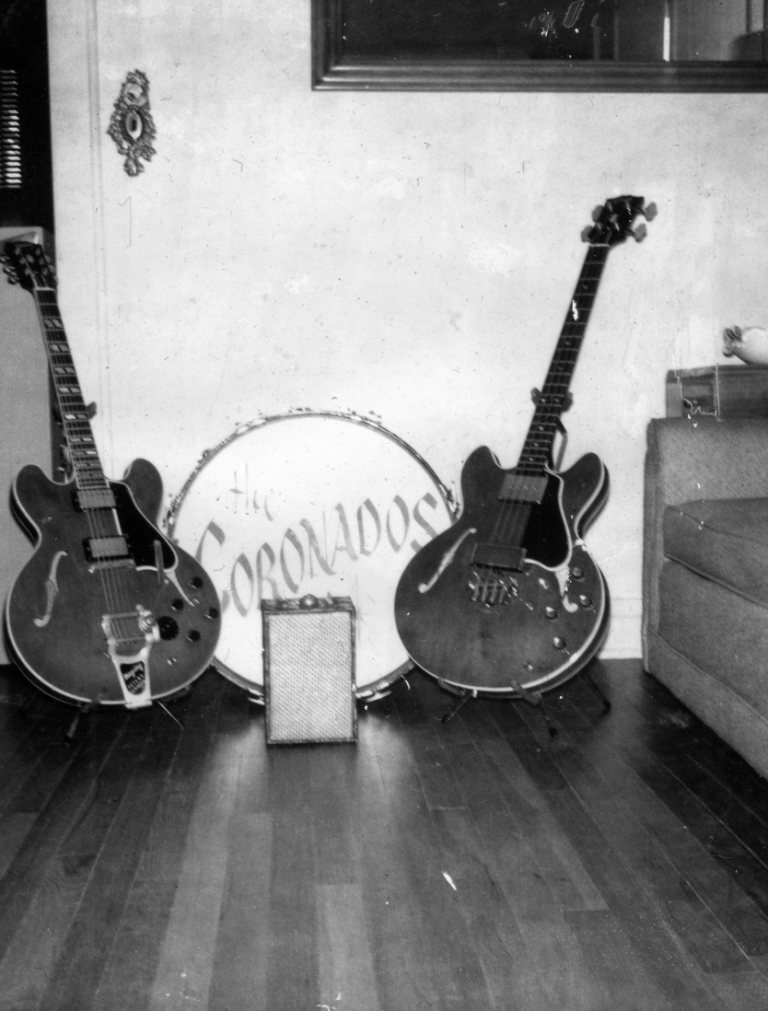 Michael's Red Stereo Gibson and Zachary's matching Gibson Bass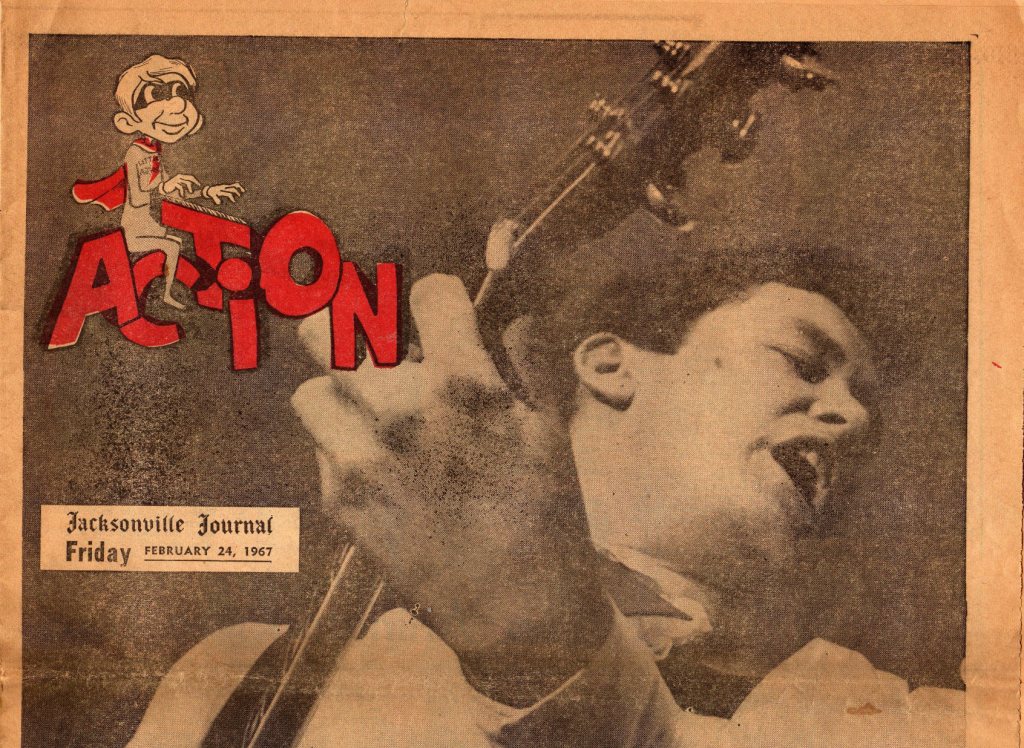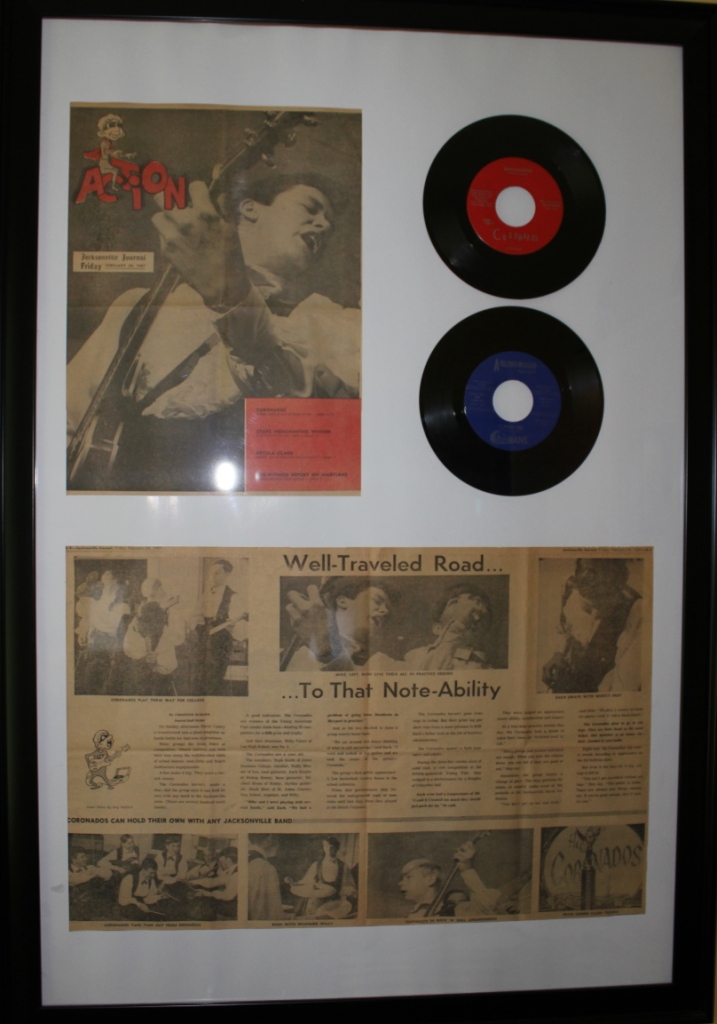 Some articles and pictures from the Jacksonvile Journal and two 45 RPM singles by the Coronados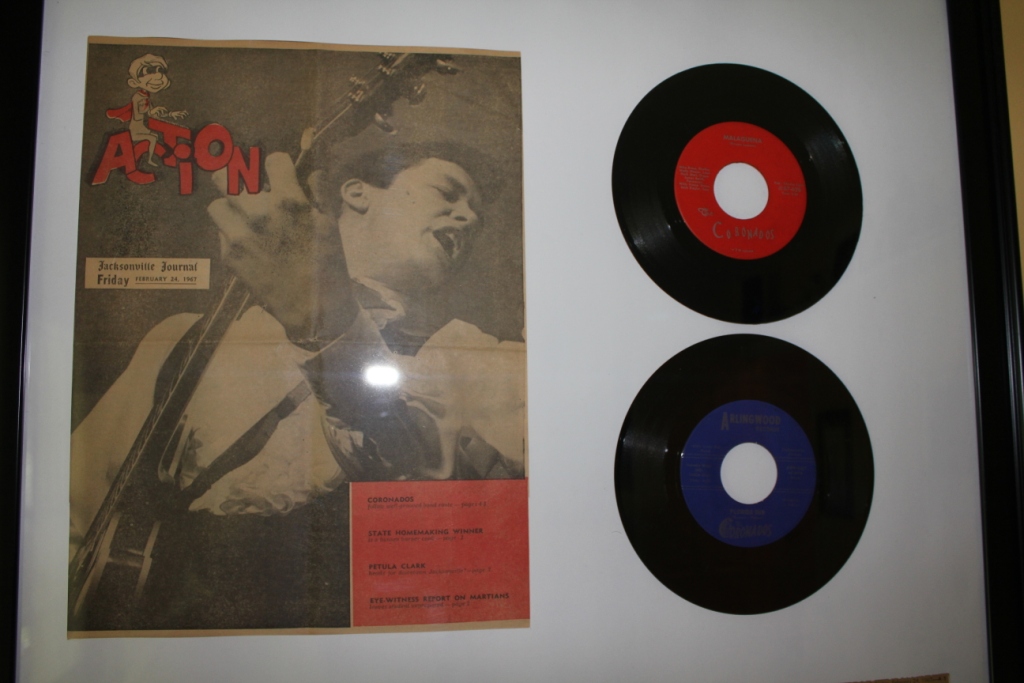 Above - A shot from the "Action" section of the Jacksonville Journal of Michael Broos, guitarist and original member of The Coronados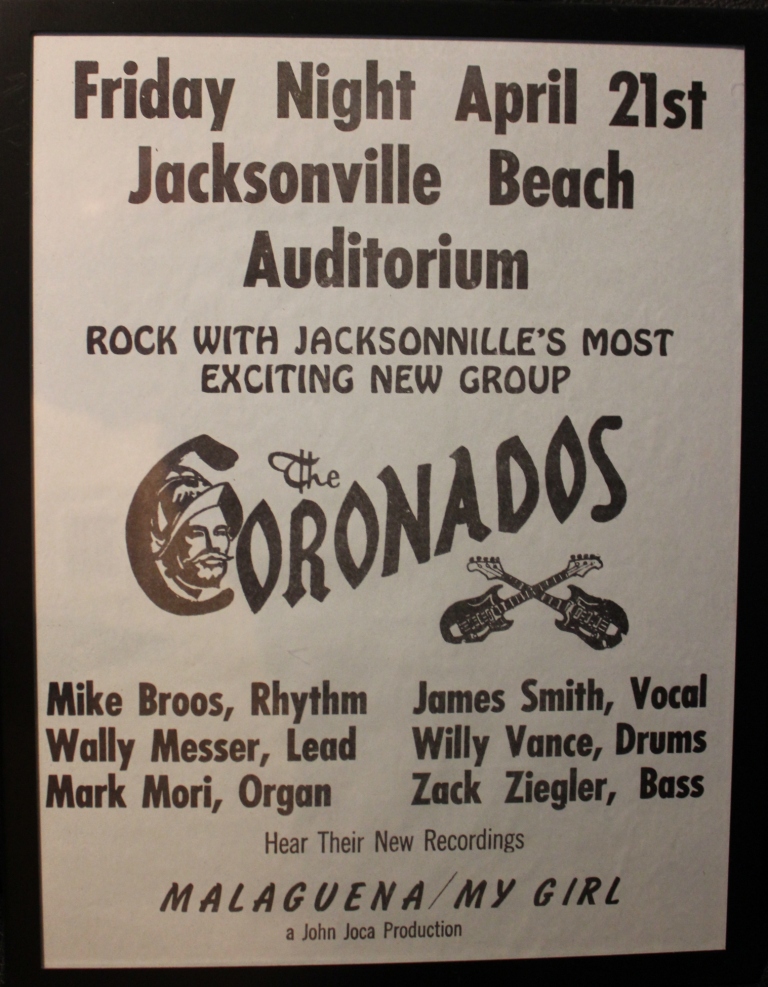 An excellent quality example of a poster for The Coronados, promoting their show at the Jax Beach Auditorium. Note the "far out" misspelling of Jacksonnile!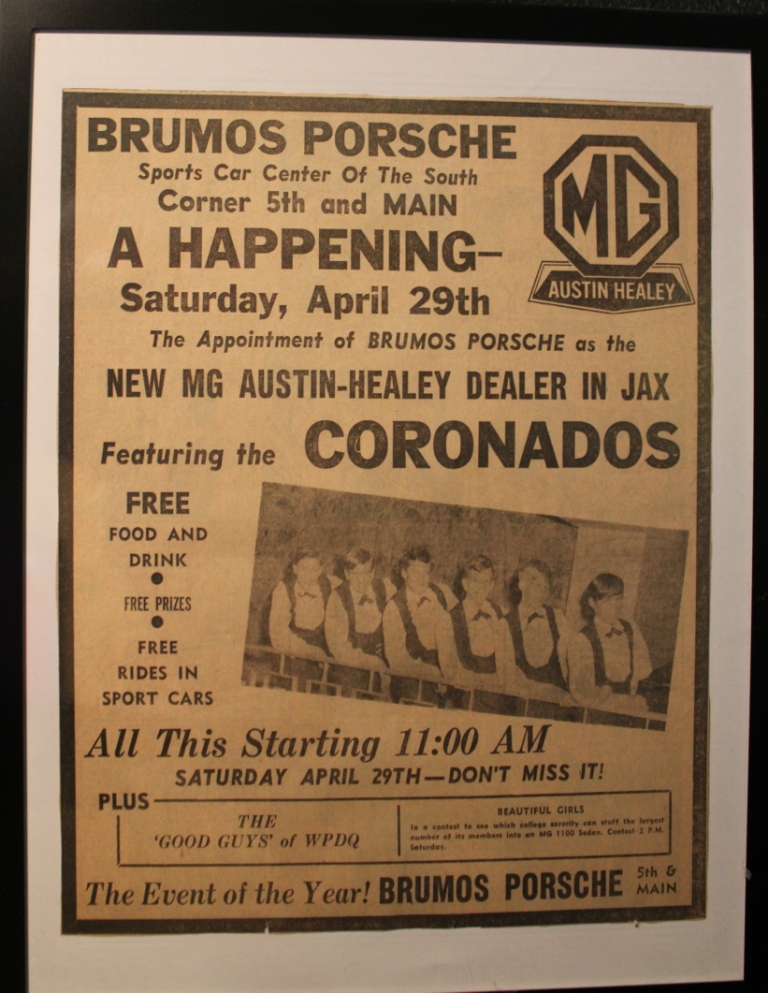 Man, this is awesome! Remember Brumos Porsche? I am sorry that I missed the Beautiful Girls in a Contest to see which college sorority can stuff the largest number of its members into an MG 1100 Sedan!! I hear the band was great too.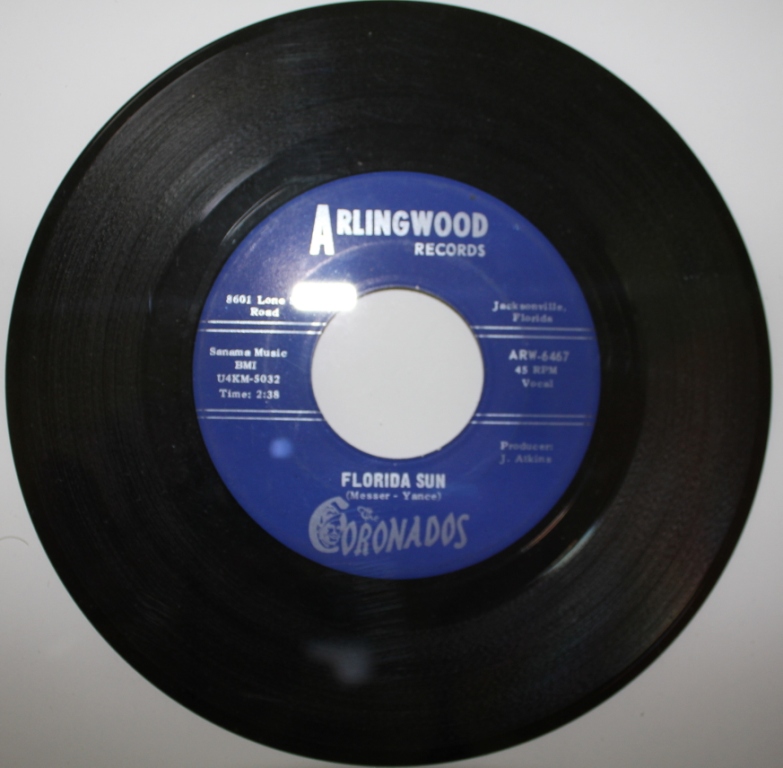 The Coronados second single: "Florida Sun" on the Arlingwood Records Label.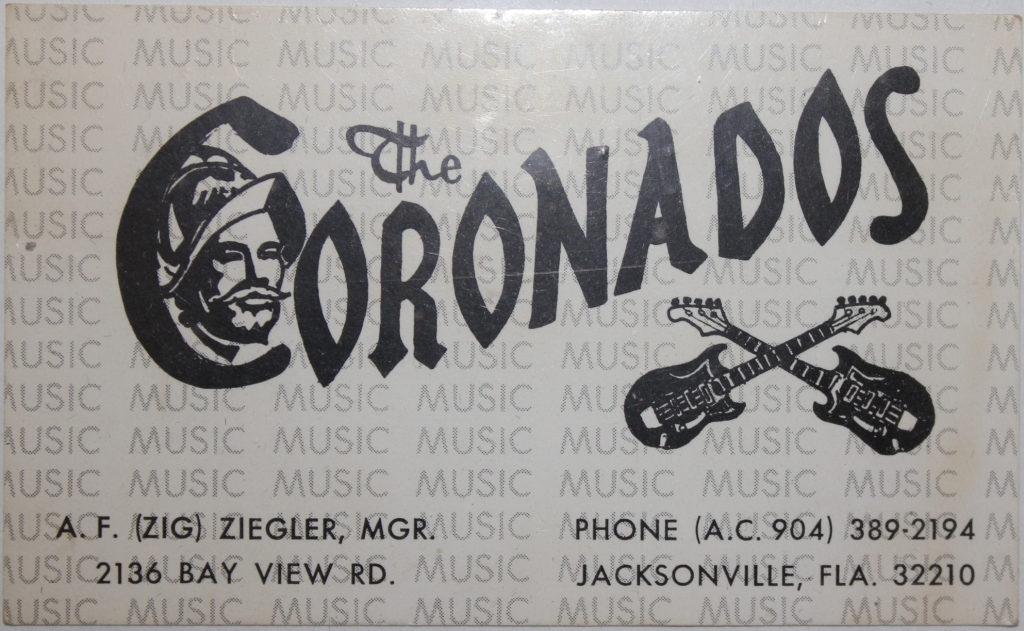 A business card, nicely designed and executed, for The Coronados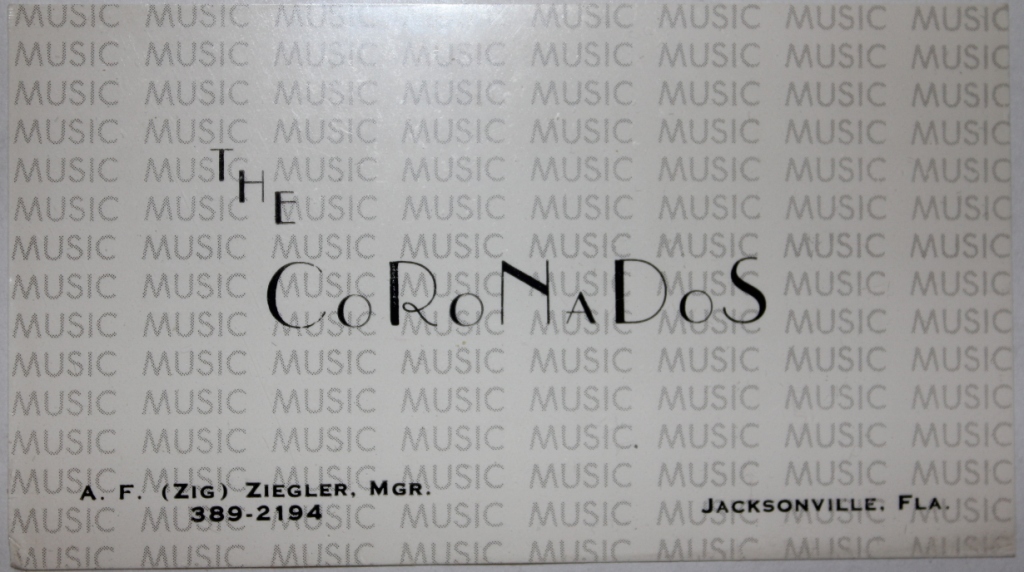 Another business card, elegantly done with a restrained design and beautiful typography.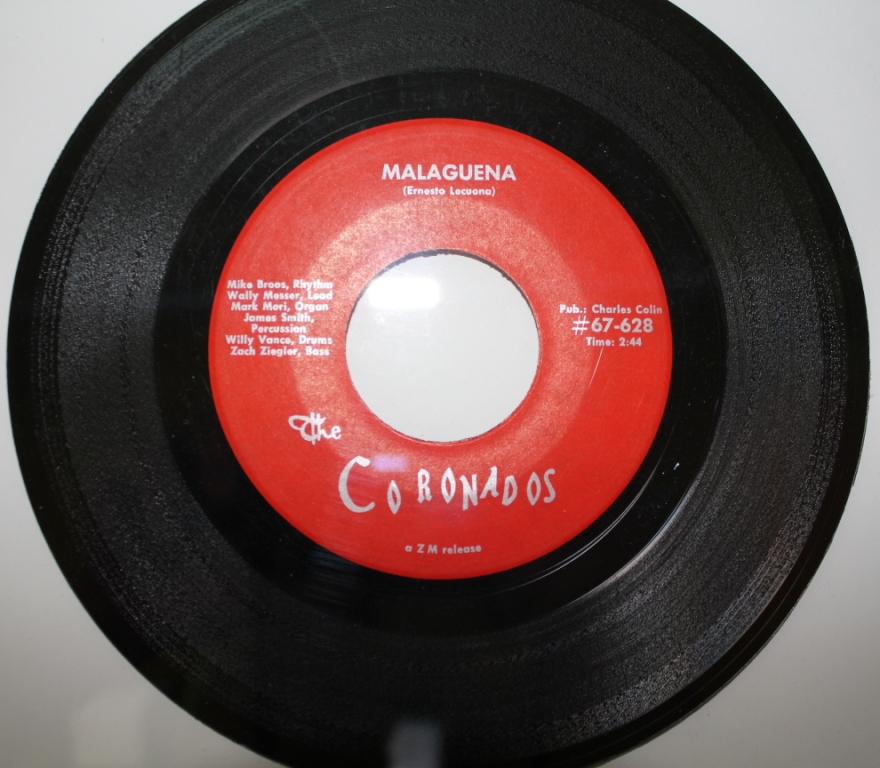 The Coronados first single release: a 45 RPM of "My Girl" and "Malaguena"
#1 on the "Top 5 at 5" on the local Jax radio station!
Information, photos, documentation and all details courtesy of Michael Broos, 2011