CHOSEN FEW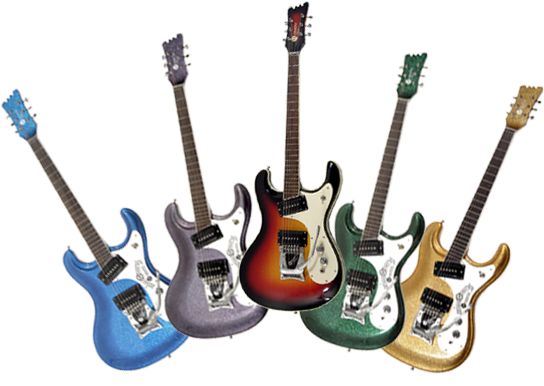 Pensacola, FL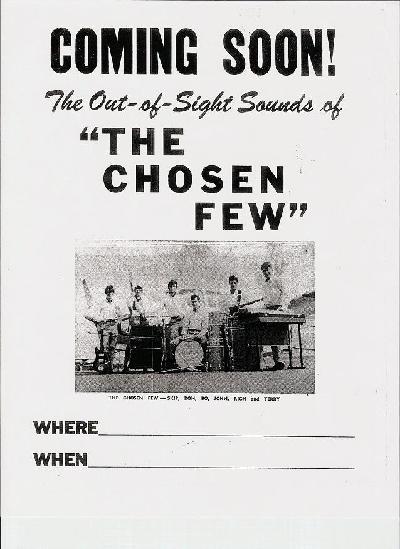 One of the many groups that performed in Pensacola. Although they didn't record (and therefore shouldn't be confused with any of the similarly-named bands that did), Skip Burran's band played all over Northwest Florida and into Southern Alabama, and became very popular in and around Pensacola. In October '66. All were students at Pensacola Junior College, and all except two (me and Ronnie) were in the same fraternity, I think. The band included Terry Hoffman, organ/vocals (original member, became lead vocalist); Richard DeArmon, rhythm guitar/backing vocals, later bass (original member); Ronnie Barker, bass/backing vocals (original member); John Hudson, drums/vocals (original member); Skip Buran, lead guitar/vocals (original member); Bo Franklin, vocals (original member, did not stay with us long); Jay Biggers, bass (replaced Ronnie); and Terry Gay, drums (replaced John). We played many venues: National Guard armories, The Place on Pensacola Beach, many city teen clubs (The TOC Club [Teenagers Of the City] was played once, but they told me for us to come back we'd have to cut our hair. We never went back), The Electric Experience teen club, fraternity parties, and Cash's Faux Pas on Ft. Walton Beach. For a while we were kind of the regular Sunday afternoon band at Cash's. We'd use it for a working rehearsal and work up new tunes and try them out. After they'd had a few beers, the audience didn't seem to care what we played or how many times. We also played many school dances in NW Florida and South Alabama. Interestingly, we rehearsed at the Gulf Breeze, FL Community Center free of charge. It was away from any residences and we could stay late, 12 midnight up to 2:00 AM sometimes. It was a really great experience with good friends who were also good musicians. We were young and inexperienced at first, but quickly became a good party/dance band. Playing live and having people dance to the music is a rush of its own. I was encouraged to keep learning the guitar from that experience. Traveling around gave us that feeling of freedom, too.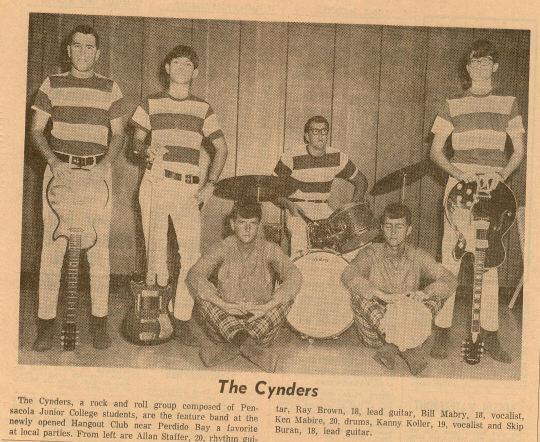 The Chosen Few evolved from a band known as The Cynders.
The photo of The Cynders from the Pensacola News-Journal erroneously credited Ray Brown as lead guitar; obviously he's playing the bass. I'm on the right. My guitar is a Sears Silvertone (the same one played by Chris Isaak with The Silvertones). I wish I still had that one!