CHECKMATES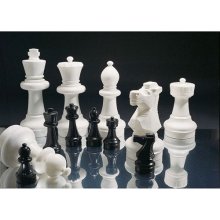 Montgomery, Alabama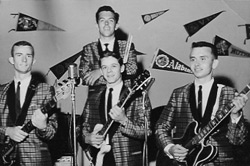 Checkmates
The Checkmates (circa 1962-1964) were Pal Given (drums), Bobby Phillips (tenor sax), Bozeman (lead guitar), Tommy Culp (guitar and vocals), and Jimmy Britton (Fender bass).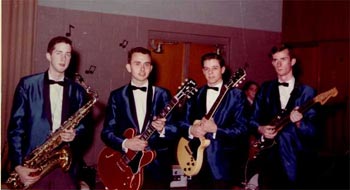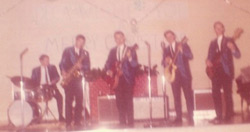 Checkmates
The Checkmates (circa 1962-1963) were Jimmy Britton (Fender bass), Charles Mann (drums - pictured but not a regular member of the group), Tommy Culp (guitar and vocals), and Bozeman (lead guitar). This picture was perhaps taken at the Maxwell Air Force Base's Teen Town.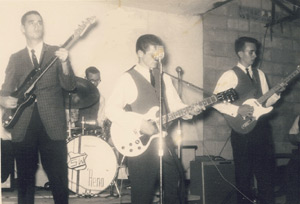 The Checkmates had their beginning in fall 1962 in Montgomery, growing, in part, from an earlier band, The Continentals. The original Continentals included Sonny Bozeman (guitar), Damon Ward (guitar), and Carlton Bridges (drums). This group disbanded when Ward was drafted and Ronnie Myers (guitar), John Thorington (sax), and Henry Loftin (piano) joined the group. Steve Whaley later replaced Bridges on drums. Culp and Britton had worked together as had Whaley and Bozeman as part of the local crew of Montgomery garage/teen bands (there were about a dozen musicians in their teens (John Thorington, Henry Loftin, Bill Smith, Ronnie Myers, Damon and Morris Ward, etc.), that grouped and regrouped in different bands under different names). In 1963, another local drummer, Pal Given,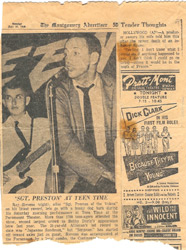 The Continentals with
Ray Stevens at Teen Time
replaced Whaley (who had joined the Marines) on drums. Other drummers would also be used on occasion including Charles Mann1, Jimmy Dinkens, and John Wise. Henry Loftin joined the group from time to time on both bass and piano. Bozeman also played piano and later moved from bass to lead guitar. Britton assumed the role of bass player, as that was his preferred instrument.

The basic repertoire of the Checkmates, like most groups of the period, was guitar-oriented surf music (Ventures/Beach Boys sounds), Chuck Berry, Jimmy Reed and similar R&B covers, Bill Doggett instrumentals (e.g., "Honky Tonk," "Hold It"), and everything the Beatles recorded after they became popular. Gigs were fairly plentiful at local dances, teen clubs, Maxwell and Gunter Air Force Bases, fraternities, school events, and private parties. We would play anywhere-even once on the bed of a flatbed truck for a discount department store opening!


In 1963, Bobby Phillips from Birmingham joined the Checkmates on tenor sax when he moved to Montgomery to go to Huntingdon College. The song list stayed basically the same except for the addition of several James Brown songs from the live Apollo album. Clearly, the interest of the majority of the band was in blues and the styles of Ray Charles and James Brown. Culp, however, preferred the popular British music of the day.

The different (and divided) musical interests of the members led to the formation of a new group in late 1964-The Squires. The new vocalist, Errol Dee, from New Orleans (then an AF lieutenant stationed at Maxwell AFB) brought an entirely different sound to the group (Errol played trumpet also). Virgil Cole was recruited on lead guitar and Bozeman moved to Hammond organ and piano. Charles Brashear was added on trumpet to complete the new 7-member group. Culp also formed a new group similar to the Checkmates and continued to perform in the area for the next few years.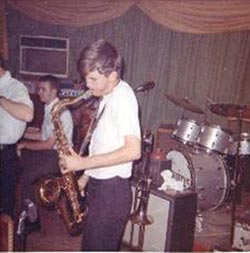 The Squires with Sonny Royal at Copa
Paradoxically, though the Squires were a much more professional group with a bigger sound (due to the horns and organ), they seemed to more oriented to club venues. They also did not appeal as much to the high school age groups who preferred the new wave of music from England. The Squires were, in some respects, out-dated when they began (even though the instrumentation permitted cover of almost any popular song). The group's songbook included no Beatles or Stones covers and was almost exclusively Black music (Brown, Charles, Redding, Pickett, etc.). The Squires continued to perform until late 1966/early 1967 with various and different musicians (John Owens and later, Sonny Royal, replaced Phillips on tenor sax); Ed Thacker (also a Huntingdon student) replaced Britton on Fender bass; Murray Tarleton (a young musician from Lee High School where they had an amazing music program under Johnny Long) replaced Cole on lead guitar; Eddie Wolfford (also from Lee High School) replaced Brashear on trumpet; and Bernie McDonough replaced Given on drums). In addition, Rod Henley joined the group in its latter days on trombone.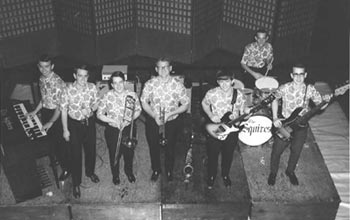 The Squires


By early 1967, personal issues and the general care and feeding of a group the size of the Squires took their toll. Gigs that could make it financially worthwhile for this size group were hard to find. For over a year, the Squires played at Montgomery's notorious and infamous Copa Club (a big, rough but very interesting place alledged linked to organized crime). Also by early 1967 the tasks of recruiting musicians and rehearsals proved impossible and the group gradually ceased to perform.

A few of the members continued in different groups over the next few years. Bozeman (on Hammond organ), after the summer of 1967 playing fake books at Antonio's Lounge with trumpeter Doug Pouncey and a tenor player remembered only as "Ace," joined with Sonny Greer (vocals and formerly of the Rockin' Gibraltars) to form a successful club band (The Esquires) with Ray Goss (bass) and George McCain/Pal Given/Jimmy Dinkins (drums). The foursome covered top 40, R&B, and a lot of 4 Seasons material. The Esquires only played one location (Coliseum Lounge) for a year. The Esquires remained together until fall 1968 when Bozeman moved to Atlanta. Rod Henley formed the In Crowd (with his brother and a young guitarist, Tommy Shaw (later of Styx fame). Rod, a superb musician, went on to become one of the 4 Freshmen for a period of time. Sonny Royal played sax on some of the great Fame Studio sessions in north Alabama but tragically died in the late 1960s. Errol Dee performed with an excellent club trio but eventually abandoned the music business, as did most other members.