ALFONZO AND THE FABULOUS BOOTLEGGERS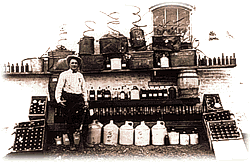 Thomaston, GA
1964 - 1966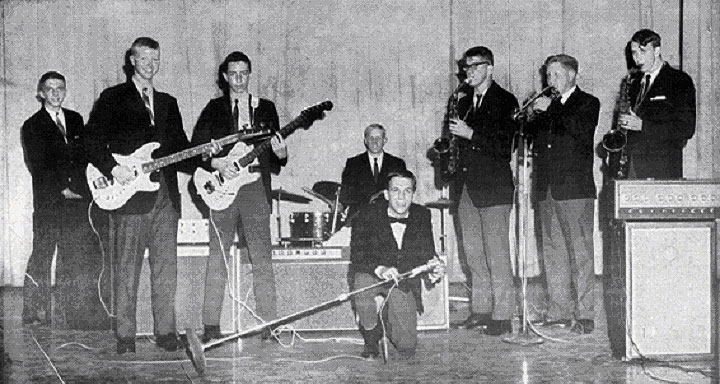 Alfonzo and The FABULOUS Bootleggers was an 8-piece band, including a lead vocalist & front man (Alfonzo, of course), 3 horns, guitar, bass, organ and drums. The band was formed by a group of musicians that played in various local bands as they were growing up and attending R.E. Lee Institute in Thomaston , GA. This band was formed to play the horn-based Soul, Beach and Motown music that became so popular in the mid-60s.
MEMBERS: (left to right in photo above);
David Penn --- Organ
Bobby Alexander --- Bass Guitar
Gary ("Slasher") Fortner --- Lead Guitar
David ("Apeman") Nicholson --- Drums
Alfred ("Alfonzo") Britt --- Front man/lead vocals [also occasionally played lead guitar]
Carter Waller --- Alto Sax
Wayne ("Cracky") Wisham --- Trumpet
Ricky McDaniel ---- Tenor Sax
Read the full story now!
The above mentioned Bootleggers were the original founding members. At points during the life of the band, we also added the following two people to our horn section:
Frankie Lifsey --- Baritone Sax
Ronnie ("Mole") Hayes --- Trombone
GENESIS OF THE BAND (The Story behind the story);
The writer, ( Dave Penn ), first became involved in bands in 1963 at the age of 14. The first group was The S.O.A.B.S. who were mentioned above. That band also was founded and headed up by Alfred Britt, who played lead guitar and sang lead vocals in that group. Other members of The S.O.A.B.S. included ---- Bobby Alexander-Bass, Darrell McGlon-Rhythm Guitar, Harold Lieferman-drums, and David Penn-piano. The S.O.A.B.S. played just little local gigs. The first one we did together was for an MYF party at the First Methodist Church in Thomaston.
After less than a year, Bobby Alexander and I were contacted by Coach George Wilson, who was the recreation director for the B.F. Goodrich Co. Coach Wilson's son, Greg, was a drummer and singer, and they wanted to put together a group to play for teenage dances, etc., mainly those that Coach Wilson sponsored for the kids in the community --- although we also did a few gigs out of town. About the time that Bobby and I left to join Coach Wilson's group, 'Fonzo had begun taking gigs playing bass with a group of older local musicians who were making a little pocket money, and drinking free beer at various honky-tonks, beer joints and private clubs in the West Central Georgia area.
As The S.O.A.B.S. kinda' fell apart, Bobby Alexander and I joined the group managed by George Wilson, which was called "The Apaches". Members of The Apaches included Bobby and I, Gregg Wilson on vocals and drums, Jerry Huckaby on lead vocals, Joe Hoyle on guitar and vocals, and a "new" guitar player --- Gary "Slasher" Fortner. Gary was the youngest member of the group, and had not been playing guitar very long, but he was from a talented musical family and he improved with every note and every chord he ever played.
Both The S.O.A.B.S. and The Apaches stuck with pretty conventional "rock-and-roll" material. We covered everything from "Wipe-Out", "Pipeline" and "Walk, Don't Run" to Roy Orbison, Elvis Presley, Richie Valens and Johnny Rivers to The Beach Boys, The Beatles and some Ray Charles material like "What'd I Say" and "I Got a Woman".
FIRST REHEARSAL AND NAMING OUR GARAGE (GREENHOUSE) BAND;
After about a year (or less) with The Apaches, Bobby Alexander, Gary Fortner, and I all got phone calls from 'Fonzo. He had been playing some gigs with a group that included David Nicholson, who at that time, in my opinion, was one of the best drummers in the state. I don't know where he learned it --- I think I remember his Dad also played drums ---- but David played the "fatback", syncopated R&B style as opposed to the straight-forward, 4/4, rock-and-roll style that anyone could copy by listening to a few Ricky Nelson 45's. 'Fonzo had also lined up three horn players from the R.E. Lee marching band ---- Carter Waller-alto sax, Wayne (Cracky) Wisham –trumpet and Ricky McDaniel-tenor sax ----- and he wanted to put together a horn band to do Soul, Beach and Motown ---- James Brown, Otis Redding, The Temptations, The Drifters, Wilson Pickett, The BarKays, Sam and Dave, The Tams, The Showmen, Booker T. and The MG's, etc.
That sounded like fun, and we all felt we might book bigger and better gigs for more money, so we reluctantly "jumped" at the chance ---- (we all respected and appreciated Coach Wilson and the "Apaches", but this was getting' down to the real nitty-gritty and, I suppose, we were fascinated by whatever adventures it might lead us into).
Our first rehearsal with the new band was in a greenhouse behind David Nicholson's home (his parents owned a local florist). Most of us were comfortable picking out our parts "by ear" by listening to a record, but the horn section was much more accustomed to "reading" music. We started with an instrumental to make it a little easier for them. We must have listened to the first record 4 or 5 times, picking up the arm and replacing the needle in spots to be sure we all knew our "parts". Finally, David counted off and we started to play the song. When we finished, we were all so "blown away" by the combination of instruments, and our first experience with playing with a horn section, that we just about all were laid out in the floor. We knew then that we could take advantage of something no other local, amateur band in our part of Georgia could do (or at least none that we had ever heard of, and those were the only ones that mattered to us.)
I'm often asked about "The Bootleggers". Most people that did not know the band then assume it was a country band because of the name. The truth is, that name came from the title of the song on that first record that we listened to and copied----"Bootleg" by Booker T. and The MG's. We later also added "Green Onions" and "Hiphugger" by the same group, but that first song was the origin of the name --- Alfonzo and The BOOTLEGGERS. We thought it sounded "funky".
WHAT WE DID, WHERE WE PLAYED:
Unlike that first S.O.A.B. gig at MYF, I frankly can't recall where The Bootleggers played their first gig. I'm sure it was likely for a "sock hop" at R.E. Lee, probably after a football game. I know that in the fall of 1965, we signed up for a "battle of the bands" at the West Central Georgia Fair. That contest was hosted by a local radio station, and one of their DJ's was the emcee. We easily won that contest, and 'Fonzo, I'm sure was a big part of that. He came out on stage sliding along on one foot, and at the end of the set, he did "Please, Please, Please" copying James Brown --- complete with the cape which he'd throw off and go back to the mic. The audience and the DJ who saw us for the first time that day all seemed to "love" our show. After they announced us as the winners, we

were introduced again and came back on stage to do an encore. As we came back up the steps, the emcee said something like "Ladies and Gentlemen, please welcome back the winners (or was that "the Sinners"?) of our Battle Of The Bands ----Alfonzo and The "FABULOUS" Bootleggers". Afterwards, we thought about that and agreed it was pretty cool. James Brown and The "FAMOUS" Flames, and Alfonzo and The "FABULOUS" Bootleggers ----- yeah, that'll work. So it became part of our band name.
BOB LAMB PRODUCTIONS
I don't remember all the dates and detail from this point, but the story goes on something like this. 'Fonzo really did have big dreams and plans, but at that place and at that time, there was only so much a teenage group from Thomaston could do. 'Fonzo recruited an older friend from R.E. Lee, Larry (Porky) Foster, who had a dynamic personality and was loved by all who met him, to become our "business" manager. Porky started booking us some gigs in and around Macon , and for the fraternities at Mercer University . I'll also never forget a gig we did for Mt. DeSales , a private Catholic school in Macon , where the nuns kept asking us if we wanted chairs to sit in as we played . Porky was also responsible, with some help from a local DJ by the name of Glenn Powers, for hooking us up with WQXI 790 AM in Atlanta . WQXI booked us several times to play in and around Atlanta at (mostly) teen hot spots like Misty Waters, and Lake Spivey . We also did a series of concerts for WQXI across their broadcast area, including one at the National Guard Armory in LaGrange with Travis Wommack, a guitar player who had a couple of big instrumental hits ---- the main one being a tune called "Scratchy", the other an instrumental cover of "Memphis". Once, when we were doing a WQXI gig at Misty Waters, we played on Saturday night after The Swingin' Medallions were there on Friday, and we were introduced as the "second largest band ever on stage at Misty Waters."
During the summer of 1965, we submitted a demo package to Bob Lamb Productions, a booking agency in Macon . As a result of that package, Bob Lamb began to book us for shows in and around Macon . We played several shows at the McKenna National Guard Armory in Macon , opening for acts such at The Strangeloves, The Gabreys (who the heck were they?), and once --- in Perry, GA. with The Kingsmen, who recorded "Louie, Louie". Actually, the first show we ever did with nationally recognized recording acts was at the old City Auditorium in Macon in November, 1965. We were one of three local bands (Buddy's Buddies of Macon, and The Malibus of Fort Valley, GA. were the others) who each did an opening set of three tunes for a show featuring Freddie and The Dreamers ("I'm Telling You Now", "Do The Freddie", and "I Understand"), The Beaus Brummels ("Laugh, Laugh" and "Just A Little"), and The McCoys ("Hang On Sloopy").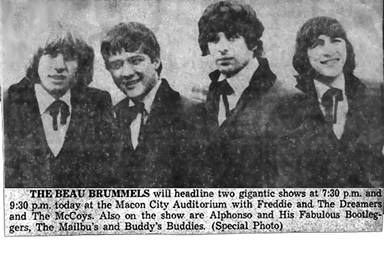 After that show, we were usually booked either as a solo act, or to open for an R&B act. We did a show with Rufus Thomas in the fall of '65 at the Homecoming Dance for Georgia Southwestern College, where we not only opened for Rufus [Walking The Dog, and (later, in '69) The Funky Chicken], but we also performed as his band. I'll never forget --- there was no rehearsal, no sound check. Our GSW guide/host simply knocked on his dressing room door, and we went in. Rufus was sitting at a table eating a take-out dinner of fried chicken. He looked up as we came in, and our host said "Mr. Thomas, this is your band for tonight --- The Fabulous Bootleggers." His hand stopped midway as he was bringing his fork up to have another bite, and he asked "You boys know my stuff?". "Oh, yes sir", we assured him. "Well, I do it in G". That was the whole deal, Lucille. We went out and did our opening set or two, he came on stage and we did his show with him just calling out tunes on stage.
MISSED OPPORTUNITY, or THAT'S JUST THE WAYS IT IS??
To kind of wrap it up here, and make a long story longer, I'll tell you real quickly that by some means --- don't remember the facts now if I EVER knew them, but this is documented in some old newspaper articles that my folks held on to over the years ----- ABC Paramount Records sent a talent scout to Thomaston to see us do a local gig in the late fall of 1965. As I recall, they did actually follow-up with 'Fonzo and make us some sort of preliminary contract offer. As exciting as that seemed, we were in no position to take advantage of it. We covered other people's material --- we had no original songs of our own. An even bigger issue was --- we were all still in high school. 'Fonzo, Bobby and David Nicholson were all seniors who would be graduating in 1966. The rest of us, were only juniors and sophomores. How could we leave school, leave home, and tour to perform gigs and promote possible records? We were just the wrong age, in the wrong circumstances, whose opportunity came at the wrong time.
We had fun though, and it's even more fun to think back on it all. Thanks for letting us reminisce here.
'Fonzo is now retired from a career in upholstery sales, and lives in Thomaston with his wife and daughters.
Bob Alexander ----- who went on to some real enviable business success including a stint as sales manager for Zig Ziegler, the famous motivational trainer/speaker-----is president of The Alexander Resource Group, his own business consulting, training and motivational group. Bob and his family live in Macon .
David Nicholson --- Haven't heard from David in several years, but I think I'm correct in saying that he became a Forest Ranger for the Georgia Department of Natural Resources. I have heard that he also lives in Macon .
Gary Fortner and Ricky McDaniel , I haven't heard from either in years. Last time I heard, Ricky was still gigging and playing sax with a group in and around Macon and central GA. I heard Gary, who went on after high school and played with some very successful rock bands, re-dedicated his life to Christ many years back, and vowed then to never play guitar again.
Sadly, Wayne (Cracky) Wisham and Carter Waller (who went on to be a probation officer for Georgia Department of Pardons and Paroles, and was one of the friendliest and happiest jokers I ever met) both passed away in their late 40s or early 50s.
I am David (Dave) Penn , and I'm responsible for this long, winding tale. I went on to college at Georgia Tech, married my high school sweetheart in 1968 [happily married now, at time of this writing for 38 years.] We have three adult sons --- only one of which became a musician, and four grandchildren. Just about the time my boys began to graduate from high school and college, Alfonzo and The Bootleggers were asked to come home, get back together and play for Coach James Dawkins' retirement party. Not everyone was willing or able to make that, but that reunion lit a fire in me again. I had forgotten how much fun that was , so I came home from that and started putting together a new horn band. That resulted in SoulPurpose (or The SoulPurpose Band), and we've been performing together now since Labor Day of 1994.
Check us out at www.thesoulpurposeband.com
Thanks to Dave Strickland and Andy Patterson for letting us post info on their "fabulous" website.
Many thanks to David (Dave) Penn for the pictures, information and most of all for the excellent write up!
Dave played organ for Alfonzo and now is performing with his horn group: The Soul Purpose Band
©DaveandAndy 2007