SPARKLES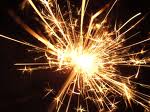 Waycross band from the early sixties. Dennis Howell knew the guitar player and we borrowed his amp to practice when The Royals were just Lowry Merck, Dennis Howell and Mike Hattaway. We believe the bass player was Lee Scurry.
Information courtesy of Mike Hattaway, 2005.
Additional info. from Ron Smith:
Paul Moore was the bass player before Lee Scurry joined the group in 1963. Other members were:
Buddy Beverly vocals and rhythm guitar from Jacksonville, Fl
Bill Joyce drummer from Jacksonville, Fl
Arthur Shaw lead guitar from Waycross, Ga
Ron Smith saxophone from Homerville, Ga
Mack Sweat manager from Waycross, Ga
The ban cut a 45 RPM on the Cypress record label in Jacksonville. The plug side featured a song called In Gear. The flip side was I'll Bet You Cry. Buddy Beverly snag the vocals on both tunes.
Check it out: In Gear
©DaveandAndy 2005