EDDIE MIDDLETON
Albany and Valdosta, GA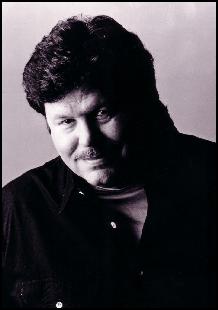 Eddie Middleton, from Albany, Georgia had an amazingly versitile singing voice. He could imitate any style of music and sound just like the original artist to include soul music, country music and rock/pop music. One of his first bands was the Seros from Macon, Georgia.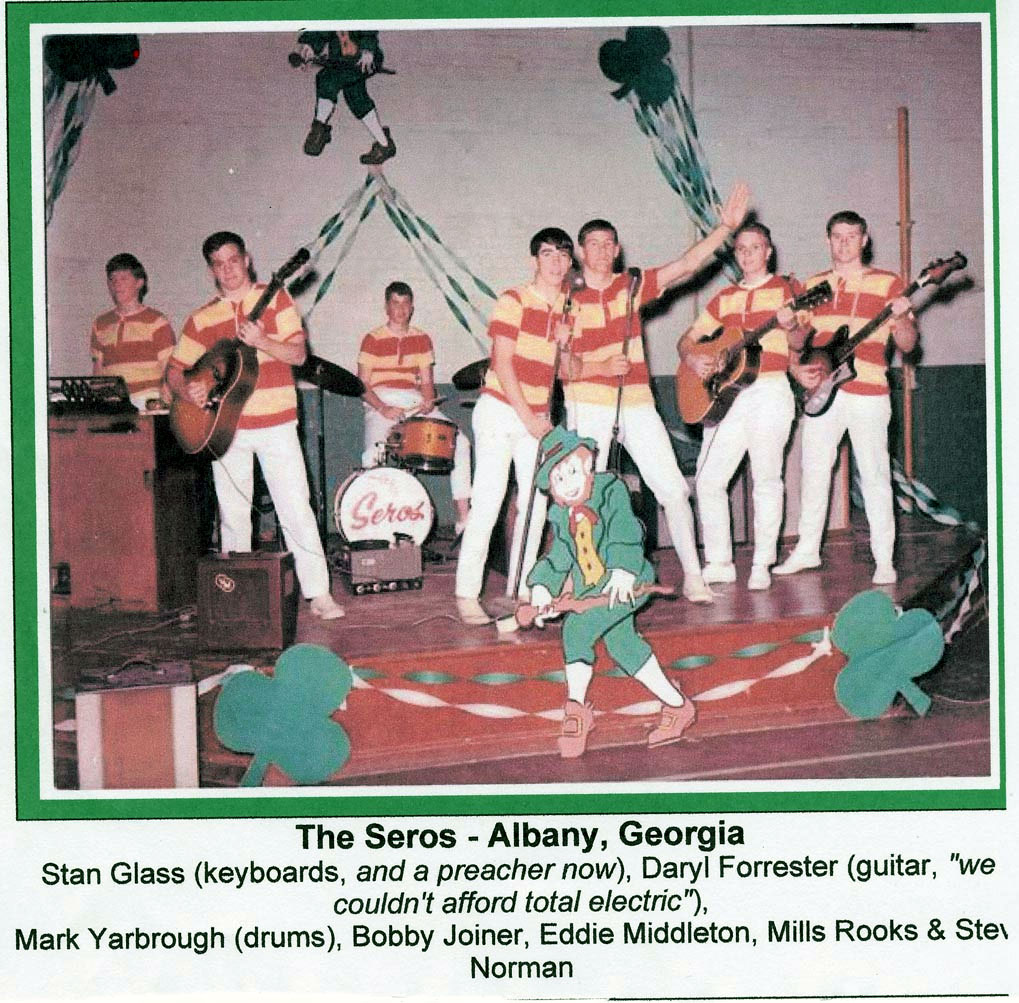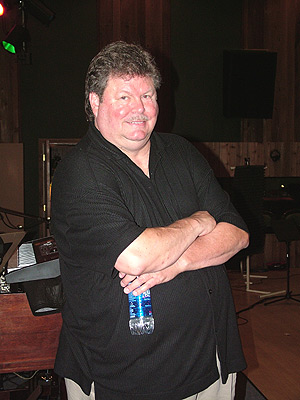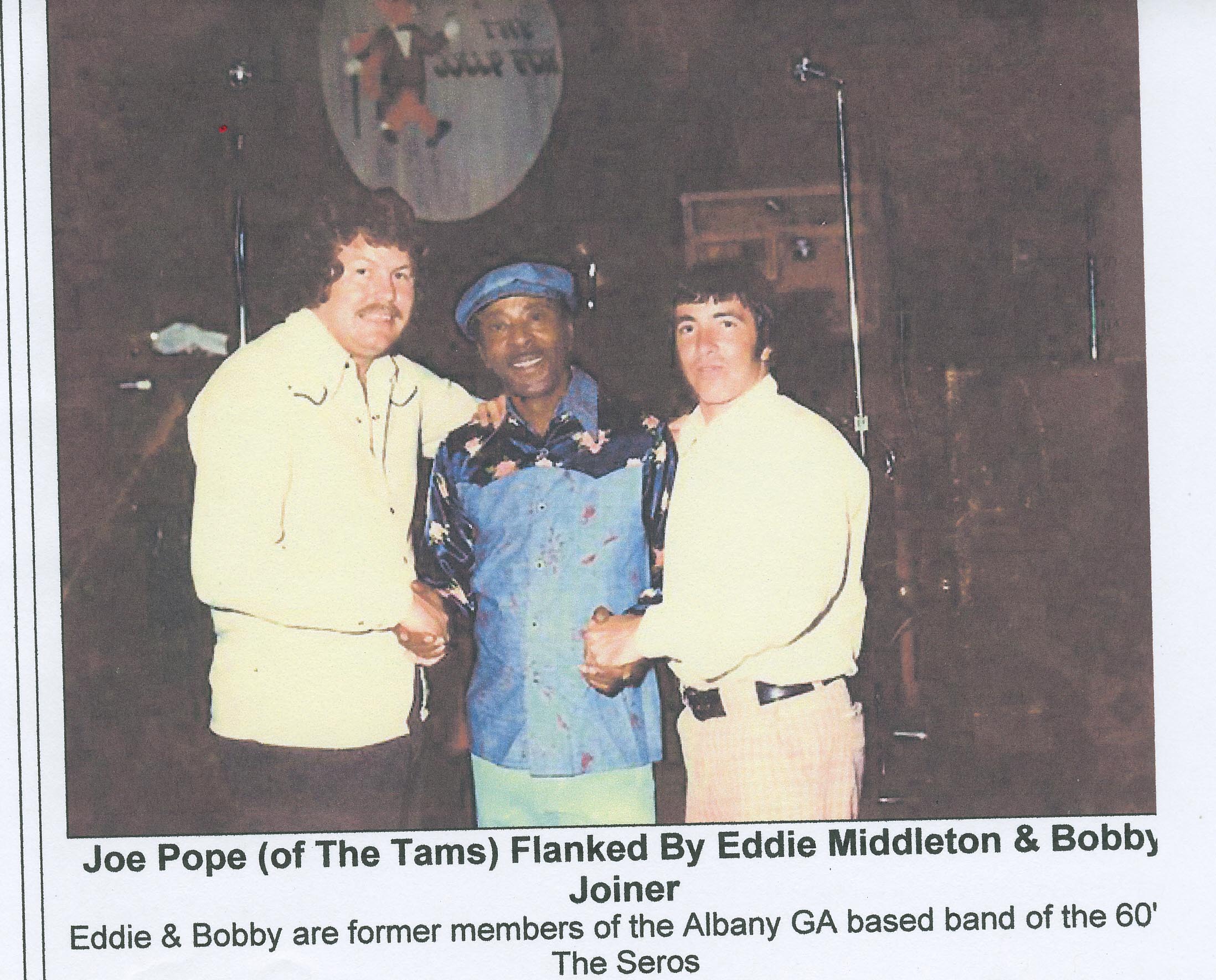 In 1967 Eddie metriculated at Valdosta State College and immediately met other talented musicians and formed a band. These bands included the Seros, R. C. and the Moonpies, Down Home and others. He later played briefly with King David and the Slaves, a blue eyed soul band from Jesup, Georgia. During a homecoming concert with the Lettermen, the group would pick various members of the audience to sing along with them. As luck would have it, they once picked Eddie. The Lettermen were very impressed with his versatile voice.

Down Home Band at the King of the Road in Valdosta, Ga
R.C. & the Moonpies – The Part Time Party Band
I guess a band called Co-Cola & the P'Nuts would not have had nearly the mystique as that party
time party band from Valdosta State College in 1968-69. We knew of the band and even had
three of the members listed in an uncompleted band directory but otherwise R.C. & the Moonpies
would have fallen into musical obscurity had it not been for my bride Marion who happened to run
into former Moonpie drummer, Mike Hattaway, just a short time after the book had gone to press.
After giving Mike the heybabydays.com address, Mike sent us some info that helped solve a little
of the mystery of what appears to be another band of soulful musicians from deep in the piney
wood.
R.C. & The Moonpies was primarily students at Valdosta State College who were members of
bands back in their hometowns. Most bands played on the weekends during the Heeey Baby
Days but primarily this band played during the week for those college students who got their
studying done during the day. All their gigs were sellouts! When the weekends came, these
musicians generally hooked up with regular bands back home for a Friday and Saturday night
performance before heading back to school.
According to drummer, Mike Hattaway, "The band was a true 'jam' band and we featured Eddie
Middleton's ability to do soul and beach tunes."
Did the band have food on its mind or food?
On occasion, the band would use the name, The Luv for Lunch Bunch.
Who made up this band that catered to those with a taste for soul music?
MEMBERS:
Mike Hattaway- drummer- a veteran of several Waycross, Georgia bands that included Our Gang,
The Royals, and The Riot.
Bill Pound– From Macon, Bill was one of those Boogie Chillin
Paul Valentine – He didn't have too far to travel on the weekends to catch up with his hometown
band from Valdosta, The Soul Survivors
Jack Ball – He may have made the journey with Paul back to the Soul Survivors
Russell Martin- As a member of a legendary Beach Music band, King David & The Slaves,
Russell may have had the most exciting itinerary but spent the most time in transit.
Eddie Middleton- the lead singer for R.C. & The Moonpies had a short jaunt over to Albany on the
weekends to join up with Bobby Joiner and the Seros band.
Mickey Thomas – guitar –If ever Eddie got hoarse, he could rely on the band's guitar player for
back up vocals
When school got out for the summer in 1969, R.C. & The Moonpies took its final bite as a part
time party band. Some members went back to their hometown bands but others made transitions.
Lead singer, Eddie Middleton followed Russell Martin to The Slaves, then to The In-Men
Ltd/Peace Core. Later on, Eddie sang lead for New Song and they won several dove awards in
the Christian Music field. With the remarkable comeback of the In-Men Ltd. in 2005, Eddie was
called upon to sing lead on several R&B tunes. Mike Hattaway went on to drum with, Shiloh, The
Continentals, and The Predictions… and the others…we're not sure but it is thought that guitarist
Thomas fooled around and fell in love. first with Elvin Bishop, and then with the Jefferson
Starship. The run for R.C. & The Moonpies was short, but obviously could have been a lot longer
with all that talent. But that's just a little food for thought.
(above info from: Greg Haynes)
OTHER INFO:
One more little tidbit before you click to the sound. Lead vocals for "Superstition" are
supplied by Eddie Middleton. For those unfamiliar with Eddie, he is a South Georgia
legend who began his career in Albany, Georgia with the Seros. Bobby Joiner was also a
member of that band. While Eddie was at Valdosta State he sang lead vocals during the
school week with a band called R.C & The Moonpies. Other vocals in that part time
band included Mickey Thomas who went on to sing lead vocals on Elvin Bishop's "I
Fooled Around And Feel In Love." On the weekends, Eddie would meet up with Randall
Bramblett and the rest of King David & The Slaves where they traveled the frat and party
circuit. The Slaves were another legendary beach band whose membership included some
other greats including Davis Causey on guitar and Harold Williams on Saxophone in
addition to Middleton and Bramblett. Check out other members of the Jesup, Georgia
based Slaves, The Jesters and The In-Men Ltd in the band directories. Before Middleton
headed "Down Home" in South Georgia with Wayne Scarbourgh and John Smith, he had
a stint with The In-Men Ltd. and now in 2006 returns with a cameo appearance with The
In-Men Ltd. with "Superstition." After lining his shelves with awards received as a
member of the Christian group, New Song, Eddie Middleton has primarily given his
talents to a higher calling. We are thankful that he took his testimony and talents back for
a brief revisit to the Heeey Baby Days.
(above info courtesy Mike Hill, Valdosta, GA realtor)
Eddie appeared with groups like the Four Tops, Four Seasons, Three Dog Night, Tina Turner, Drifters, Coasters, and many of the R&B artists of that day.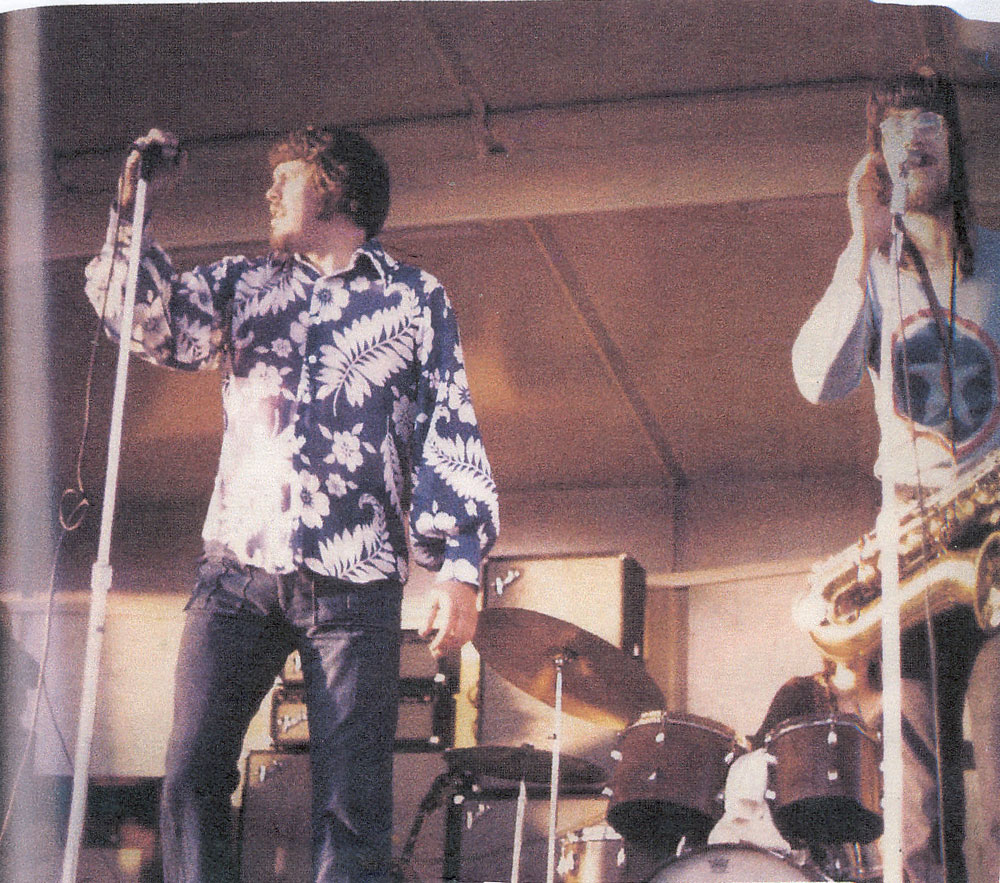 Peace Core with Freddie Owens on sax (the band's spelling)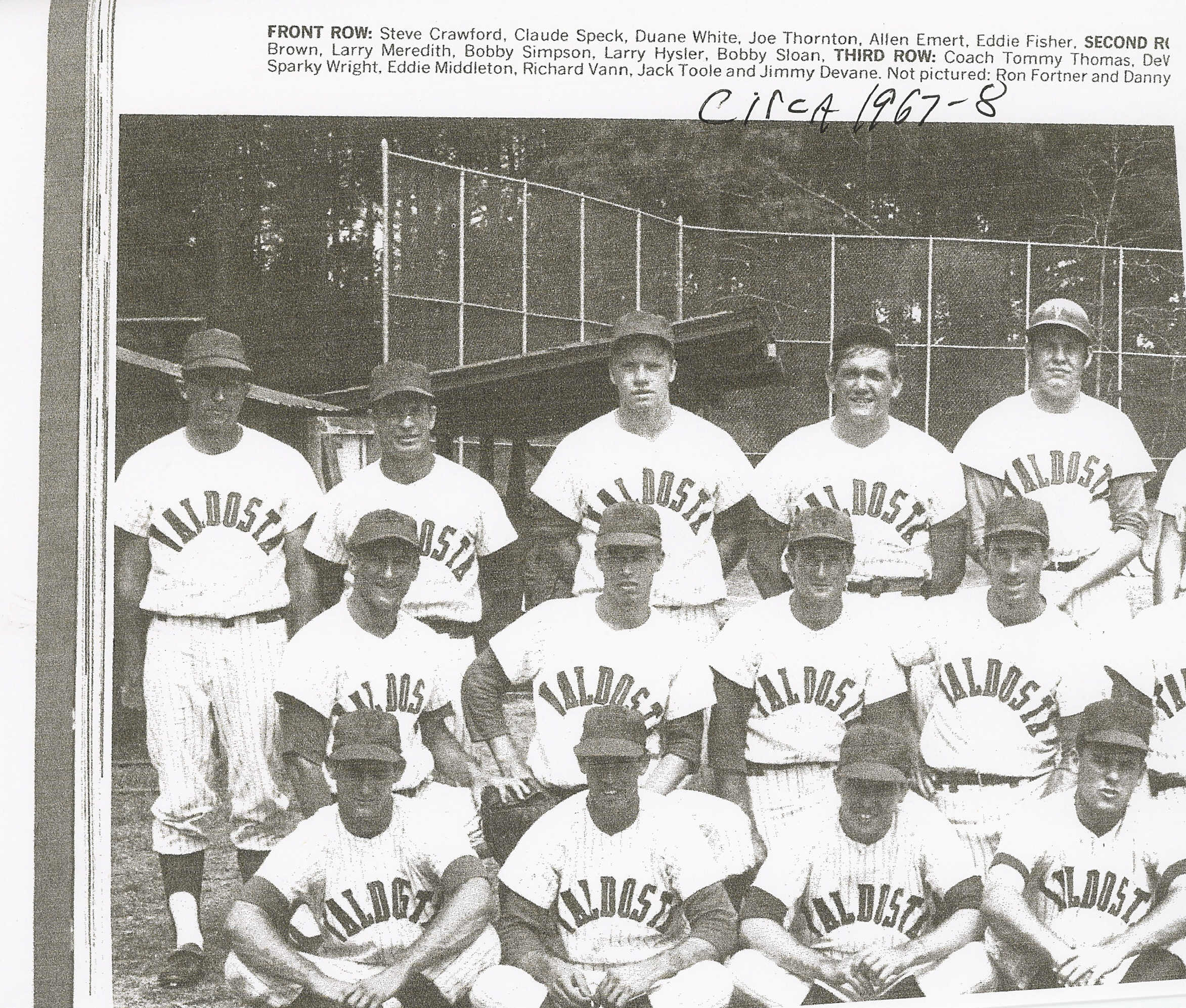 Eddie Middle was also an "ace" pitcher for his college baseball team, the Valdosta State Rebels. His fast ball rivaled any in the league.
(Eddie: Top row, far right).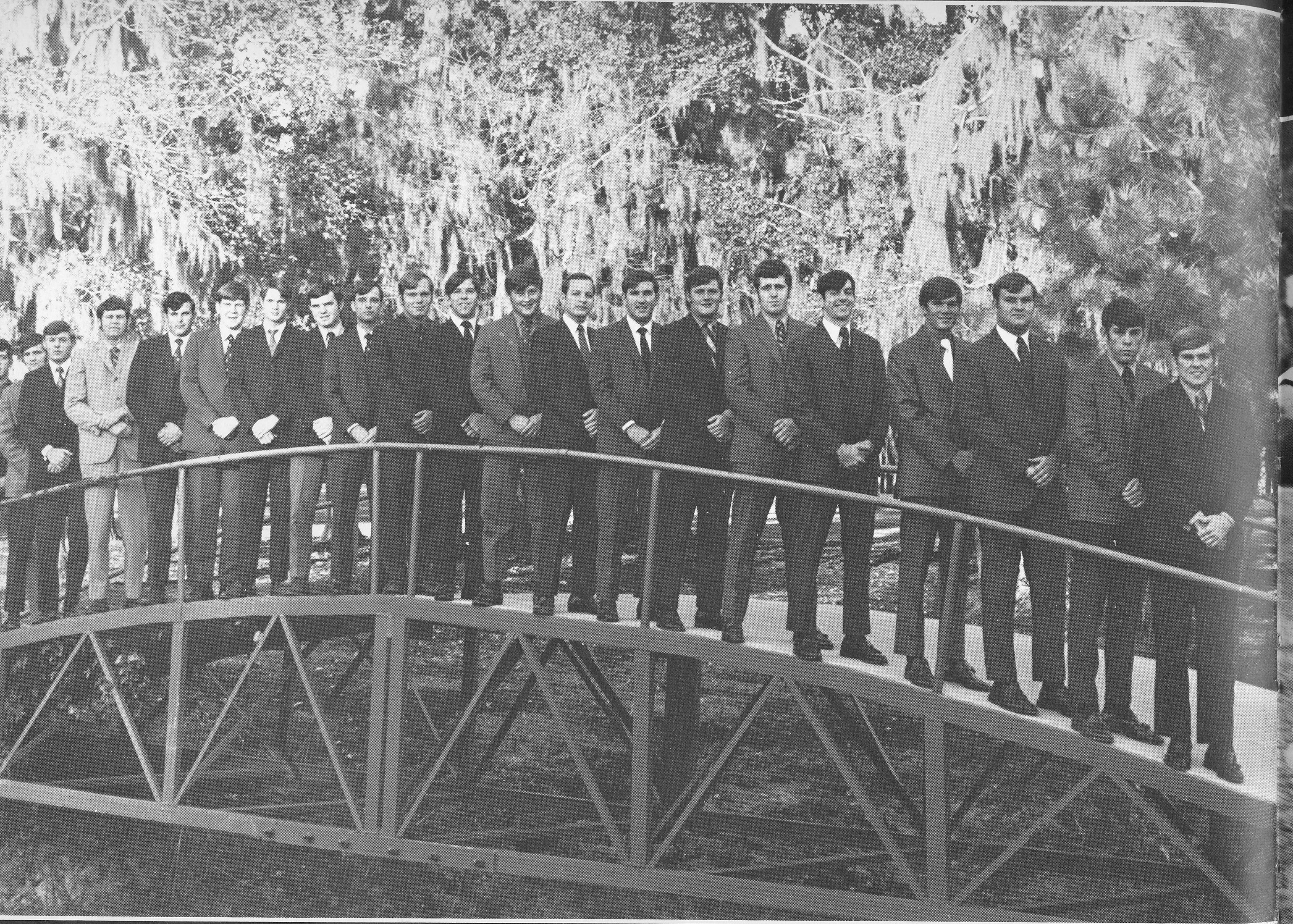 Eddie, fourth from left, was a member of Phi Delta Delta Fraternity at VSC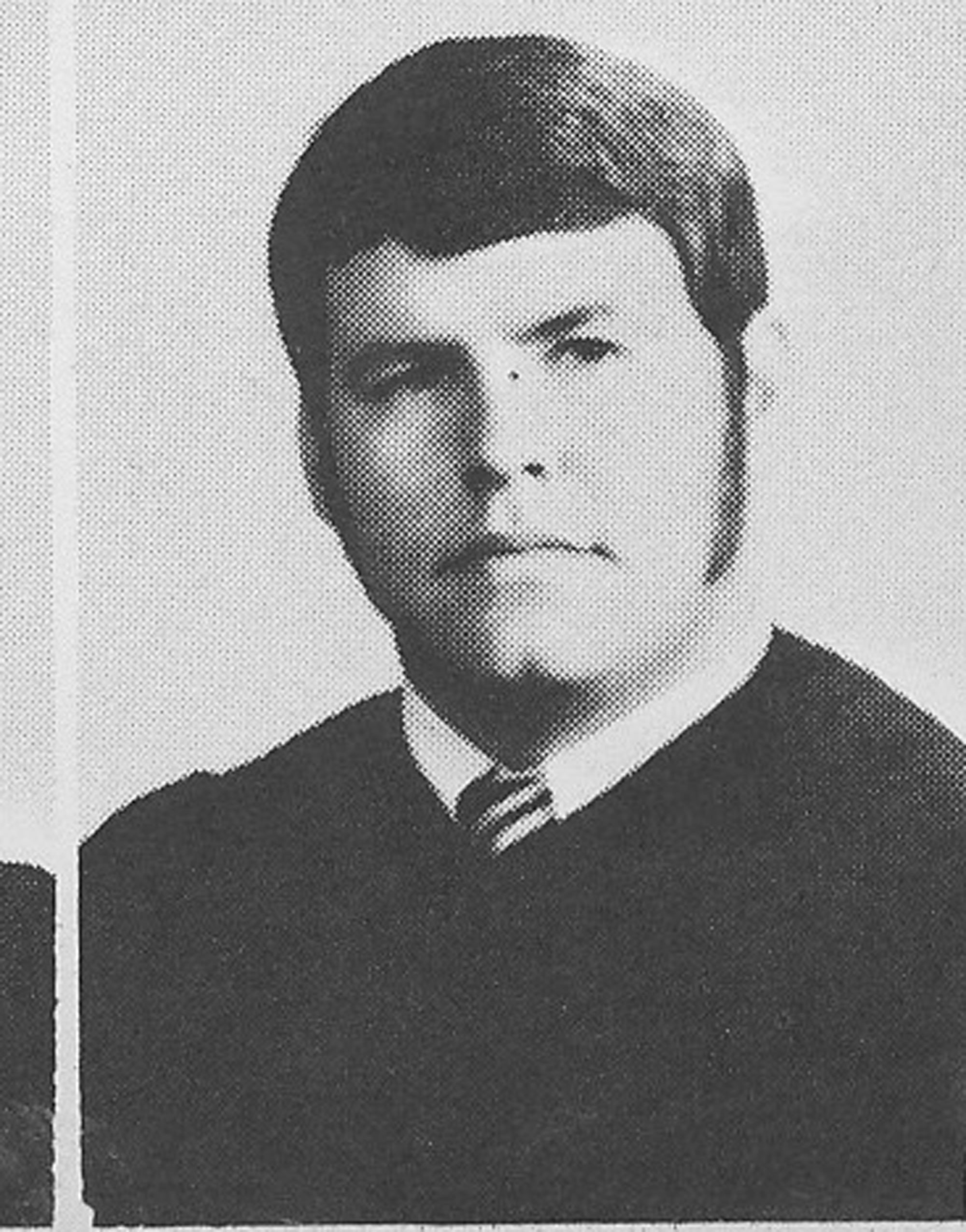 Senior Picture, Valdosta State College, 1970
Eddie Middleton later moved to Nashville, Tennessee to take a shot at country music as a solo artist. Although he never achieved fame as a major recording artist, he did release a "demo" album and was able to make a living in the music industry in a city overflowing with musial talent.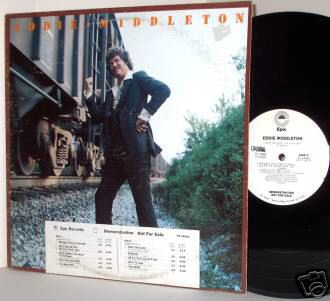 Eddie's accomplishments include a widely released single, "Midnight Train to Georgia" and his own version of the Tams and Bill Deal hit, "What Kind of Fool". He also did the male voice for the Ruth's Chris Steak House commercial jingle.
Check it out: Midnight Train to Georgia
SOP (Standard Operating Procedure) for band members was to go to an all night resturant for food after their performance. One of Eddie's favorite places to eat was the Waffle House (probably because it was one of the few places open all night back in the 60's). While chowing down early one morning he got the inspiration for a song about the Waffle House. He recorded "Waffle Do-Wap". and the song is still on the juke box at Waffle Houses across the contry today.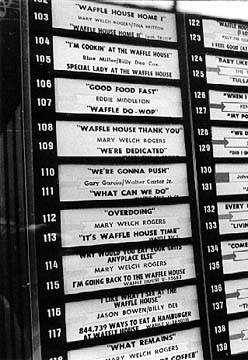 Waffle House Jukebox Favorites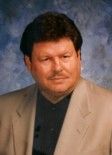 Eddie Middleton later began a career in contemporary Chrisrtian Music and was one of the original members of New Song. The group was founded at Morningside Baptist Church in Valdosta, Georgia. The group has won numerous awards including 17 number one songs and Dove award nominations
.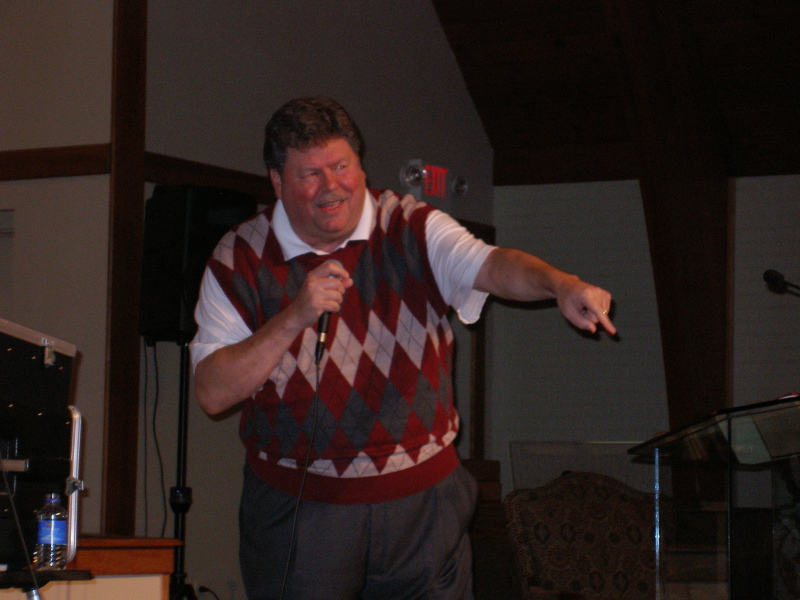 Eddie Middleton is now the Music Minister at a church in Acworth, Georgia. He appears in churches all over the country giving his testimony via song. His most popular is a medley of Mowtown hit songs with contemporary christian lyrics.