CRITICAL MASS
K = F/l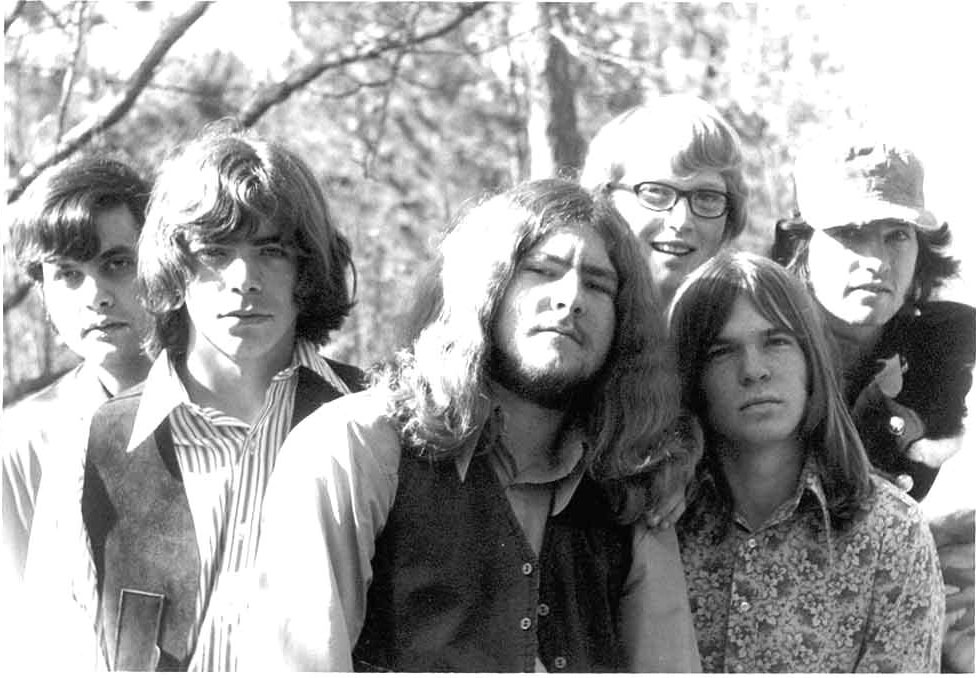 Critical Mass was formed out of a local Statesboro, GA. band named The Darke Side (1964-1967) in about 1967. Billy Johnson (Guitar) formed the band bringing Rowe Brogdon (B3 / Keys) as the nucleus. Arthur Collins (Vocals), Bart Martindale (Bass/Vocals) and Steve Tidwell (Drums) were added at that time. Critical Mass continued to play though the years while attending Georgia Southern. During that time, Jimmy Vining (1st Guitar/Vocals) of Back Street Society was added. The group played a 'Rolling Stone' type loud, raw basic R&R with high energy presentation with lighting support and was the first group in the area to 'mic' all the instruments via the PA with a sound engineer at FOH.
Critical Mass played teen halls, colleges and universities, parties and concerts across Georgia, South Carolina and Florida. They were on TV twice (Lemon Piper Teen Club WJCL 22 in Savannah, GA.). They were in commercial recording studios at least 3 times in Atlanta and South Carolina with two 45 record releases on Systeme Records financed by Bobby Holland Productions. The band was named "Best Local Group" in 1971 by call in votes to WSGA-FM in Savannah, GA.
Critical Mass appeared on the following major concerts in this area from 1969 - 1974: Steppenwolf, Canned Heat, IF, Allman Brothers Band, Ted Nugent and many others. It is interesting to note that the Allman Bros. show was at Georgia Southern College in Statesboro, GA. with all of the members still living. They of course opened with "Statesboro Blues"! Also, at the Steppenwolf concert in Savannah at Memorial Stadium, Critical Mass, the 3rd group to go, opened with "Jumping Jack Flash" and the entire stadium stood up for the first time on about the 4th measure of the guitar intro. The press and TV featured Critical Mass as 'stealing' the show from Steppenwolf who went on last. Critical Mass was invited 'on the spot' and left that night to appear with Ted Nugent at Jacksonville Beach Auditorium the following day. That following Spring, Critical Mass was booked for EVERY JR-Senior in Savannah. Some schools moved their JR-Senior to allow for booking dates.
Critical Mass later dissolved allowing Billy Johnson and Arthur Collins to form Rockin' Horse the first Country-Rock in the Southeast, playing tunes by Poco, Grateful Dead, Eagles, Byrds, etc.
Critical Mass had a show in Thompson, GA. outside of Augusta in the early '70s at the National Guard Armory. We had a radio interview with a open mic format with a lot of 'Beatle'ing around' one-liners, etc. Later, that night, the show went on with Dixie Grits or something of that name opened for us. Well . . . they were really a great band. I looked at Arthur and said ' . . . I'm glad they don't sing . . '. It turns out that was Steve Morse's band from Augusta GA. that became The Dixie Dregs and later, The Dregs, which I am sure a few out there know that sound. On the Augusta GA. thought, Critical Mass also played Bell Auditorium on Sunday Matinee Rock & Roll shows several times.
We auditioned for East Coast Entertainment in the early '70s also, and they became our non-exclusive booking agent. East Coast Entertainment did a great job for us though the years and actually one of the original owners still remembered Critical Mass a few years back.
Also, I would like to remember Jeanette Johnson Carter, a strong, loving woman manager that keep us booked, out of serious trouble and drove the band's school bus (had beds, stove, etc) to most gigs. All of the band members loved her dearly. She was a Rock & Roll woman who was about 55 years young at the time. Jeanette raised me from when I was 12 on. She allowed me to buy guitars, go to Rock & Roll shows and grow my hair as I pleased. (Jeanette thank you for being there for me. Love, your son, Billy.)
Say a prayer for Rock & Roll. PEACE.
Above is a photo of Critical Mass when Jimmy Vining was in the group.
Photo and text courtesy of: William T. Johnson, JR. (Billy) 2005
THANKS, BILLY!
Grievous Angel Productions - GAP
William T. Johnson, JR. (Billy)
108 Go Bar Landing Road
Statesboro, GA. 30461 USA
(912) 842-2972 Voice/Fax
GrievousAngelPro@hotmail.com
www.GrievousAngelPro.com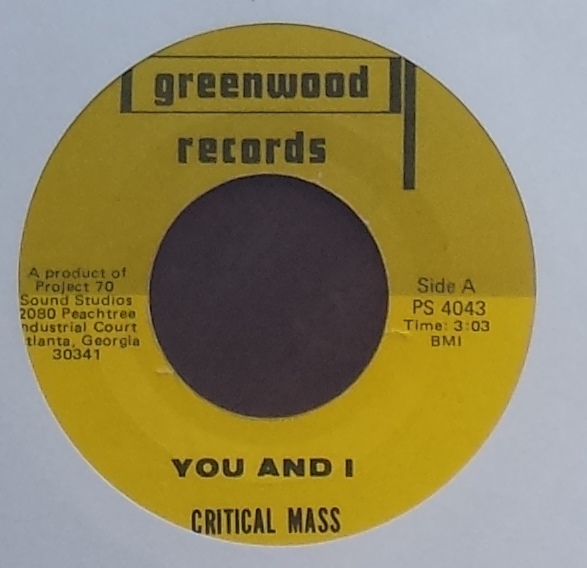 Single 45 RPM release by Critical Mass. The B side is titled "Illusion" from 1969.
(pic courtesy Robin Wills)
Other Bands
Main Page