THE ALLMAN JOYS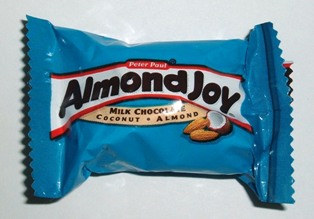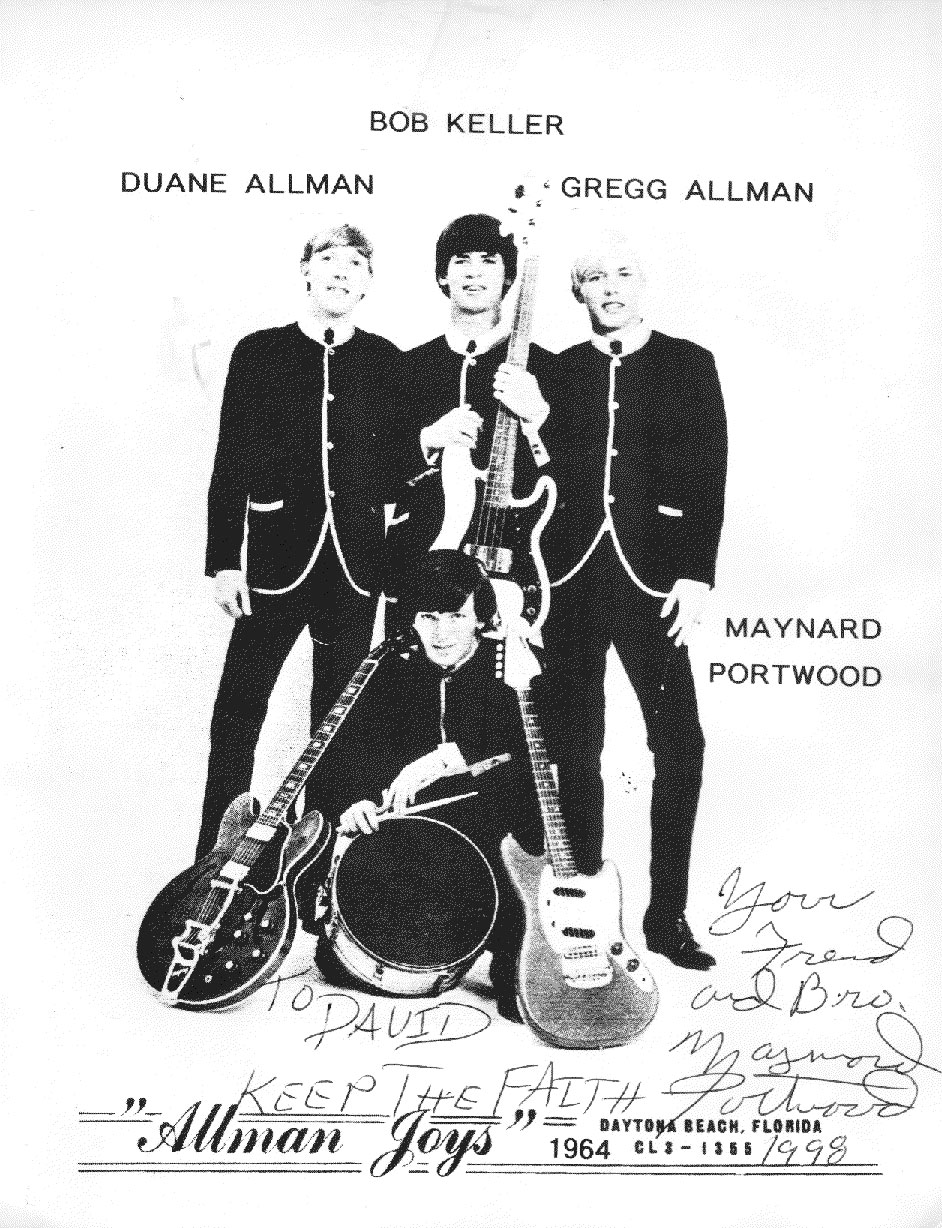 The Famous Autographed Picture of The Allman Joys. Signed by Maynard Portwood, the drummer, to David Strickland "Your Frend and Bro. Maynard Portwood To David Keep The FAITH". My wife is named Faith, and that was Maynard's little joke to me. The picture was printed with the "Allman Joys" Daytona Beach, Florida 1964 CL3-1355. The hand written 1998 is a mystery since Maynard did not put that notation on it. We know because David watched him sign it! An even bigger mystery is: What happened to the picture? The physical photo disappeared years ago, yet an electronic copy popped up on the Web on a BLOG (Web Log) sometime in the time period of 12/26/2004 - 01/01/2005! Now it has disappeared from that Web site and is nowhere to be found on the Web! The search continues however and the results shall be posted here.
---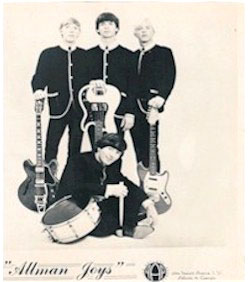 This is a very similar picture likely taken at the same session as the one above. Same outfits, same instruments, very similar printing at the bottom. No names of the band members however and this picture is too small and blurry to read the small print at the lower right. The round image or logo is not recognizable to me. If anyone does know what it is please let us know.
---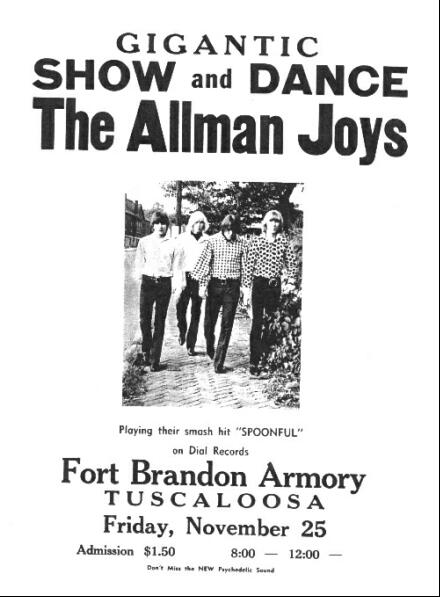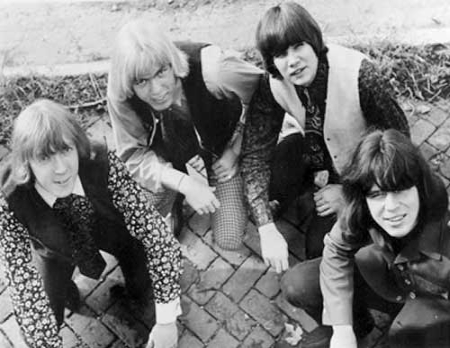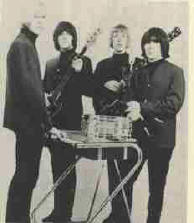 Allman Joys
(Allman Brothers)
February 1966
Gregg Allman (Keyboards, Vocals)
Jackie Jackson (Guitar)
Duane Allman (Guitar, Vocals)
Tommy Amato (Drums)
Ralph Ballinger (Bass)
Bobby Dennis (Guitar)
Ronnie Wilkin (Piano)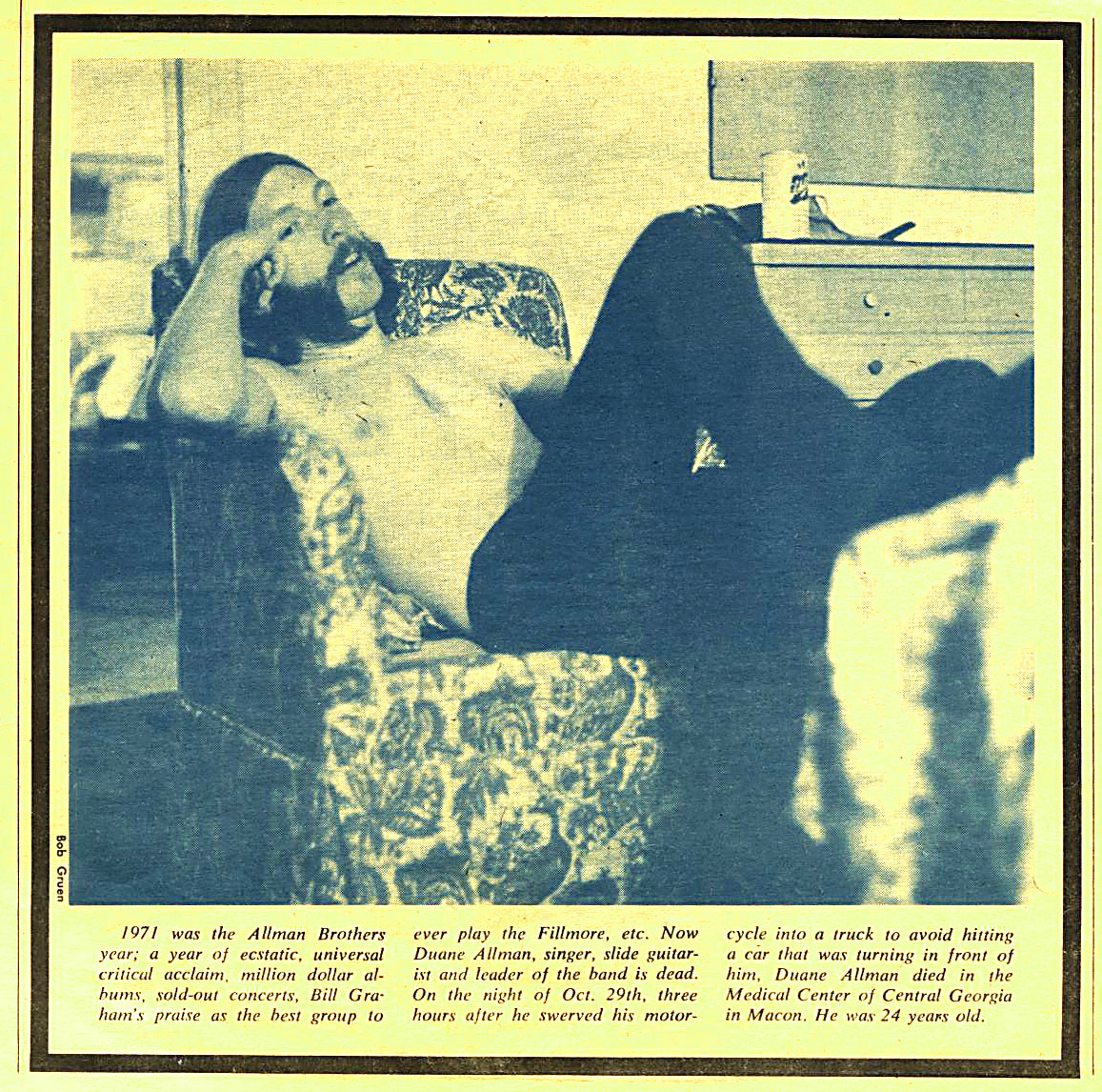 Here's a picture you might not have seen. It is a clipping from a music newspaper, perhaps Rolling Stone or something similar, and was published shortly after Duane's death. I tore it out and saved it inside an Allman Brother's LP all these years. I just found it by accident today.
Dave - 01 May 2005
Pics below courtesy D. J. Hack