WIDESPREAD PANIC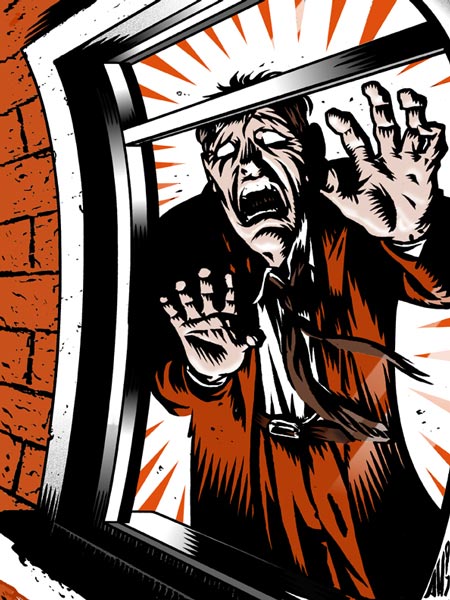 Athens, GA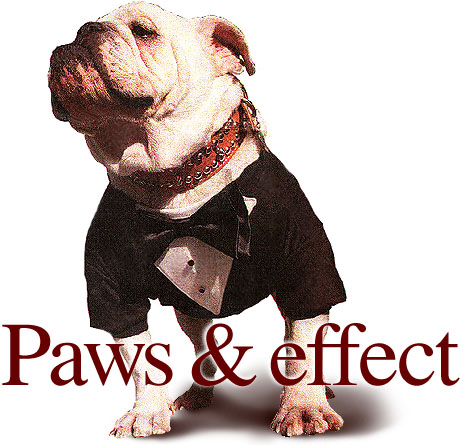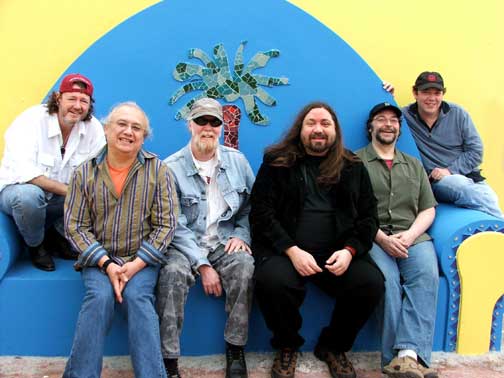 Widespread Panic is an American rock band from Athens, Georgia. The current lineup includes guitarist/singer
John Bell, bassist Dave Schools, drummer Todd Nance, percussionist Domingo "Sunny" Ortiz, keyboardist John "JoJo" Hermann, and guitarist Jimmy Herring. Michael Houser and George McConnell have also played lead guitar for the band.
Since their inception in Athens, Georgia, in 1986, Widespread Panic has risen to elite status among American jam bands. Following in the steps of other Southern rock jam bands such as The Allman Brothers, they have influences from the Southern rock, blues-rock, progressive rock, funk and Hard Rock genres. They are frequently compared to other jam band "road warriors" such as the Grateful Dead and Phish. Widely renowned for their live performances, as of 2011, they hold the record for number of sold-out performances at Red Rocks Amphitheatre (Morrison, Colorado) at 38 and Philips Arena (Atlanta, Georgia) at 17.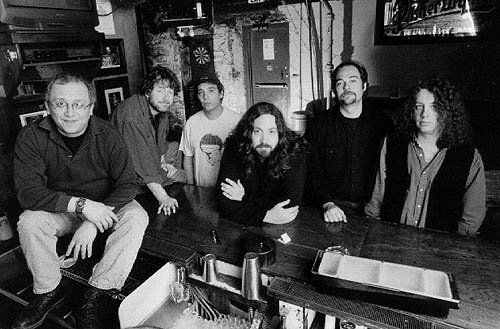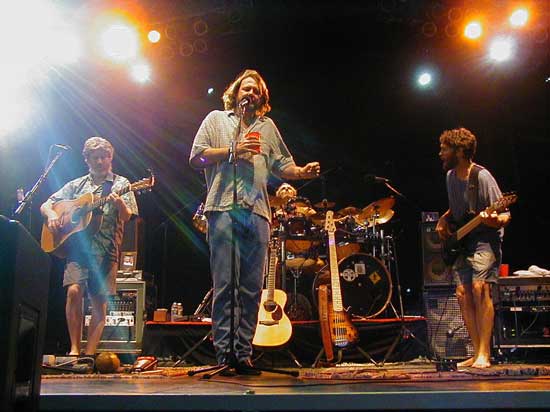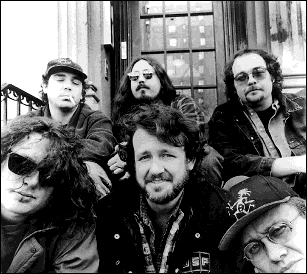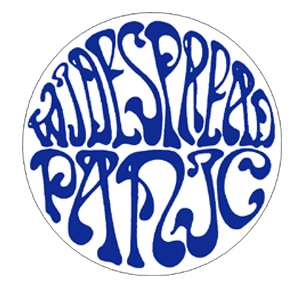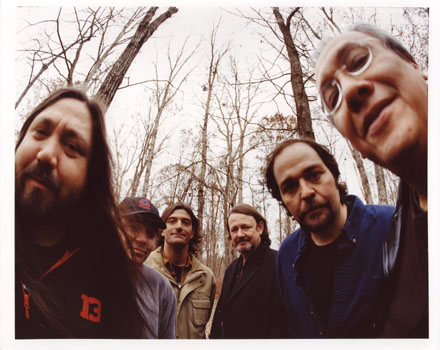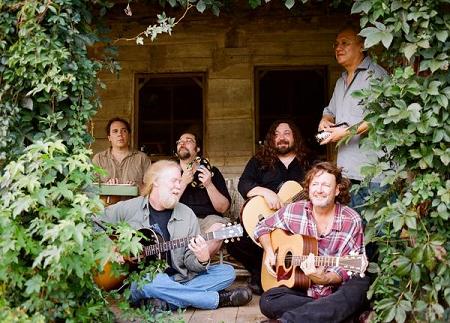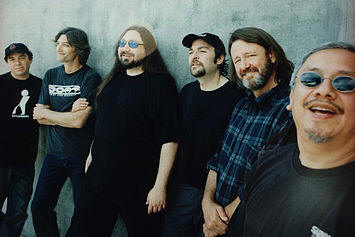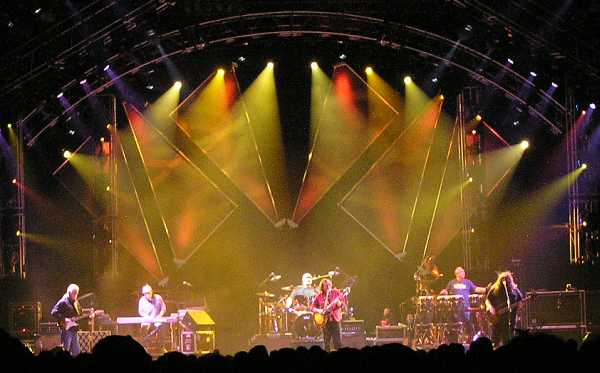 John Bell and Michael Houser met in 1981 in their dorm at the University of Georgia. Bell had been playing guitar as a solo act, and invited his new friend Houser, also a guitarist, to join him. They began living together and collaborating on music in that year, writing still-popular songs such as "Driving Song" and "Chilly Water" together. Bassist Dave Schools met Bell and Houser in 1984 and first played with them on February 24, 1985, at the A-Frame house on Weymanda Court in Athens. On February 6, 1986, Houser called childhood friend and drummer Todd Nance to sit in with Houser, Bell, and Schools for a charity event in Athens; it was their first show as "Widespread Panic". The band was named for Houser's once-frequent panic attacks. Texan percussionist Domingo S. Ortiz ("Sunny") joined the band later that year.
The band played in fraternities and bars on a regular basis before Panic signed a contract with Landslide Records in 1987. In February of 1987 the band played the now-legendary series of one dollar Monday night shows at the Uptown Lounge in Athens and the crucial local press began to take notice -- FLAGPOLE & Athens Observer art columnist Shan Clark emphasized Widespread Panic's musical virtuosity, songwriting and professionalism. In September of the same year, they recorded their first album, Space Wrangler, at John Keane's studio in Athens. Col. Bruce Hampton is rumored to have delivered the first pressing to the band. Songs on the album included "Chilly Water," "Travelin' Light," "Space Wrangler," "Coconut," "The Take Out," "Porch Song," "Stop-Go" and "Driving Song." After Space Wrangler, touring expanded to include additional northeastern dates, along with Texas, Colorado, the west coast, and internationally to Vancouver, Canada. They played their first show in Colorado in March 1990, opening for Jerry Joseph's band Little Women.
Widespread Panic signed with Capricorn Records in January 1991. Later that year, they released their major label debut, Widespread Panic (aka Mom's Kitchen). That same year Billy Bob Thornton directed the movie Widespread Panic: Live from the Georgia Theatre which was recorded over two nights in Athens, Georgia.
As the band began to tour more, John Hermann ("JoJo") joined the band as a keyboardist in March 1992 replacing Dixie Dregs keyboardist T. Lavitz who joined the band a year earlier. The band continued to tour throughout the entire US in 1992 joining the famous HORDE tour with Blues Traveler, Phish, and the Aquarium Rescue Unit, among others. They released "Everyday" in March 1993 and "Ain't Life Grand" in September 1994. Panic marked their rise by playing on network television for the first time in November 1994.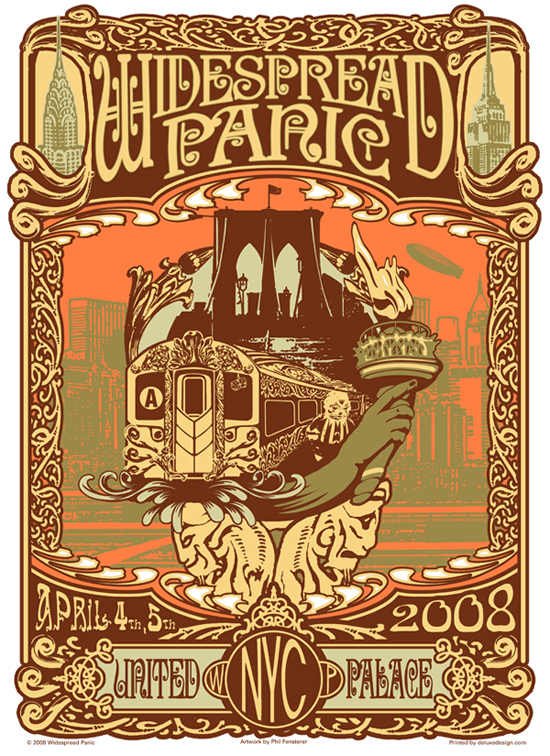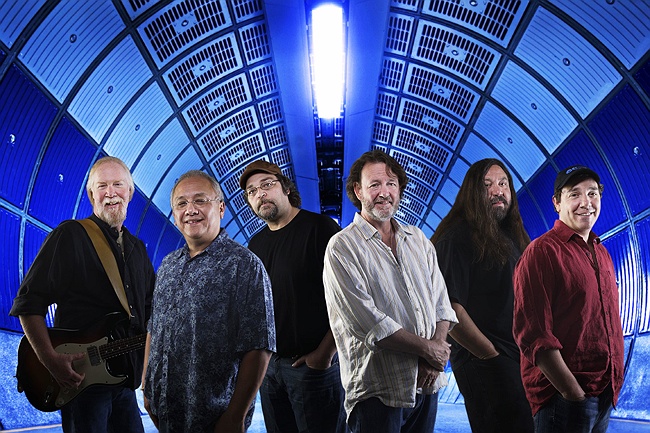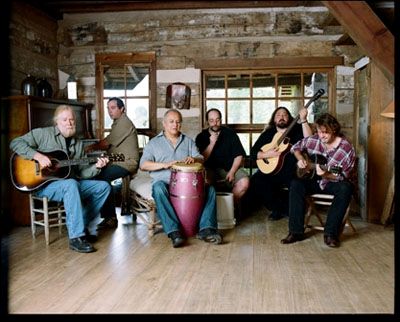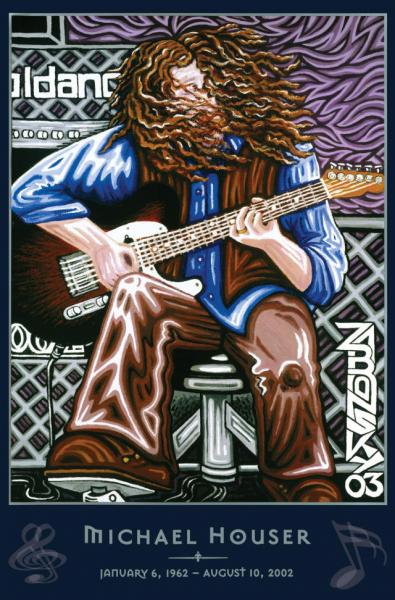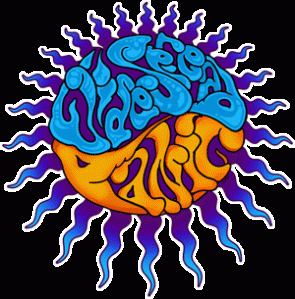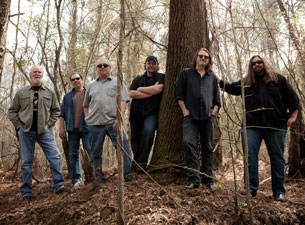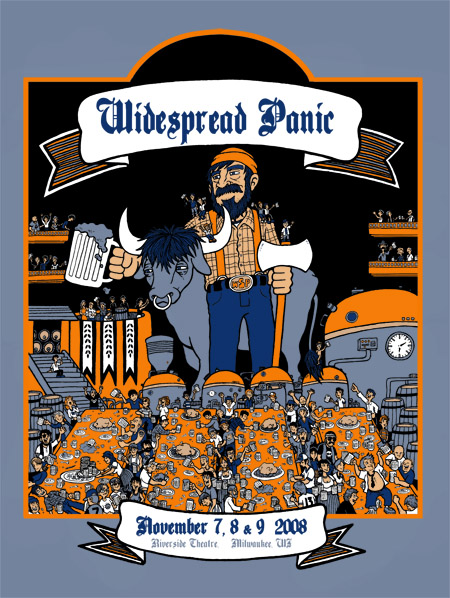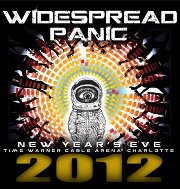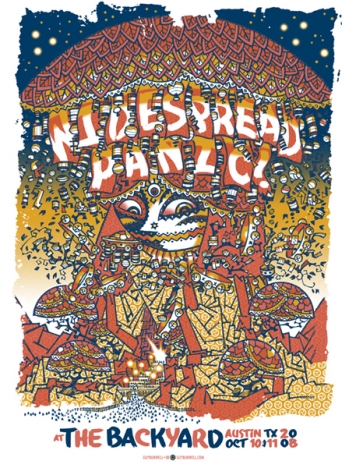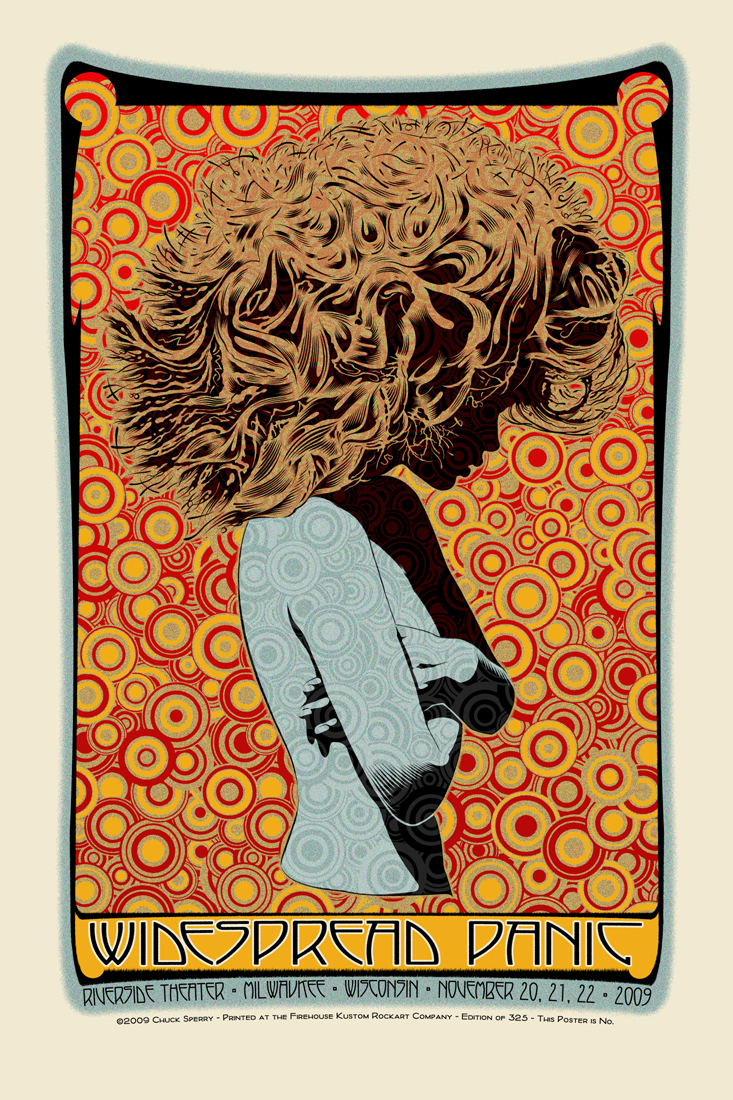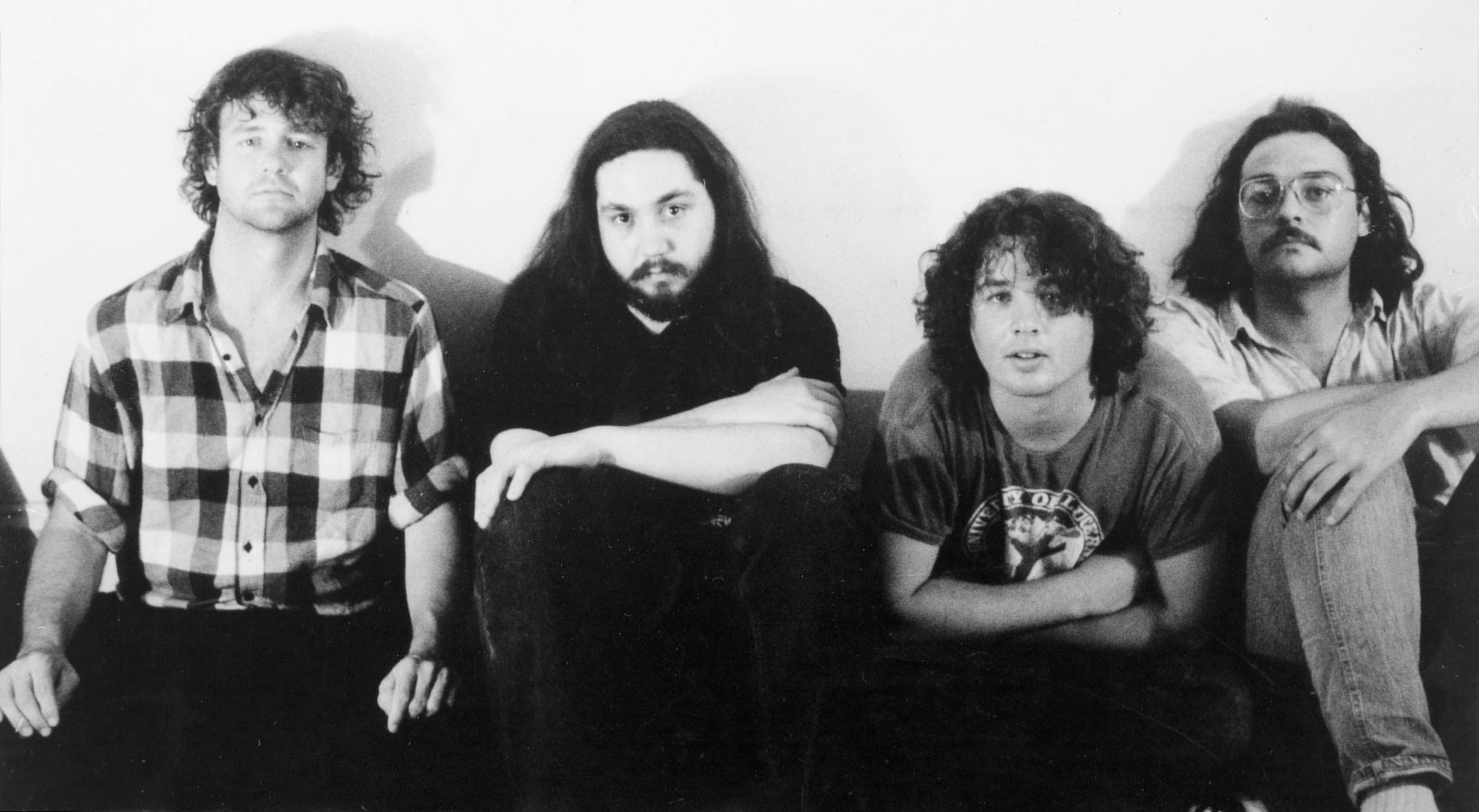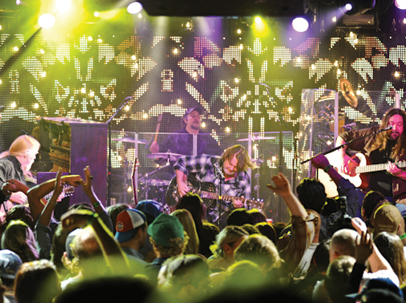 On April 18, 1998, to celebrate the release of their first live album, Light Fuse, Get Away, Widespread Panic offered a free "CD release party" concert in Athens Georgia. An estimated 80,000–100,000 fans descended on the town, transforming it into one of the largest CD release parties in history.
In 2002, the band received gold certification for their concert DVD Live at Oak Mountain. They also headlined two nights of the first annual Bonnaroo Music Festival which drew a crowd upwards of 70,000 people.
In early 2002, guitarist Michael Houser was diagnosed with pancreatic cancer. Houser continued to perform with the band into the middle of that year, but following a performance on July 2, 2002 in Cedar Rapids, Iowa he left the tour because of his declining health. Guitarist George McConnell, a former bandmate of JoJo Hermann's in Beanland, took over as lead guitarist for the remainder of the band's scheduled dates. Michael Houser died on August 10, 2002.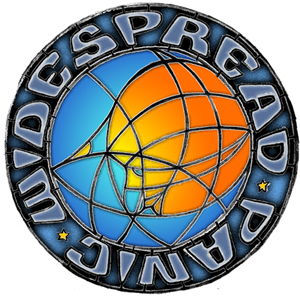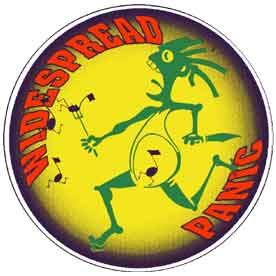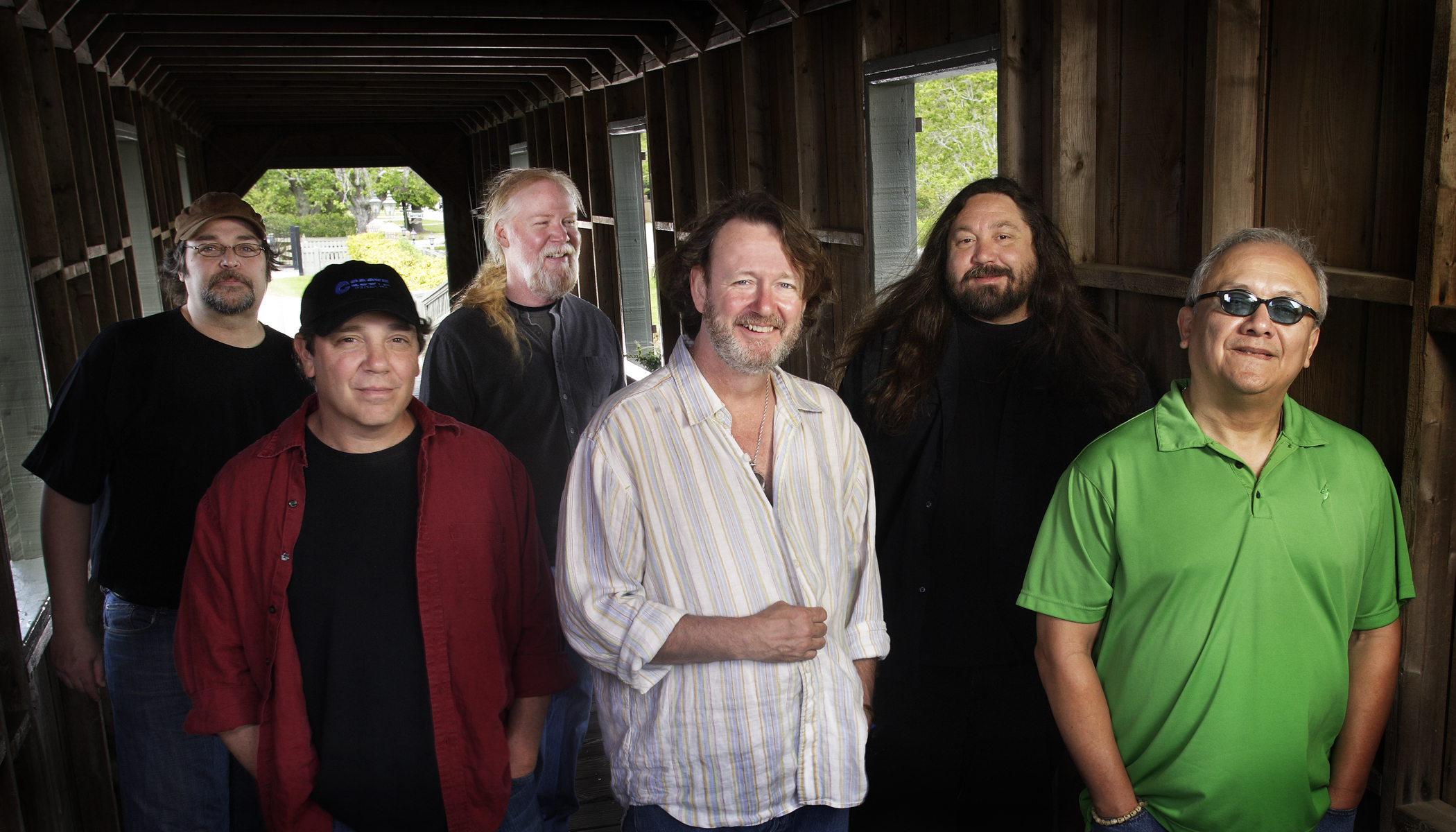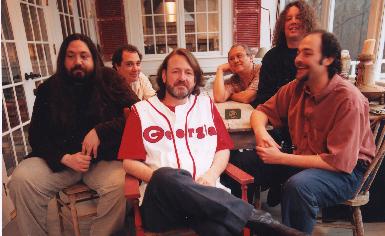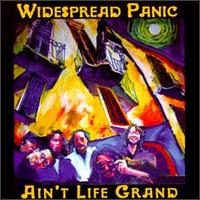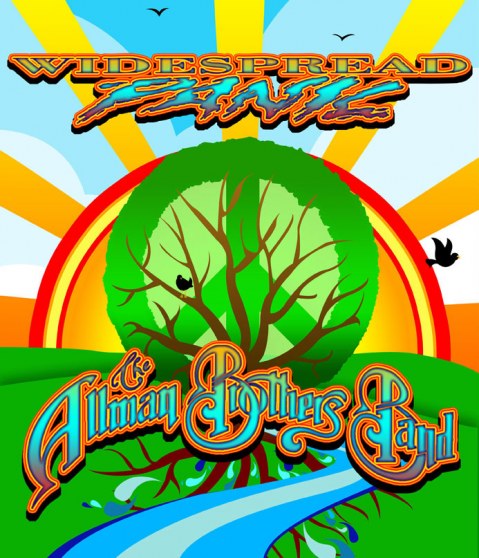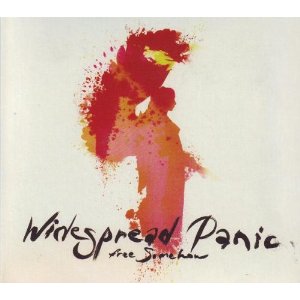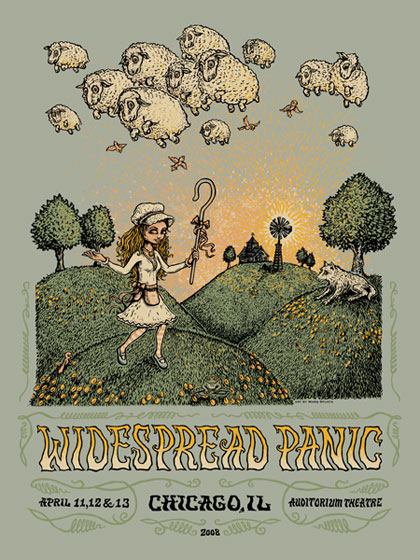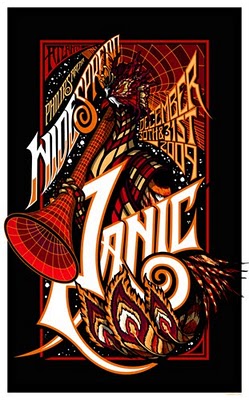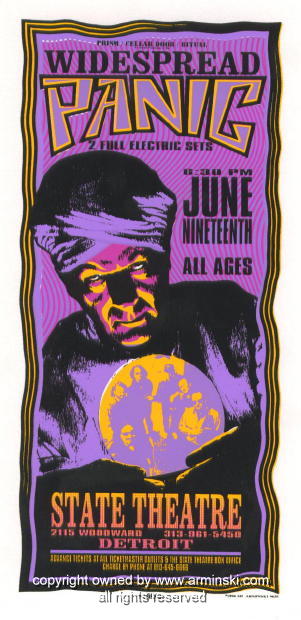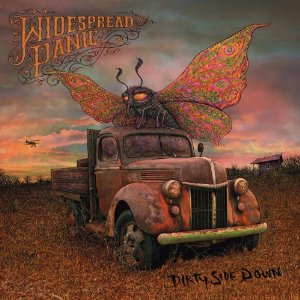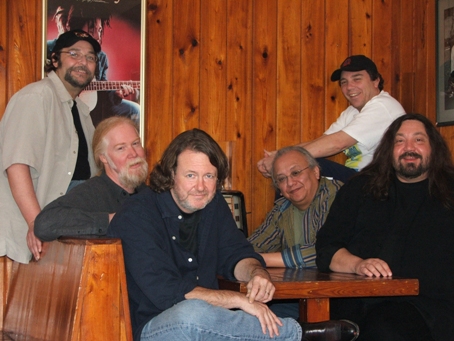 In 2003, the band released Ball, the first studio album with McConnell as the guitarist. The album was unique among the band's offerings in that none of the songs included had been performed live by the band prior to the recording. All of the material included was written specifically for the album with the exception of "Time Waits," a song which John Bell had performed in solo appearances, and "Don't Wanna Lose You," a song John Hermann had performed with his side-project Smiling Assassins. Late in 2003, the band announced that they would be taking a hiatus from both recording and performing in 2004. However, 2004 did see the release of three live albums, engineered by Billy Field: Night of Joy and Über Cobra--both of which were recorded during a November 2003 three-night run of shows at the House of Blues in Myrtle Beach, SC--as well as Jackassolantern, a compilation of cover songs performed during the band's Halloween shows. A fourth live album taken from the Myrtle Beach shows, Live at Myrtle Beach was released in early 2005.
In January 2006, the band recorded their 9th studio album, Earth to America, in Nassau, Bahamas at Compass Point Studios, with Terry Manning producing. It was released June 13, 2006. Their May 9 show at Atlanta's Fox Theatre was simulcast in LIVE HD, via satellite, in select movie theatres nationwide. Over 60,000 fans across the country watched it live in the theatres. This show was also released in DVD format on November 14, 2006, entitled 'Earth to Atlanta'.
On August 2, 2006, nearing the end of the summer tour, the band announced that George McConnell had left the band making July 30, 2006 at the Fox Theater in St. Louis, MO his last show. Producer John Keane and former guitar technician Sam Holt filled in on guitar for the remaining two weeks of the tour.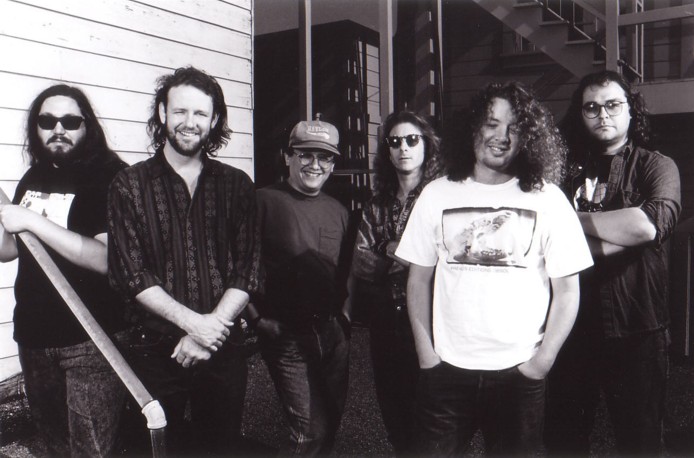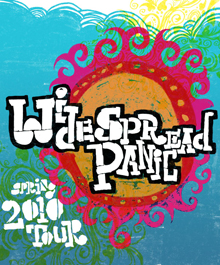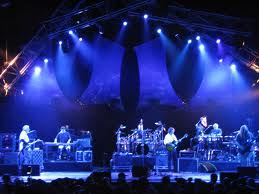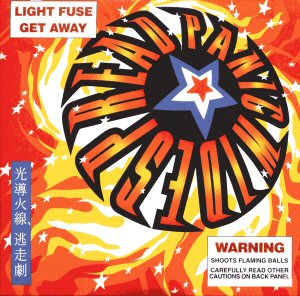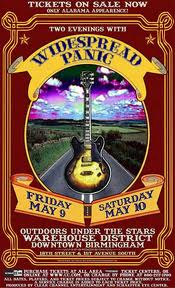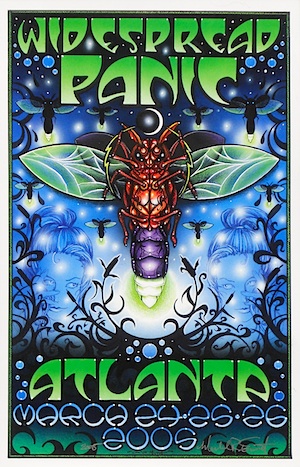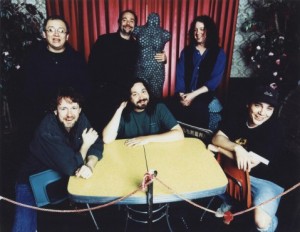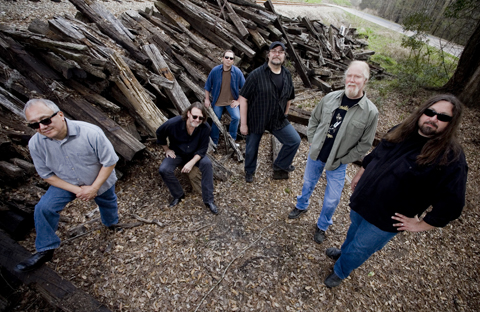 In late 2006, Fayetteville, NC native Jimmy Herring took over the reins of the lead guitarist in the band, kicking off their fall tour with three nights at Radio City Music Hall in New York City.
Panic's 7th annual New Year's shows on December 30 and 31, 2007, marked their 15th and 16th sellout performance at Philips Arena.
The band released their 10th album, Free Somehow, on February 12, 2008. It, too, was recorded with producer Terry Manning at Compass Point Studios.
Following the release of the new studio album, Widespread Panic began to release vintage concert performances from the Widespread Panic Archives. Carbondale 2000 was released on June 10, 2008, followed by Valdosta 1989 released on February 24, 2009, and Huntsville 1996 released on June 23, 2009. The band will continue to dig into their show archives, which encompasses the past 25 years, and release these shows as multi-track recordings.
June 27, 2008, marked the band's 32nd sold-out show at Red Rocks Amphitheater. This was more than any other band in the venue's history. Mayor John Hickenlooper proclaimed Friday, June 27 "Widespread Panic Day" in the City and County of Denver. The same year, Widespread Panic was inducted into the Georgia Music Hall of Fame on September 20.
The band continued to tour throughout the rest of 2008 and the spring of 2009. In the summer of 2009, Widespread Panic teamed up with fellow southern rockers, The Allman Brothers to do a summer and fall co-headlining tour.
In March 2010, it was announced that Widespread Panic would be releasing a new album entitled Dirty Side Down on May 25, 2010. 2010 would also see the release of Live in the Classic City II, containing music from its 2000 shows.
On September 29, 2010, Widespread keyboardist Jojo Herman announced that the band would be going on hiatus in 2012. In an interview with the Vanderbilt Hustler, Herman explained, "Next year will be our 25th anniversary. After that, we're probably going to call it (quits) for awhile. So we're looking forward to next year and going out on a high note."
The band went on to tour steadily throughout 2011, ending the year with their first show at Time Warner Cable Arena in Charlotte, NC. In early 2012, the band played a limited number of shows. From January to February the band embarked on their first ever tour billed as completely acoustic. Dubbed the Wood Tour, it started in January at the Fillmore in Silver Spring, MD and ended at The Belly Up in Aspen, CO. Between the two short legs that comprised the Wood Tour the band played a four night run in Mexico, marking their first shows in the country. The rest of 2012 saw the band on hiatus but band members were active with other projects. Dave Schools toured with the Mickey Hart Band, while Jimmy Herring recorded a new album and toured with his own band. On August 17, the band announced their first scheduled shows of 2013.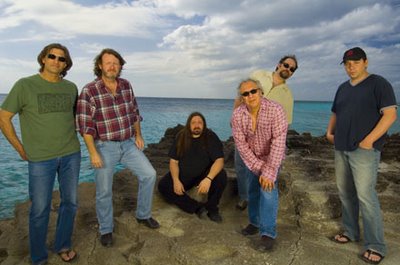 Known for never playing the same show twice, the band has a show-to-show ritual of choosing the night's setlist. At the beginning of each tour, a member of the band's road crew makes a master list of all the songs the band performs and laminates it. Each night before the show he marks the last 3 nights' set lists in different colors. The band can see what has been played recently and then decide what songs to play during the first set. They return back to the list during setbreak to pick songs for the second set, and likewise, return after the second set for any additional sets if playing more than two, or the encore. This process is explained by the late Garrie Vereen in the DVD The Earth Will Swallow You.
Widespread Panic has the policy of allowing any of their fans to tape, trade, and to a limited extent freely distribute their shows. However, anonymous distribution such as P2P and commercial distribution is not permitted. Fans have been taping and trading shows since before they gained national prominence, allowing them to gain their strong national following.
Charity and benefit work
Year

Event

1995

Contributed a cover version of Van Morrison's And It Stoned Me to the Capricorn compilation album Hempilation, a benefit CD for NORML (National Organization for the Reform of Marijuana Laws).

1999

Contributed a live performance version of Blue Indian to Live in the X Lounge II, an album benefiting United Cerebral Palsy of Greater Birmingham, a Birmingham, Alabama charity.

2003

Contributed a live June 2000 performance version of Give to Carved in Stone, Vol.1, an album benefiting the Preserve the Rocks Fund, a donation-driven reserve dedicated to the rehabilitation and preservation of the historic Red Rocks Amphitheatre.

2004

Recorded a cover of the NRBQ song Ain't No Horse for the CD "The Q People – A Tribute to NRBQ".

2005

Contributed covers of The Doors' medley Peace Frog/Blue Sunday to the album Too Many Years to benefit Clear Path Internationals work with landmine survivors.
Created the annual "Tunes For Tots" event. This concert event raises money to support public school music programs.

2006

Recorded a cover of The Band's song Chest Fever for the CD "Endless Highway – Tribute to The Band".

2007

Recorded a cover of John Lennon's Crippled Inside as a bonus track for the compilation album Instant Karma: The Amnesty International Campaign to Save Darfur.
JB, Dave, and Jimmy began to donate several sets of strings to "Wear Your Music" from Relix magazine. Both Relix and Azu Studio have teamed up to produce unique jewelry handcrafted from authentic strings donated by various musicians. Profits from jewellery sales benefit selected charities.

2008

The band participated in the Make It Right Foundation New Orleans and purchased a house for the rebuilding of the 9th Ward in New Orleans. Widespread Panic fans joined in and created the "House That Widespread Panic Fans Built" – they continue to raise money to match the band's contribution and have a house funded by Panic fans.
Performed a concert on November 19 to benefit the Bill Graham Memorial Foundation at the Fillmore at Irving Plaza in New York City.
The band began holding food drives at select shows each tour benefiting local food banks. This was an effort to "pick up the torch" the fan-run organization Panic Fans For Food handed over.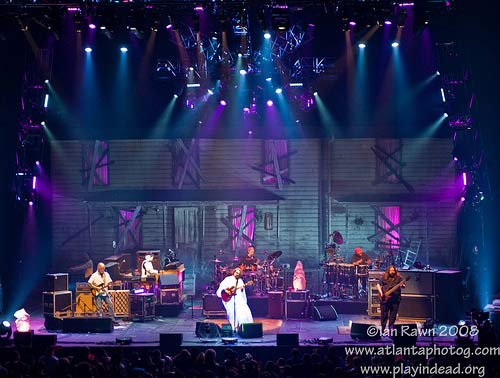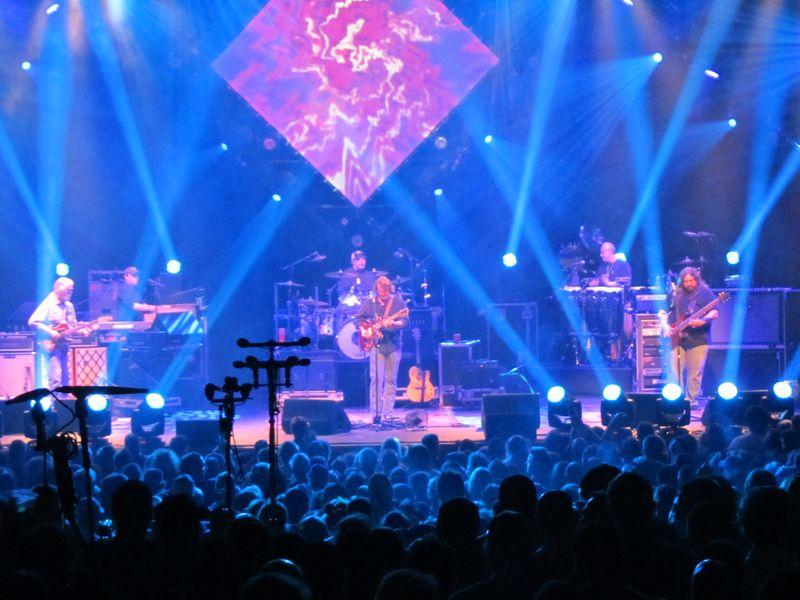 YOUTUBE: