WE THE PEOPLE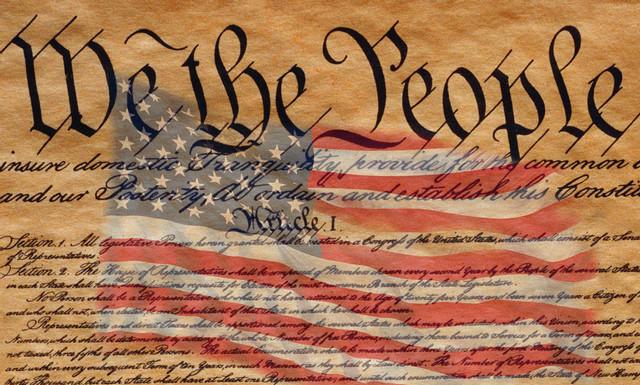 Orlando, Florida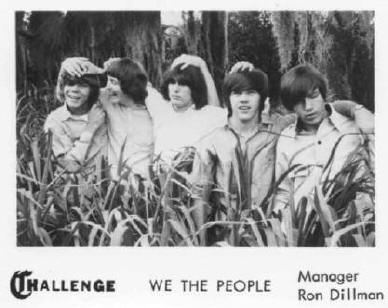 1966-1970
PERSONNELL:
RANDY BOYTE - organ, piano A B C D E (1966-1970)
DAVID DUFF - bass A B C D E (1966-1970)
WAYNE PROCTOR - lead guitar A B
TOMMY TALTON - guitar A B C (1966-1968)
TOM WYNN - drums A (1966)
LEE FERGUSON - drums A B (1966-1967)
TERRY COX - drums C D E (1967-1970)
CARL CHAMBERS - guitar D (1968-1969)
SKIP SKINNER - guitar E (1969-1970)
This highly regarded band hailed from Orlando, Florida, and despite their lack of national success at the time are nowadays regarded in the same league as The Chocolate Watchband, Standells, Music Machine etc.. This view is entirely justified, as their 45s reveal a depth and diversity of talent, from the raucous punk of When I Arrive or You Burn Me Up And Down through to melodic drifting ballads such as St. John's Shop and The Day She Dies. We The People also have a unique quality in their songwriting, withMy Brother The Man, Mirror Of Your Mind, In The Past and numerous others all standing out as top quality stuff.
The band were formed out of two acts - the Trademarks and Offbeets, at the suggestion of Ron Dillman, who managed both bands. Within a week of their first meeting/rehearsal in early 1966, they were recording their first 45, My Brother, The Man, but shortly afterwards Tom Wynn was replaced by Lee Ferguson and the band signed a production and publishing deal with Nashville-based Tony Moon.
Whilst their first two 45s contained punchy psychedelic rockers, He Doesn't Go About It Right contains a dollop of Kinks style humor, and St. John's Shop is a beautiful slow ballad. All were big regional hits in Florida and Tennessee, but under threat of the draft, and frustrated by the lack of national success, Wayne Proctor quit early in 1967. Shortly before his departure they recorded Love Wears Black (None), at Bradley's Barn in Nashville in early 1967, which was intended for release under the pseudonym Fresh Air. He also co-wrote The Skunks 1967 track, Don't Ask Why with Clark Taylor, which has recently been given another airing on The Quill Records Story (CD).
With Wayne pursuing a career in song-writing, the group continued, although Lee Ferguson was then drafted and replaced by Terry Cox from Those Four Guys. Now signed to RCA, national success still proved elusive, although the later 45s are still pretty good (and When I Arrive remains a complete stormer).
Tom Talton too left the group in 1968 and later resurfaced with Tom Wynn in Cowboy. We The People soldiered on for a while with guitarist Carl Chambers and finally Skip Skinner, but they eventually called it a halt in 1970.
In addition to their 45s, the band also had two French EPs with picture sleeves: the first (London 10181) 1966 contains the four tracks that comprise the first two Challenge 455: the second (London 10184) 1967 contains St John's Shop, In The Past, Declaration Of lndependence and Lovin' Son Of A Gun - the last two being non-US 45s tracks.
The band have also been the subject of three retrospective compilations, with Sundazed's Mirror Of Our Minds being the latest and best. A double CD package, with extensive liner notes/interviews by Jeff Jarema, it includes no less than forty tracks. All their 45 cuts are featured, plus all the "previously unreleased" cuts that have cropped up elsewhere on other comps etc. and a whole bundle of other tracks also make their first appearance anywhere... All in all a thoroughly recommended package!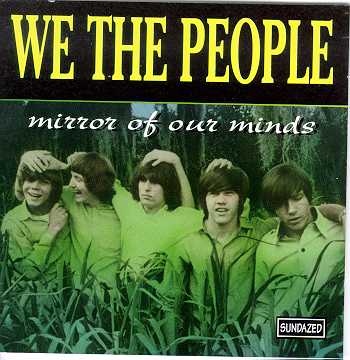 Members over the years: Randy Boyte organ, David Duff bass, Tommy Talton guitar, Wayne Proctor lead guitar, Tom Wynn drums, Lee Ferguson drums, Terry Cox dri,s, Carl Chambers guitar,and Skip Skinner guitar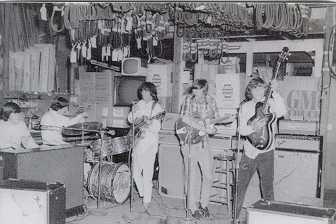 We the People consisted of musicians drawn from a number of different Orlando based garage bands. In the early 1960s, The Coachmen, a frat band who were a popular fixture at local college parties, merged with members of another local group, the Nation Rocking Shadows, to form The Trademarks. Then, in late 1965, Ron Dillman, a writer for the Orlando Sentinel , brought together members of The Trademarks and members of another local group, The Offbeets (formerly known as The Nonchalants), to form a garage rock supergroup of sorts named We the People. The band were notable for having two talented and prolific songwriters, Tommy Talton and Wayne Proctor, with the latter writing most of the band's most popular songs.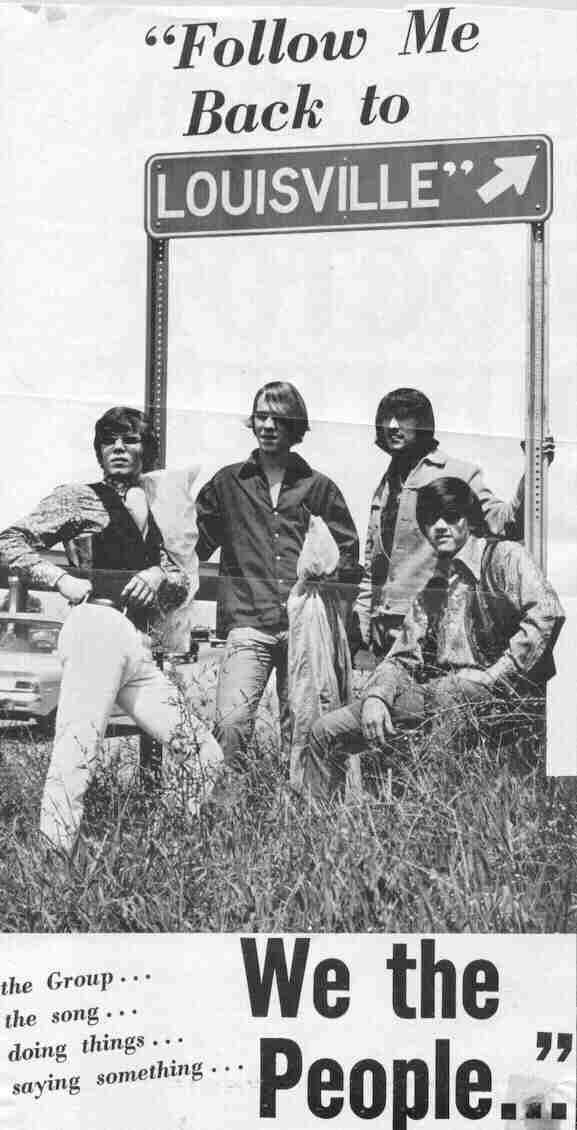 The band's second single, "Mirror of Your Mind" (b/w "The Color of Love"), was released on the label in June 1966. The song is marked by the pounding drums, wailing harmonica, raucous vocals, and crazed fuzz guitar that characterized the band's signature sound. Although the single failed to reach the national charts, it was a big regional hit in a number of locations across the United States, most notably in Nashville and Orlando. During the 1980s, the song was also responsible for posthumously bringing We the People to the attention of music fans all over the world, when it was included on Nuggets, Volume 6: Punk Part Two, the sixth volume of the Nuggets series of albums.
"Mirror of Your Mind" which reached the Top 10 in a number of regional singles charts across the U.S. during 1966.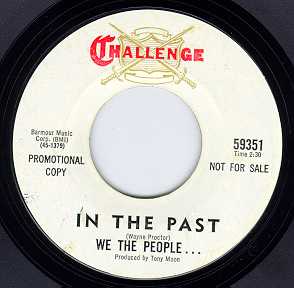 In 1998 Sundazed Records released an exhaustive 2 CD retrospective titled Mirror of Our Minds, which again featured the band's singles along with previously unreleased material and songs by other related bands. This was followed in 2007 by a limited edition vinyl only LP release, titled In the Past, which appeared on the Spanish label, Wohn Records.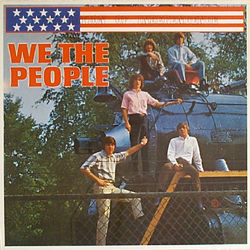 We the People suffered a major setback in early 1967 when songwriter and lead guitarist, Wayne Proctor, left the band and returned to college in an attempt to avoid the draft for the Viet Nam war. The band issued a further three singles on RCA records throughout 1967 and 1968 before the band's second songwriter, Tommy Talton, left in mid-1968. This departure, coupled with the expiration of their RCA recording contract, effectively ended the band's recording career. We the People limped on throughout 1969 and into 1970, until Ron Dillman decided to disband the group following a Halloween concert on October 31, 1970.[ After leaving the band, Proctor went on to write the minor hit, "Follow the Yellow Brick Road" for The Lemonade Charade and today plays with local bands in South Carolina. Tommy Talton went on to form the country rock band, Cowboy, with Scott Boyer and was consequently the only member of We the People to have a professional music career after the 1960s.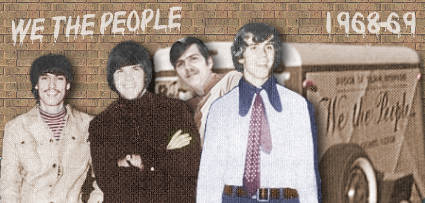 We the People might be considered the ultimate in '60s garage rock. Only a few locals still remember them today, but for the kids who heard 'em on WKDA, or who caught one of their live appearances, they were something different, all right.

"They were the first longhaired group ever to come into the city," Tony Moon remembers. "Nashville, being as conservative, and as country, as it was, the rockers here all looked pre-Beatles--they all looked like they came out of '59 back in '65."

"Other bands were good," he remembers, "but they didn't have the writing capabilities of We the People. The group had two really strong writers who wrote different types of stuff--it had this kaleidoscope of texture."

Moon set up the group's first recording date not in Nashville, but in a cramped Tampa studio. The results were emblematic of the group's split personality: Guitarist Tommy Talton's "Mirror of Your Mind" was an explosive, leering come-on fueled by sizzling guitars and Moon's harmonica riffs. Proctor penned the other song, "(You Are) the Color of Love," an aching, sumptuous ballad that hinted tastefully at the dreamy psychedelia that was coming into vogue.

Although the group handled most of the instrumental chores on their recordings, Moon called on some of the city's skilled pros to fill in a few holes at recording sessions. Upon encountering the likes of multi-instrumentalist Charlie McCoy, Proctor was awestruck: "I remember listening to them play music, thinking there has to be some kind of mechanical device for them to play so good. I couldn't imagine anyone being that good."

We the People played dances, or combos, as they were called back then: "They just mesmerized these kids," Moon remembers. "Teenagers in Nashville just never saw anything like this. They'd heard about it, they'd seen The Beatles on Ed Sullivan," but it wasn't till We the People came to town that local kids saw this new breed of rock 'n' roll in the flesh.

At one gig in a shopping-center parking lot, Proctor remembers, hordes of people turned out. "It was the first time that we had girls in front of us, trying to reach out and touch us. We were totally shocked. To them, we could have been from England."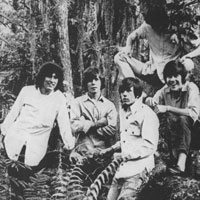 Singles
"My Brother, the Man"/"Proceed with Caution" (Hotline 3680) 1966
"Mirror of Your Mind"/"The Color of Love" (Challenge 59333) 1966
"He Doesn't Go About It Right"/"You Burn Me Up and Down" (Challenge 59340) 1966
"In The Past"/"St. John's Shop" (Challenge 59351) 1966
"Follow Me Back to Louisville"/"Fluorescent Hearts" (RCA Victor 47-9292) 1967
"Love Is a Beautiful Thing"/"The Day She Dies" (RCA Victor 47-9393) 1967
"Ain't Gonna Find Nobody (Better Than You)"/"When I Arrive"
(RCA Victor 47-9498) 1968
Even if We the People never quite made it, Proctor looks back fondly, if a little blithely, on his time in the group. "We were teenagers, somebody was paying for it, we didn't care." In the end, their story is like that of any other group: They came, they rocked, they broke up. But while they were rocking, hanging out at RCA studios and the Alamo Plaza Hotel, they showed Nashville just how exciting rock 'n' roll could be.
info courtesy Darrell Craig