A Comet pulling the Bears. One of several vehicles used when gas was 35 cents a gallon.
On one trip to South Georgia, I remember, we were traveling on a divided highway in a light rain. I don't recall who was driving but we started to hydroplane and spun completely around with the trailer. I braced for the impact and thought of our equipment smashed and scattered everywhere. When we stopped skidding we were headed in the same direction that we started and no other traffic was around us. Yes, that scared the crap out of us, but the driver took his foot off the break, and we continued unharmed but shaken.

Another episode was a trip to an American Legion dance between Lyons and Vidalia, GA. This time Don was driving through the center of Lyons, and we were cut off by a pickup truck. He had no time to stop and could only swerve to the left into a closed gas station driveway. Off the street and through the closed gas island at about 35 mph was a hair-raising experience. The pickup driver realized what he had caused and stopped to apologize. He remarked that he was glad he didn't cause the dance to be canceled. We were too!

An old map marking our territory. Note the absence of many Interstate highways back in the 60's.
We were playing in St.Augustine, Fl. near the beach at a dance hall one summer when a rain storm with strong winds blew up all of a sudden. We were set up inside and our Showman amplifiers were vertically stacked behind us in front of a roll down bamboo screen covering an open window. In the middle of a song, a strong gust of wind blew against the screen with enough force to completely blow over all the amplifiers! After the shock of seeing them on the floor face-down passed, we picked them up, reconnected, and much to our surprise they all worked--quite a tribute to the ruggedness of Fender equipment.
Another time in South Georgia, maybe Alma, Baxley, or Dublin after the dance, we found a small diner that was open late. Maybe midnight or so, we all went in, found a booth, ordered our food and were talking about our performance that evening. Someone said, "He has a gun!" We all dove under the table and peeked out to see one of the waitresses grab a shotgun from some guy. She told him to get the hell out and go sober up. Needless to say we were pretty well shook up but left there with a story to retell many times over.
Douglas, GA was Revlon/Bushman home turf, and we played at a place in town, maybe a VFW or community club. I remember we were told by the locals how much they liked the Revlon's. They were somewhat critical of other bands that came in, but when the dance was over, they said we did ok. We took it as quite a compliment.
Swainsboro, GA was a place we played many times. The first venue was somewhere outside of town in a large "Quonset hut" type building. It had an AM radio station on one end, a large dance floor and big stage on the other end. The station was WJAT owned at that time by Jim Denny and Webb Pierce. It was fun to play there because we would set up our equipment with the curtain closed, and then it would open when we started playing the first song. One time the radio station had each one of us do a promo saying "Hi this is Hal" or James or whomever, "and we will be at such and such this Firday night starting at 8:00, be there" or something like that, and they would air the promos the next time we played. When we traveled there we would tune the car radio to 800 and listen for our commercials. This was so cool. The other place was on the opposite side of town at the Swainsboro Woman's Club. It, too, was a great place to play but was much smaller and had a more intimate setting. We were well received in Swainsboro and always looked forward to going there.
The booking that was the farthest away was a fraternity party in Athens, GA on a Friday night. It was many years later that I found out we played in one of the banquet rooms at Charlie Williams Pinecrest Lodge, a popular Athens Restaurant open to this day. Not wanting to pass up a golden opportunity to play in Atlanta, the next day we drove there and found the legendary WQXI studio's on Peachtree Street. Mr. Shaw, our manager, went in and managed to get us an engagement at "Misty Waters", a family sports/water/entertainment complex southwest of the city. Now, long gone and forgotten, this place was light years ahead of its time. We opened for the Candy Men, Roy Orbison's band. WOW! We managed to get through our opening set probably lasting about 30 minutes. I think we did ok....at least the Candy Men said we did and that made us feel good. The whole trip was great but getting to meet them, let alone play on the same stage with them, was amazing They sounded great. We managed to meet up with them one more time on stage in Jacksonville somewhere, and they were just as cool.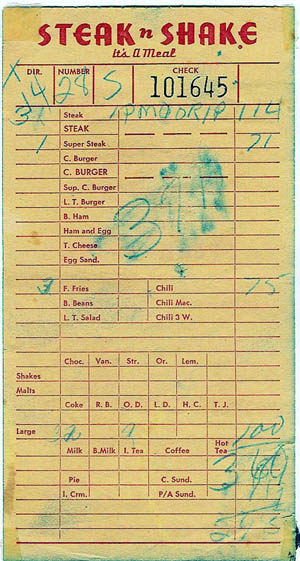 The yellow Stake and Shake receipt was from a trip to Daytona Beach. We played at a band shell on the beach, not quite the ball room on the pier, but we were playing in Daytona.