Teddy Bears on stage with their "Go Go" dancers at Fernandina, FL.
Advertising poster.
Series of 8 shots at a high school dance in Fernandina, FL.
James has his back to the camera and Al is adjusting his Silvertone 1484 amplifier, this time standing in a vertical configuration that was proven to double the wattage and physical size....at least in our minds.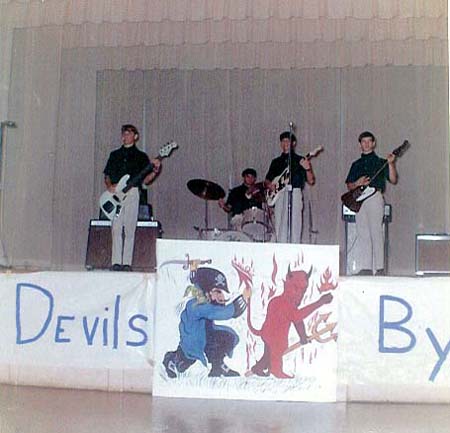 The Fernandina Buccaneers have the Devil by the tail, and the Bears are on stage.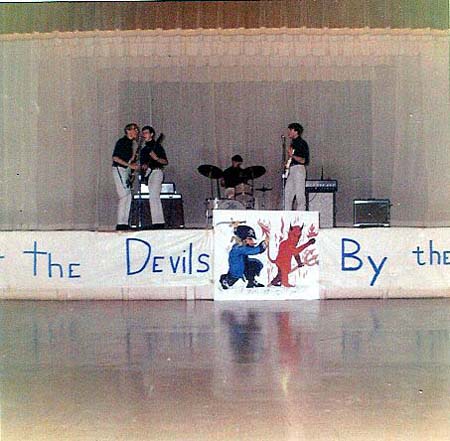 Hal and James sharing a mike.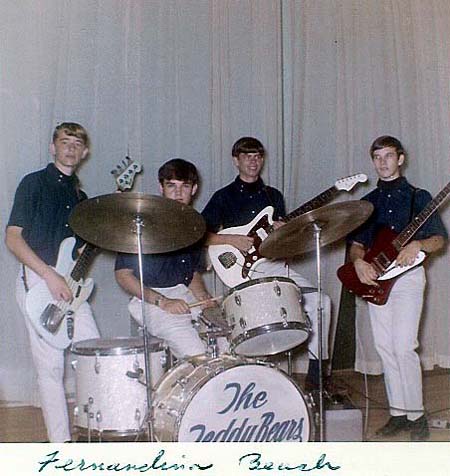 Hal, Don, Al, and James.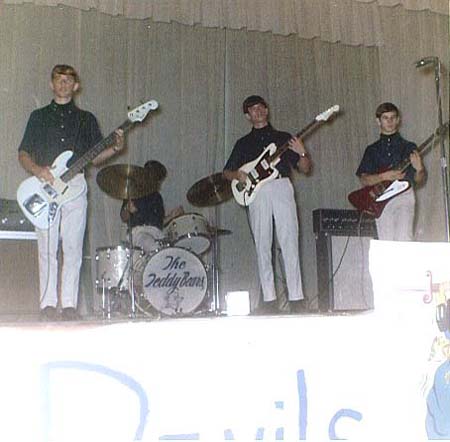 Hal, Don, Al, and James sporting a "preppie look" with white slacks and blue Gant shirts.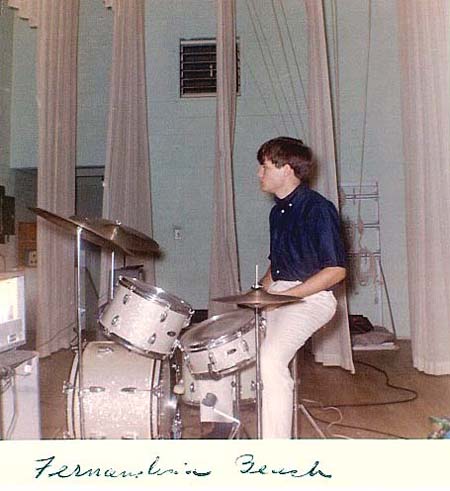 A back stage shot of Don on his "white sparkle" Ludwig's.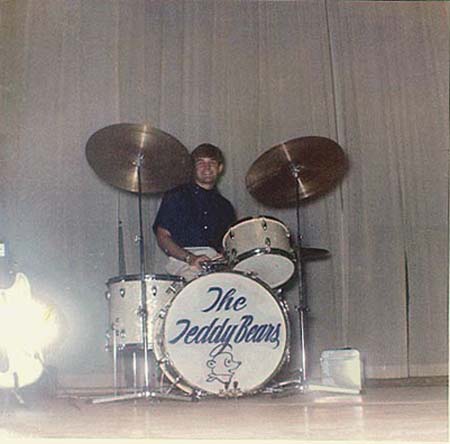 Don on the drums.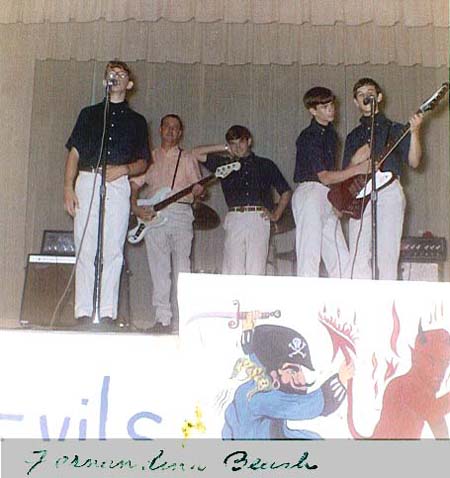 One of the rare pictures of our manager Marvin Shaw (Hal's farther) playing base with Don leaning on him. As a matter of fact we all leaned on him. He provided us with bookings and constructive criticism but let us make our own decisions. He was even our "sound man" before the days of remote sound consoles and roadies. He would constantly monitor our volume and give us hand signals to "turn down the base" or "turn up a microphone". If we didn't have exactly the right levels he would give us a sour face every time he passed by. On the other hand , he would be all smiles if we got it right.
Years later I look back at that time and realize that he must have seen something in us, because he gave 110% to our guidance and development. Those few years did revolve around us. All of our families supported and participated in our pursuit and made us feel like celebrities, or at least tolerated us.
Mr. Shaw was truly special to us, and without him, we would certainly not have prospered as well as a band and later with our lives. Thank you Mr. Shaw!
Fernandina, FL again.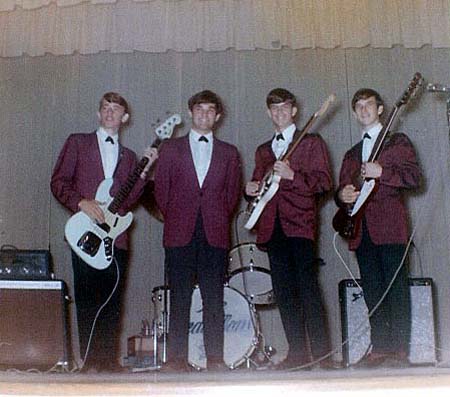 A couple of changes in equipment. Notice sitting on the floor between Hal's Gibson base amplifier and the floor "Tom Tom" drum is a "Premier M90 Reverb Unit" that we used on vocals. This gave us the coveted reverberation sound that was so popular.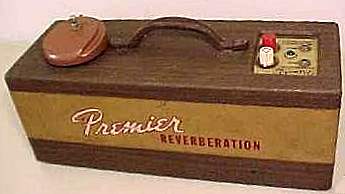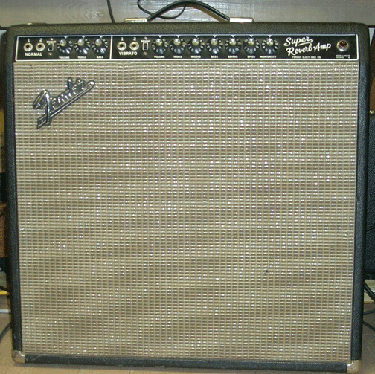 Al now has a "Fender Super Reverb" amplifier.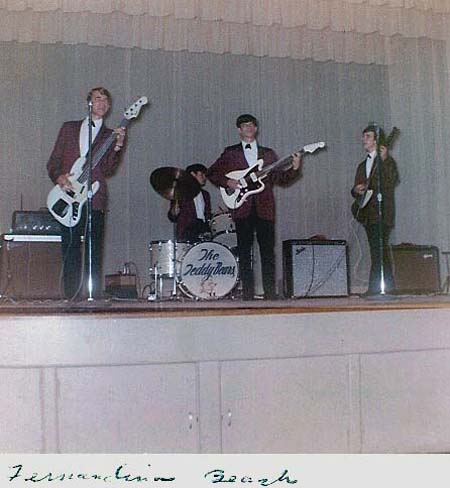 Hal playing his Jazz Base as if it were a stand up base violin.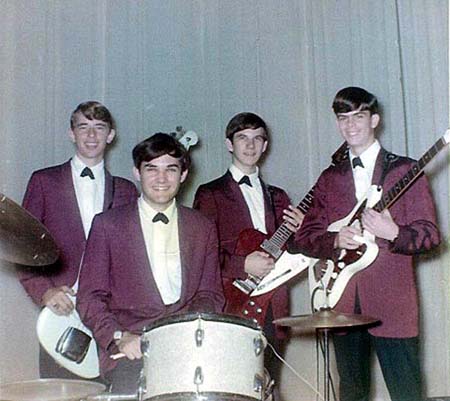 Hal, Don, James, and Al in shimmering red coats.
---
"The First Recording Session"
The Teddy Bears recording "Blue Surf", an instrumental with a short vocal at the beginning and end featuring Hal's sister Dotty. The other recording was "Baby You Go Round". I am not sure how much this session cost us, but it was fun and cool and great. The studio was Norm Vincent Studios on the Southside of Jacksonville, and I think we were there on a Saturday morning for about 2 hours.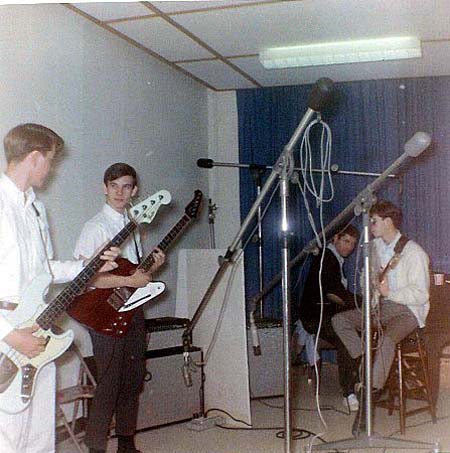 Hal, James, the studio engineer, and Al.
James has a new Fender "Band Master" amplifier to the left of Al's "Super Reverb" amplifier. The evolution to "all Fender gear" has begun.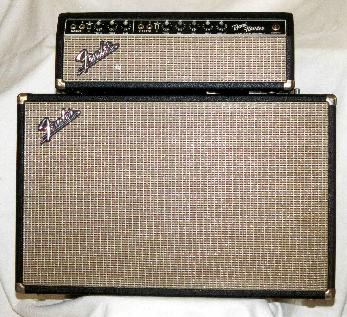 Norm Vincent Recording Studio.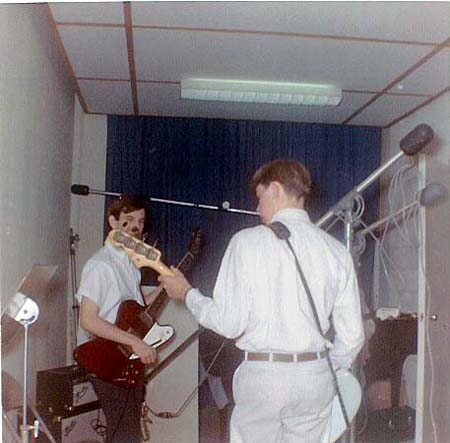 James and Hal.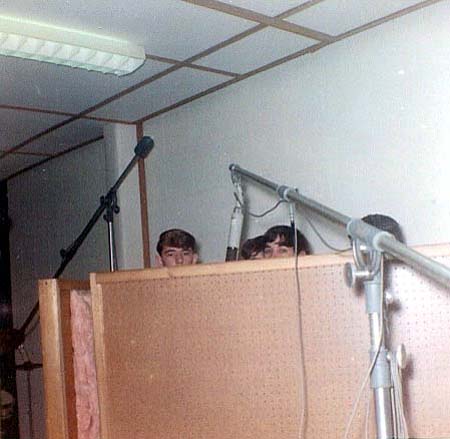 Hal, Al, and Don doing back up on "Baby You Go Round". James sang lead and was probably positioned on another mike.
The first recording session.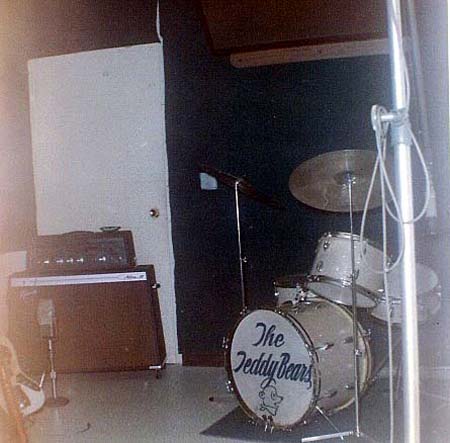 As I recall, the engineer had us come in early in the morning for the session because he claimed our voices would be at their peek. We thought this was far fetched but agreed anyway.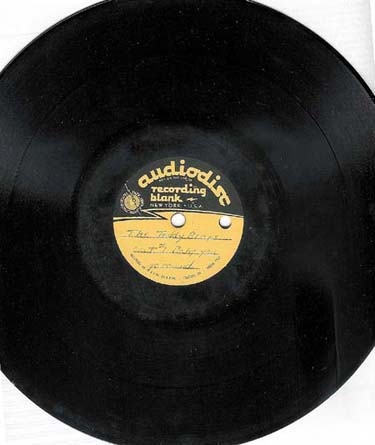 The result of our first recording session.
No, you didn't hear these songs on the radio and this record is not square....it was cropped by the scanner for this picture. The record is about the same size as a 33LP but is played at 45 RPM and has both songs on one side. It was cut on a special recording lathe in the studio from a blank disk of aluminum coated with acetate. Note the two holes. one in the center and one off-center used by the lathe to keep the disk from slipping while the grove is cut.
"Blue surf" was created out of a jam session, and James wrote and created "Baby You Go Round".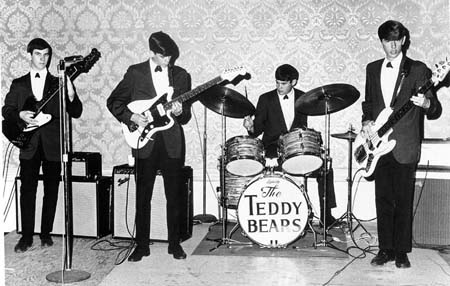 Teddy Bears at the Riverside Woman's Club in Jacksonville, FL. No shenanigans here, we are serious.
By now we have more equipment changes. Don has a new--not used but new--set of Ludwig drums. This time it's a "Hollywood" set in Oyster Blue Pearl with chrome Supra Phonic 400 snare and double tom toms. 20" and 22" Zilgen cymbals. This set was stunning....for 1965.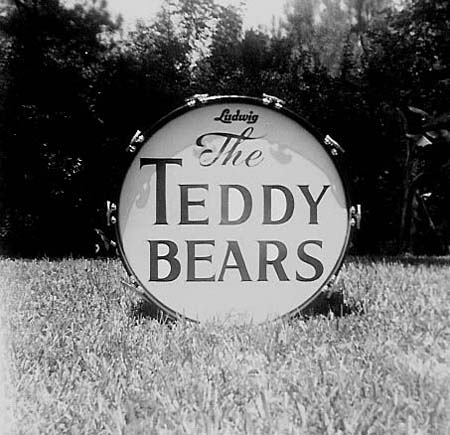 The newly painted head, and yes, the font does have a Beatle's look to it.
Back in 1965, Don's set was in the range of $400 to $450 including fiber cases.