SOUNDS OF CREATION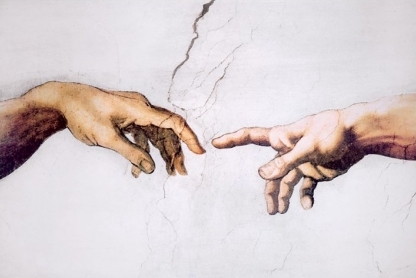 St. Petersburg, Florida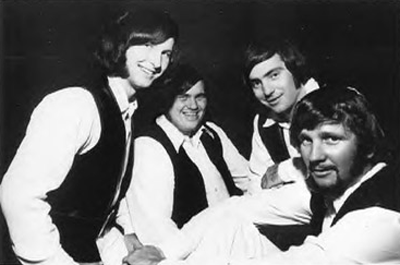 Three brothers got together to discuss getting forming a band shortly after the Beatles and other British bands made their scene in the U.S. They all had jobs but couldn't afford the best equipment so they settled for whatever they could get that sounded good. They practiced at their homes or the homes of friends in the garages or sometimes inside depending on the parents whereabouts and acceptance. As they graduated high school one by one they went into the service and then went our their ways. It was way back in 1966 when Larry Reed and Ken Helle started talking about getting a group together in St. Petersburg, FL. They practiced for months together using very inexpensive equipment, including a no-name guitar and a small amp with an 8-inch speaker. Larry had a small keyboard which he plugged into another band member's amp. After a while they decided that they should form a group and have some fun. Larry knew of a drummer, Art Lettelleir, who had played in several country & western groups and was looking to start playing rock. They gave Art a call to see if he would be interested in joining the group in a quest for garage band fame, and he agreed. They began working on early Beatles, Stones, some old standard rhythm & blues, and whatever was in the top 40 on the radio. After a few more practice sessions they finally found their bass player, Bob Warnick. Bob came by one of our practice sessions with a friend who knew they were looking for someone to play bass. He unpacked his gear and the group ran through "Got A Line on You" by "Spirit," and the rest, as they say, is history. The "Sounds of Creation" (SOC) was on it's way to fame, fortune, and whatever kind of trouble we could find.
After a few months of practice the group decided it was time to bite the bullet and go to the local music store and spend the cash for new gear. Art already had a nice set of drums and Bob had his Fender Bass, but Larry and another member needed to upgrade. One member got a great Gibson SG and Larry ended up with the perfect set of keys, a Hammond B3 organ (he eventually got the Leslie to go with it). The band was lucky to be able to practice in a housing development clubhouse in exchange for some manual labor around the grounds. After working up enough songs to cover 5 or 6 sets they started seeking gainful employment as "The Sounds of Creation," but they still hadn't quit their day jobs,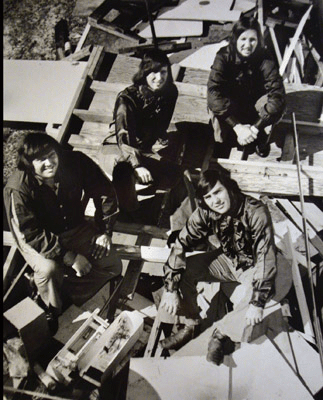 The band's first gig was playing at a small biker bar (The Club 49) on 49th Street South in St, Petersburg, FL. They played weekends at the place for a several months all the time building a set list and learning more Iron Butterfly and Steppenwolf songs to meet the requests of their new support group, the local biker gang (what a great bunch they were). A few of the girls in the club wanted to help the band get started so they made some of the clothes. Saved them a lot of cash and the girls get their own business started.
After several months at the Club 49 the band auditioned for a new club on the beaches, The Pink Pussycat. They started a six week run at that club and packed in the crowds. It was on one of those really busy nights that they got an offer from a local agency to sign a contract, which took a lot of the pressure of finding jobs off of their shoulders. The band started touring Florida and having a blast. They became what was known at the time as a "change-over" band. They worked up enough of a variety in the sets to where they could go into a jazz club, piano lounge, or country western club and change it into a Rock & Roll club. Half the night was spent playing the type of music the club was noted for and the other half they started with the heavier rock & roll ( Led Zeppelin, Iron Butterfly, Mountain, Cream, Santana, etc...). By the end of their contracted time at the club they had changed it into a rock & roll night club suitable for rock and heavy metal customers. Although the band never cut a record, they did have a few original songs, the most requested of which was one called "Love is the Answer," a driving, hard rocking dance song.
The Sounds of Creation played in clubs from St. Pete / Tampa to Key West and along the east coast of Florida, especially around Coca Beach during many of the old Atlas rocket launches at the Cape. They were once invited to watch an Atlas Rocket launch from the close-in area at the Cape after meeting some of the launch personnel and astronauts at one of the clubs (the lounge at the Hilton) we were playing in at the time. We never played open venues like rock concerts, but they were always booked in a nightclub for at least a six-week run. One of their best gigs was the six-week job at the Castaways Resort in Freeport, Bahamas. What a time that was, lots of fun. Over a year went by of playing clubs in Florida when their agent told them he was close to sealing a deal for a tour of clubs in England called, "My Fathers Mustache." Before that deal was sealed the group started to break-up and only lasted for a few months and some of them went on to get "real jobs" for one third the pay. Playing in "SOC" with Larry, Bob, and Art was a great experience and a helluva lot of fun. It was a time in life never to be forgotten.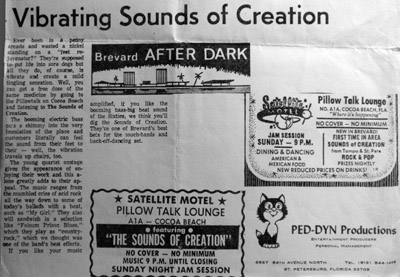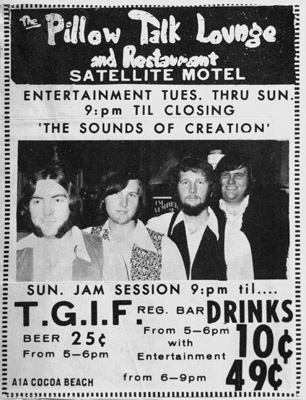 Personnel:
Larry Reed: Hammond B3 Organ with Leslie Speaker / Vocals
Art Lettillier: Drums / Vocals
Bob Warnick: Bass / Vocals
Ken Helle: Lead guitar / Vocals
Influences:
Beatles, Led Zeppelin, Iron Butterfly, Mountain, Creedence Clearwater Revival, Cream, Santana, Moody Blues, Steppenwolf, Most top 40 hits of the time including Country & Western to Rhythm and Blues
Setlist Sample:
Mississippi Queen, Born on the Bayou, Let It Be, Down on the Corner, Knock on Wood, Fortunate Son, Get Back, Sunshine of Your Love, Ride My Seesaw, Proud Mary, Born to be Wild, Fortunate Son, Magic Carpet Ride, The Pusher, I'll Feel a Whole Lot Better (Byrds)
Equipment:
Ken: Gibson SG with Kustom Amp / 2 stacked Kustom speaker cabinets with 4- 12" Lansing's, old Regal box guitar, echo plex, fuzz box, Cry Baby WahWah pedal.
Larry: Hammond B3 Organ with Leslie Speaker
Art: One mean set of drums and lots of Zilgean cymbals, Art made his one bass drum sound like a double bass, he could wail.
Bob: Fender Bass Guitar / Fender Bassman Amp
Group: Shure sound system / custom made double strobe lights
Rehearsal Space:
In the beginning we practiced in back rooms of our homes and at a club house in the local community (in exchange for some manual labor and free gigs), as we got jobs we would practice at the club where we were playing.
Band Vehicles:
Larry's old VW van with an old two wheel trailer hooked to the back.
Best Gig:
I would say the job in Freeport, Bahama at the Castaways Resort, where all the "Bahamian" employees at the resort were really from New Jersey. It was six-weeks in an all-expense-paid resort and we got a great salary. What a great time we had there.
Gig from Hell!:
Playing New Years Eve in Arcadia, Florida, an area heavily slanted towards Country & Western music. At the time the only Country & Western songs we knew were two Johnny Cash songs and "Ghost Riders in the Sky" -- So we played those three songs most of the night for the very rowdy crowd.
Last Gig:
The last gig with the original band members was at the Pillow Talk Lounge in Cocoa Beach, Florida.