CITY COUNCIL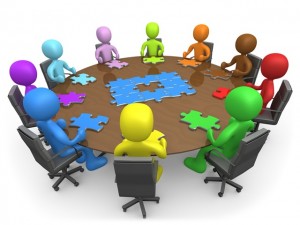 Danville, Virginia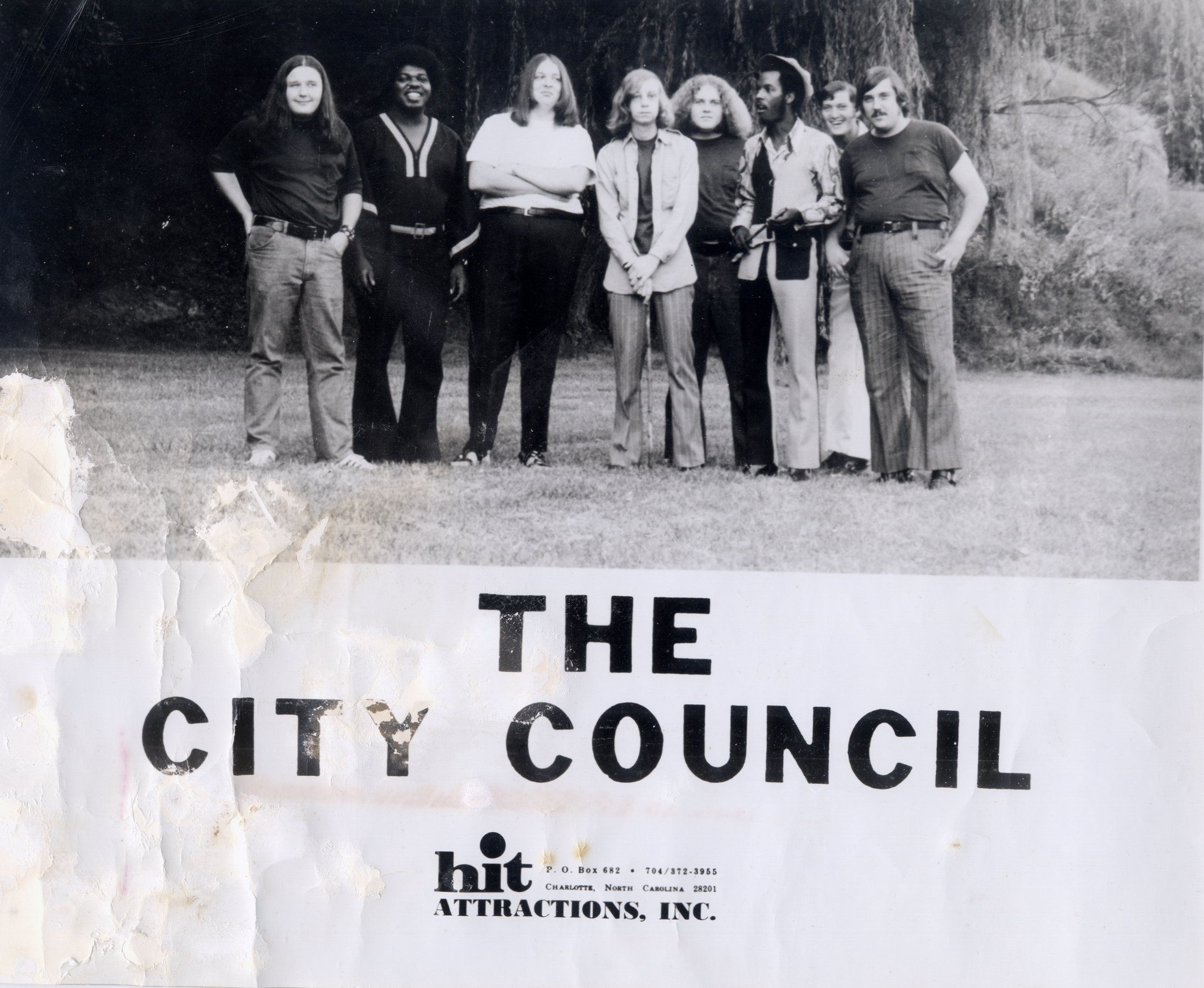 City Council was formed after Danville's Soulmasters broke up after a long and successful run. Founding member and former Soulmaster Rickie Fox played guitar in the band and recalls being approached by another musician who had been accompanying the group to gigs. Fox, who had previously played drums in Gene and the Team Beats, describes Danny Haymore (also known as "Fat Man") as "a potentially good drummer himself." Haymore suggested they form a group and they decided to call the band City Council.
Keyboardist Bill Adams says the band formed in January 1970. He joined in May of that year. The group was originally known as "Siddy Kownsil," or "Siddy Cownsill," but confusion over pronunciation convinced the members to abandon the phonetic spelling for the more intelligible "City Council."
Adams recalls that Fox started the group, recruiting Haymore on drums and Ron Dewberry on bass. Adams says equipment was immediately a problem, as Haymore didn't have a set of drums. A kit of chrome drums was purchased from Leon Paul, who ran L.B. Clark Music Company on Ridge Street in downtown Danville.
An early shot of the band appeared in the Commercial Appeal, a weekly newspaper, and promotes a December 19, 1969, Empty Stocking Fund appearance at the T-Bird Country, a country and western venue on US 58 run by WDVA disc jockey Homer "T" that also featured teen dances. The line-up for the show included former Soulmasters' vocalist John Irby, Doug Hyler and Junie Walton on sax, drummer Danny Haymore, Fox and Dewberry on guitar and bass, and George and Donnie Parrish on trumpet.
City Council made its debut "playing anywhere they could, including a dive on Industrial Avenue," a rough section of town in the heart of the city's tobacco warehouse district. While there, the group backed Garnet Mimms, best known for the song, "Cry Baby," which topped the R&B chart and went to #4 on the Billboard Hot 100 in 1963.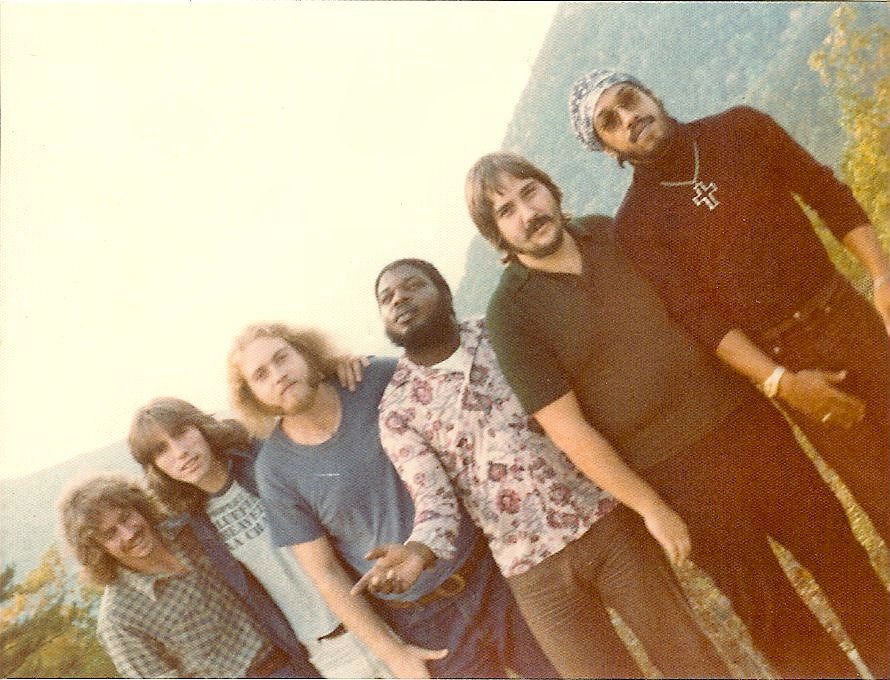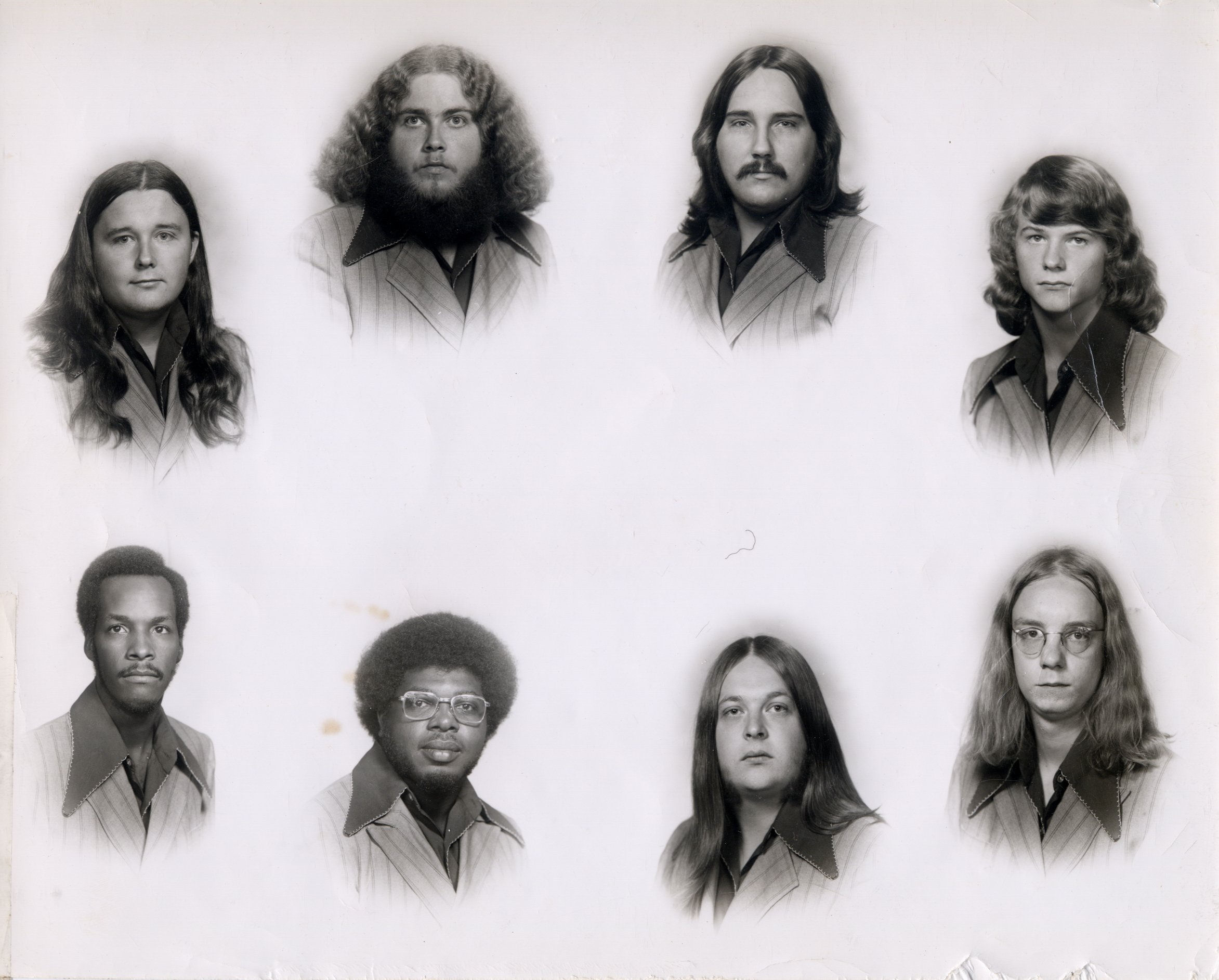 By the time Adams joined on keys, City Council had a full horn section featuring Jimmy Matthews and Russel Kimbro on trumpet and Bill Hundley on sax. The group was fronted by ace vocalist Charles Hairston, a former Fox bandmate in Martinsville's Team Beats. Matthews, Donnie Parrish, Doug Hyler, George Parrish and Bill Hundley were horn players who were in and out of the band.
Fox says the group went through many changes in personnel and style over the years, from a horn band, to a funk band, ending up as an amalgamation of all styles, "with an emphasis on creative expression." City Council traveled the eastern U.S., performing cover tunes and a few original songs.
Fan and former roadie (for Roanoke's High & Mighty) Phil Romano recalls befriending the band at 14 while catching City Council live in Myrtle Beach, S.C. Romano hung out with the band at the Sea Mist Motel and says he was impressed by their musicianship and versatility, noting they were better than many of the recording acts that frequented the Grand Strand. Adams notes the group covered Blood, Sweat and Tears, Chicago, 3 Dog Night, Joe Cocker, The Who, Led Zeppelin, and "anything we liked and thought popular."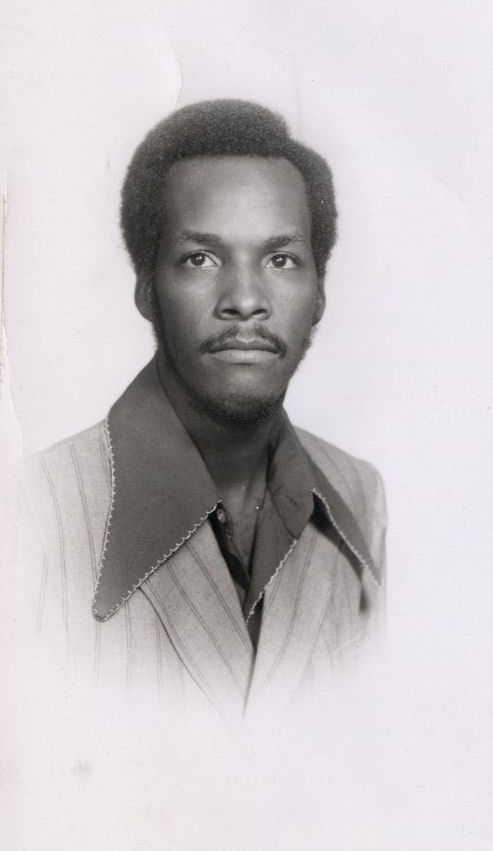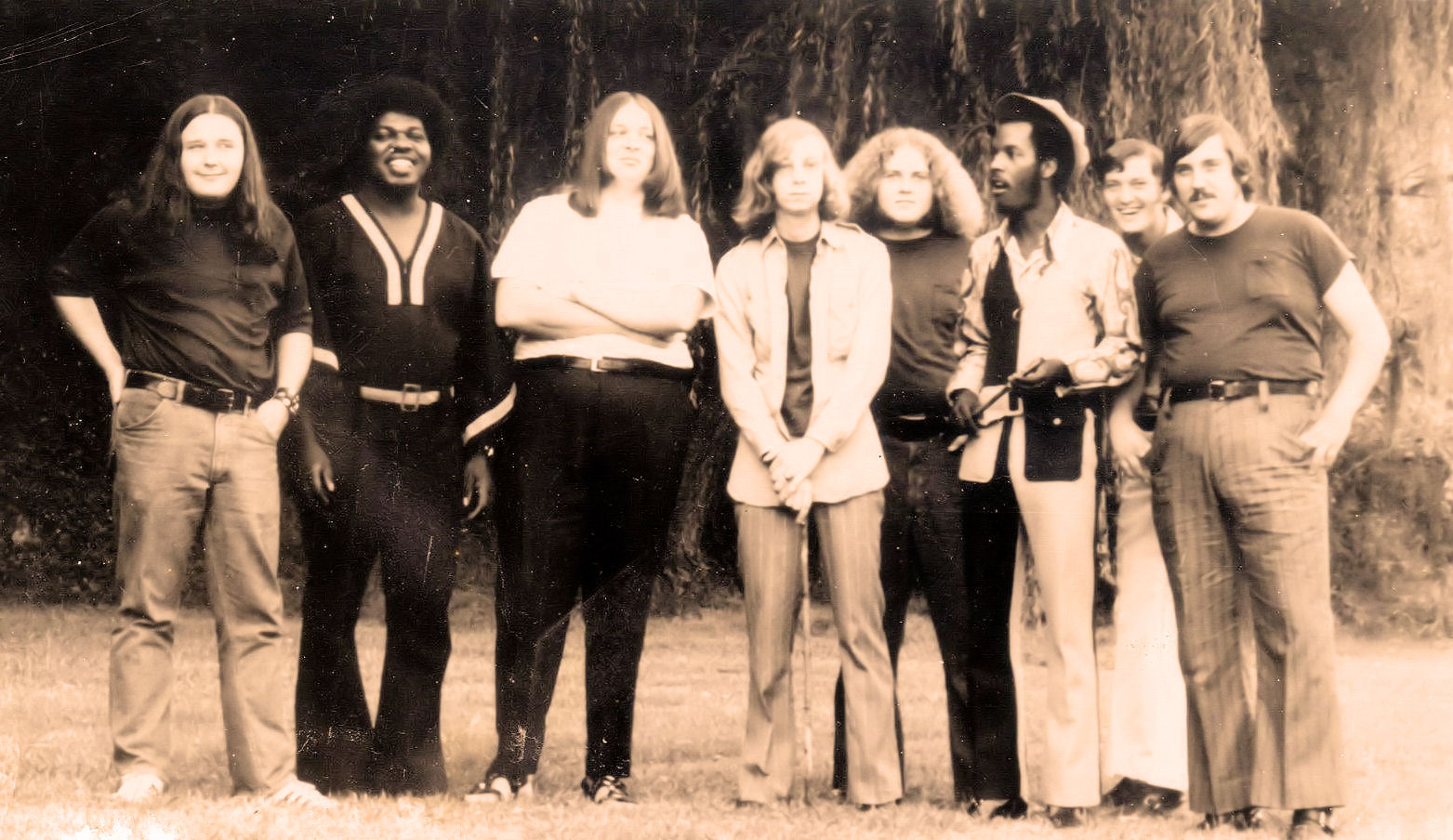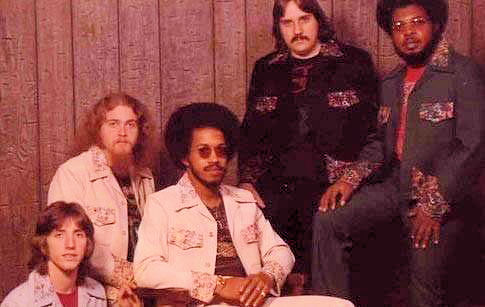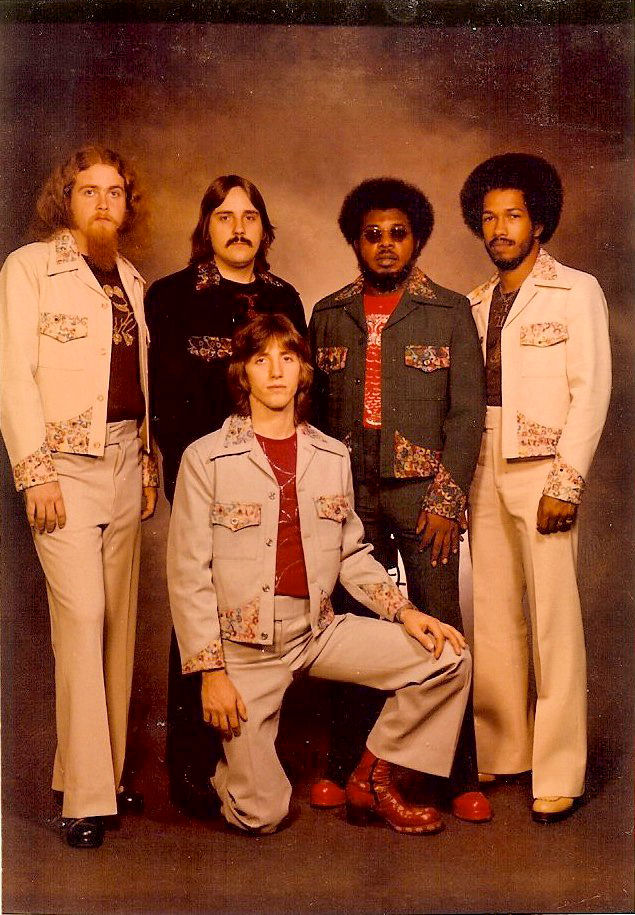 He remembers opening for the then-unknown Allman Brothers band. While he knew nothing of the band, Adams points out that "a few months later, we were covering their songs."
Bassist Ron Dewberry remembers backing recording star Major Lance ("Monkey Time") at the South Carolina State Fair in Columbia, S.C. and was with the band until the group pared down to a five-piece unit in the mid-70s. Dewberry says he and Darly Holland were cut as City Council went in a different direction, playing Yes and Emerson, Lake and Palmer. The group changed names and performed as Arthur Boots.
The last incarnation of the band recorded demos of cover songs, refining arrangements and creating what Fox describes as "interesting versions of familiar tunes."
One of these tapes found its way into the hands of a bootlegger and Fox recalls discovering an 8 Track of City Council performing the hits of the 70s at a truck stop en route to one of the band's performances.
Jim Talbott was another fan and became aware of the band as they were "phasing out the last of the horns." He met the group through Wesley Earp, Danny Haymore's half-brother.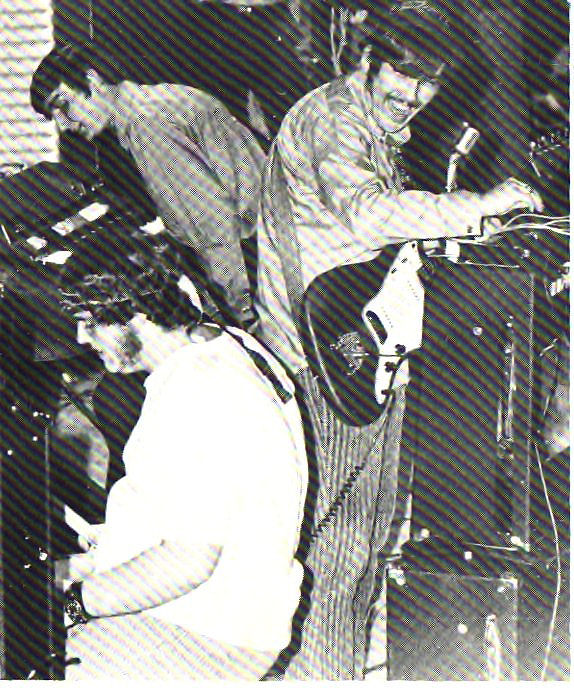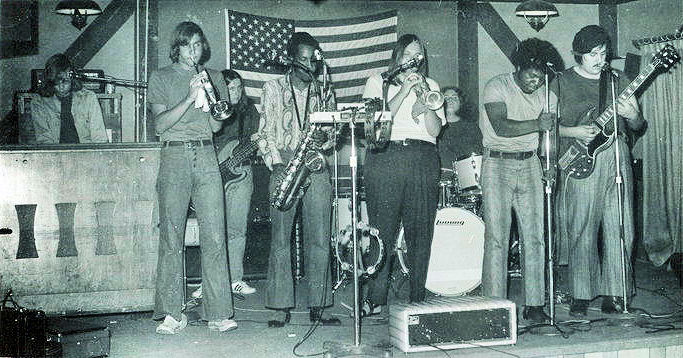 He recalls that Danny, Rickie, Bill, Ronnie and Charles would practice at the Earp's home and "all of us kids would be hanging out listening and trying to learn."
He says Dickey Yates (Yeatts?) covered bass for a while, but Fox started playing most of the bass parts when Lonnie Woodall joined the band on guitar. Rickie covered guitar and bass, switching off with Woodall, another excellent guitarist. In addition to Adams, Kenni Hairston played keyboards in the band. Hairston went on to play with Cindi Lauper, Cameo and Elliot Easton of The Cars. Talbott remembers that Adams rejoined the band after Hairston moved to Los Angeles.
During this period, the band all lived together in a large, two-story house on Green Street and Talbott says some of his best memories are of those times in the "Big House." Every member had his own room equipped with a stereo and "each could give you an education in just about any kind of music." There was a large living room where everyone would hang out, creating what Talbott describes as "a melting pot for musical ideas."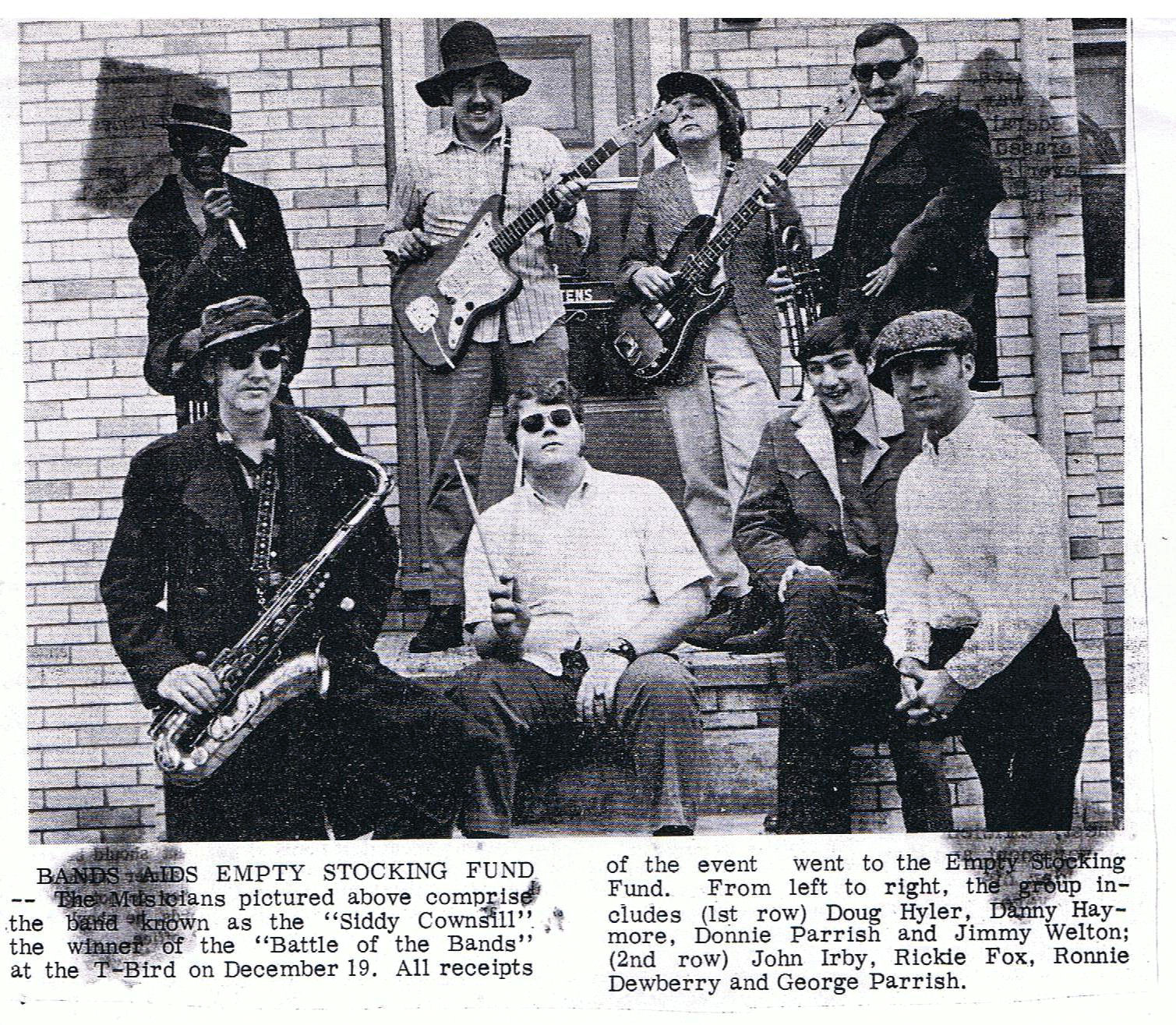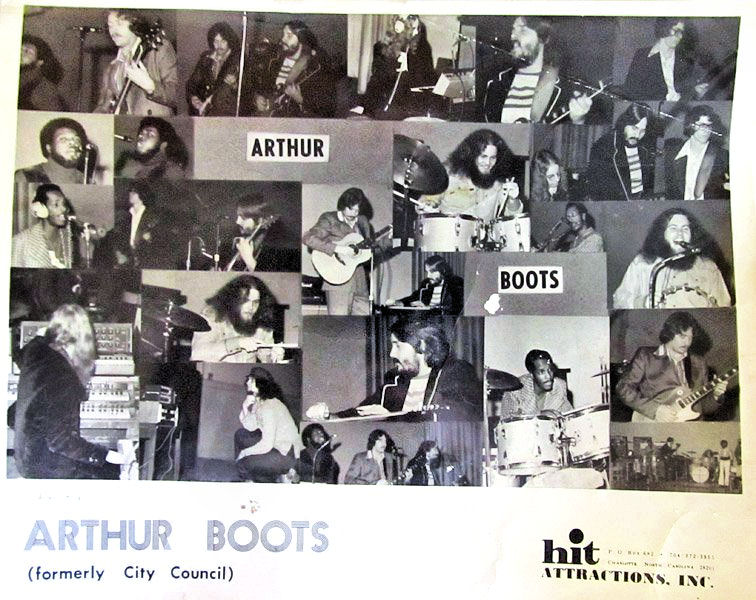 Keyboardist Kenni Hairston on his time with the band:

1) When did you join City Council and where did you first perform with the band?
I think I joined City Council in 1976. I had just gotten out of the Air Force in Oklahoma and moved back to Virginia. While I was in the Air Force I decided that I wanted to make music my career. A band of military guys, including myself (I can't remember the name of the band) performed on weekends. After winning local and regional contests, we eventually won an Air Force MAC (Military Airlift Command) talent contest.

2) Had you played in any other local bands prior to this point? If so, please name them.
Before going into the military, I played with a couple of local bands in Martinsville. I cannot remember the names but one of the bands included Charles Hairston who was a member of City Council. The first band I ever sat in with was Gene & the Teambeats. I think was 13 at the time. Charles was the lead singer and Lonnie Woodall played guitar and sang as well. Both were incredibly talented guys who died much too soon.

3) Do you recall any particular gigs as unusual or outstanding? (I'm told the group spent a lot of time in Myrtle Beach during the Summer.)
We played in Myrtle Beach it seemed like all summer for years. There was club called "The Electric Circus" where would play for a week at a time and would play there three or four times a summer. It was always a lot of fun with all young people out of school and partying all summer.

4) Any memories about encounters or performances with recording artists of the day?
Well I spent almost 10 years in New York where I worked with a lot of artists, both as a performer and a songwriter/producer. I performed with Cyndi Lauper, Nona Hendrix from LaBelle, Mtume of "Juicy Fruit" fame. The last couple of artists that I worked with was Elliot Easton from "The Cars" for his solo project and "Cameo" during the "Word Up" tour. I also wrote and produced for various artists, including Vanessa Williams, Freddie Jackson, Sybil, CoCo Lee and others.

5) When and why did you leave City Council?
I reluctantly left City Council when I was offered a gig with the Royal Kings in Roanoke, VA. They were offering a lot more money and comparatively it was a bigger market than Danville. I eventually moved to Richmond to perform with a band there. It was from there that I moved to New York.

6) Other artists you've performed with since then and what you're doing now.
I now live in Raleigh, NC and am still in the music business. I still work as a composer, producer and I also compose and do scoring for video and film. Of course, I still enjoy performing live as I play with several bands around Raleigh and Eastern North Carolina. I began teaching several years ago and that's something that I enjoy, especially with young kids. It's great to see them learn and develop as musicians/singers.
MEMORIES BY BAND FOUNDER RICKIE FOX: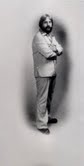 1) Who were the original members of the band?
Rickie Fox, Danny Haymore, Ronnie Dewberry, Doug Hyler, Donnie Parrish, and John Irby. I could be wrong, but I believe that is it. We started with no keyboards.
2) Did the band break-up after downsizing to Arthur Boots, or just merge into Fox & Co?
Arthur Boots was a fictional character we invented who became a kind of imaginary hero. We changed the name to Arthur Boots against the advice of our booking agent, because we were, well, a little nuts. Anyway, the name didn't work out for us, and we changed it back to City Council (which thrilled our agent), after not a very long time. The band went on for quite a while after that, evolving into the 5-piece band which was "lean and mean" and worked the road a lot. That is the era during which we cut the demos you have. This final grouping of the band broke up when Kenni Hairston left the group, and we chose to disband rather than try to replace him.
After a period of not playing with anybody, I was called upon to quickly replace Allen Rowland in the band Kicks. Kicks had 2 keyboardists, 2 drummers, and no guitar, but did quite well. It was innovative, and did great material. When Wayne Ryan left Kicks, I think to go with Subway, or at least that's where he ended up, we took on Lonnie Woodall as guitarist/bassist, and changed the name of the band to Fox & Company, I think to capitalize on my single "Come On Danny," which was somewhat of a regional success.
3) Where was the band's first gig?
I think our first gig was at "The Eldorado Club" on Industrial Avenue, where either on that gig or the next one there, we backed up singer Garnett Mimms.
4) Any performances that stand out? (Any recording artists you supported or backed in concert)
City Council played with all the usual artists who came through. Tams, Showmen, Arthur Conley, Major Lance. But we also played with some more current artists of the time, like Brooklyn Bridge, Hamilton, Joe Frank, and Reynolds, groups like that. We played on Bourbon Street in New Orleans, We loved to play in Daytona Beach Fla. We went as far as Flint, Michigan. But we were always glad to get down to Myrtle Beach, The Pavilion (Magic Attic), The Electric Circus; we played clubs all up and down the coast, but Myrtle was more like home.
5) When did the band eliminate horns and why?
Not sure we ever made a decision to eliminate horns. It happened through attrition. Our agent was always after us to be more "streamline," mostly for economic reasons, I'm sure. But we just started taking songs that were recorded with horns, and doing arrangements that were as if the horns were never there. It led to some pretty interesting arrangements, and brought out the creativity in everybody.
6) How long was City Council together?
I'm really not sure. It broke up when Kenni left, so he should be able to tell you that. I'm really not sure the year it started.
(pics and info courtesy Jack W. Garrett)